Research
Open Access
Open Peer Review
This article has Open Peer Review reports available.
Impact of exposure measurement error in air pollution epidemiology: effect of error type in time-series studies
Environmental Health
2011
10:61
Received: 3 January 2011
Accepted: 22 June 2011
Published: 22 June 2011
Abstract
Background
Two distinctly different types of measurement error are Berkson and classical. Impacts of measurement error in epidemiologic studies of ambient air pollution are expected to depend on error type. We characterize measurement error due to instrument imprecision and spatial variability as multiplicative (i.e. additive on the log scale) and model it over a range of error types to assess impacts on risk ratio estimates both on a per measurement unit basis and on a per interquartile range (IQR) basis in a time-series study in Atlanta.
Methods
Daily measures of twelve ambient air pollutants were analyzed: NO2, NOx, O3, SO2, CO, PM10 mass, PM2.5 mass, and PM2.5 components sulfate, nitrate, ammonium, elemental carbon and organic carbon. Semivariogram analysis was applied to assess spatial variability. Error due to this spatial variability was added to a reference pollutant time-series on the log scale using Monte Carlo simulations. Each of these time-series was exponentiated and introduced to a Poisson generalized linear model of cardiovascular disease emergency department visits.
Results
Measurement error resulted in reduced statistical significance for the risk ratio estimates for all amounts (corresponding to different pollutants) and types of error. When modelled as classical-type error, risk ratios were attenuated, particularly for primary air pollutants, with average attenuation in risk ratios on a per unit of measurement basis ranging from 18% to 92% and on an IQR basis ranging from 18% to 86%. When modelled as Berkson-type error, risk ratios per unit of measurement were biased away from the null hypothesis by 2% to 31%, whereas risk ratios per IQR were attenuated (i.e. biased toward the null) by 5% to 34%. For CO modelled error amount, a range of error types were simulated and effects on risk ratio bias and significance were observed.
Conclusions
For multiplicative error, both the amount and type of measurement error impact health effect estimates in air pollution epidemiology. By modelling instrument imprecision and spatial variability as different error types, we estimate direction and magnitude of the effects of error over a range of error types.
Keywords
Risk RatioEmergency Department VisitError TypeMeasurement Error ModelRisk Ratio Estimate
Background
The issue of measurement error is unavoidable in epidemiologic studies of air pollution [1]. Although methods for dealing with this measurement error have been proposed [2, 3] and applied to air pollution epidemiology specifically [4, 5], the issue remains a central concern in the field [6]. Because large-scale time-series studies often use single central monitoring sites to characterize community exposure to ambient concentrations [7], uncertainties arise regarding the extent to which these monitors are representative of exposure. Zeger et al. [8] identify three components of measurement error: (1) the difference between individual exposures and average personal exposure, (2) the difference between average personal exposure and ambient levels, and (3) the difference between measured and true ambient concentrations. While the former two components of error can have a sizeable impact on epidemiologic findings that address etiologic questions of health effects and personal exposure, it is the third component that is particularly relevant in time-series studies that address questions of the health benefits of ambient regulation [9].
Prior studies have suggested that the impact of measurement error on time-series health studies differs depending upon the type of error introduced [8, 10, 11]. Two distinctly different types of error have been identified. One type is classical error, in which measurements, Z t , vary randomly about true concentrations,

; this can be considered the case for instrument error associated with ambient monitors. That is, instrument error is independent of the true ambient level, such that

. Moreover, the variation in the measurements, Z t , is expected to be greater than the variation in the true values,

. Therefore, classical error is expected to attenuate the effect estimate in time-series epidemiologic studies. In contrast, under a Berkson error framework, the true ambient,

, varies randomly about the measurement, Z t . This might be the case, for example, of a measured population average over the study area with true individual ambient levels varying randomly about this population average measurement. In this case, measurement error is independent of the measured population average ambient; that is,

. Furthermore, the measurement, Z t , is less variable than the true ambient level,

. A purely Berkson error is expected to yield an unbiased effect estimate, provided that the true dose-response is linear [3].
Several studies have investigated the impact of error type on regression models. The simultaneous impact of classical and Berkson errors in a parametric regression estimating radon exposure has been investigated [12] and error type has been assessed in a semiparametric Bayesian setting looking at exposure to radiation from nuclear testing [13, 14]; however, no study to date has comprehensively assessed the impact of error type across multiple pollutants for instrument imprecision and spatial variability in a time-series context.
Error type depends on the relationship between the distribution of measurements and the distribution of true values. Because true relevant exposure in environmental epidemiologic studies is not known exactly, determination of error type is challenging; thus, here we examine the impact of error modelled as two distinctly different types: classical and Berkson. First, we examine monitor data to assess whether error is better modelled on a logged or unlogged basis. Typically, researchers investigating error type have added error on an unlogged basis (e.g. [8, 11]); however, air pollution data are more often lognormal due to atmospheric dynamics and concentration levels that are never less than zero. It is plausible that true ambient exposures are distributed lognormally about a population average as well; therefore, measurement error may be best described as additive error on the log scale. We investigate the combined error from two sources that have been previously identified as relevant in time-series studies: (1) instrument precision error and (2) error due to spatial variability [9]. We limit our scope to ambient levels of pollutants measured in accordance with regulatory specifications, disregarding spatial microscale variability, such as near roadway concentrations, as well as temporal microscale variability, such as that associated with meteorological events on sub-hour time scales. Here, building on a previously developed model for the amount of error associated with selected ambient air pollutants [15], we quantitatively assess the effect of error type on the impacts of measurement error on epidemiologic results from an ongoing study of air pollution and emergency department visits in Atlanta.
Results
Distribution of Measurement Error Simulations
Analysis of the distributions of correlation coefficients between the true log concentrations (i.e. the base case) and the simulated log concentrations, R(In
Z
, In
Z*
), for 1000 simulations for each pollutant and each error type demonstrates that the simulations contain on average the desired amounts and types of error (Figure
2
, see Additional file
4
, Figure S2 for distribution of error type results). Wider distributions were observed for more spatially heterogeneous pollutants.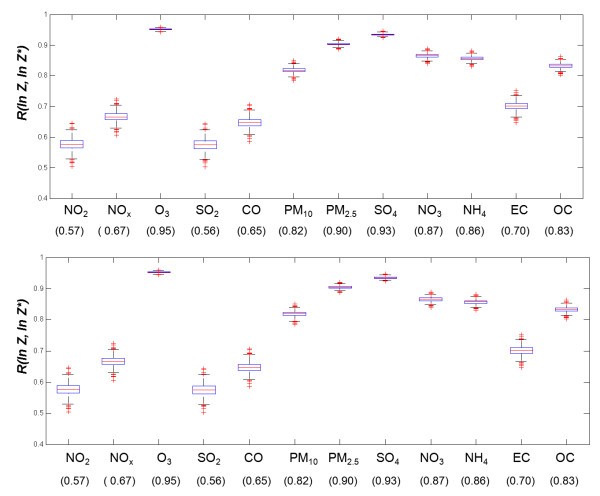 Impact of Error on Health Risk Assessment
Discussion
The results demonstrate that error type affects the reduction in significance as well as the RR estimate in the epidemiologic analysis. Moreover, the results demonstrate a profound effect of error type on the RR estimate per unit of measurement. The RR per unit of measurement estimate is increased by the presence of type B error; that is, there is a bias away from the null. To better understand these results, we estimate the attenuation in the effect estimator β (eq. 11) in the absence of confounders from the first-order linear regression coefficient (m) of error (Z-Z*) versus Z as follows.
For RR estimates near 1 (i.e. β values near 0) as is the case in this study, the predicted attenuation in RR is approximately given as follows.
Epidemiologic model results are compared with the predictions of eq.
16
and eq.
17
for all pollutants and both error types (Figure
6
). The degree to which the epidemiologic results differ from these predictions likely indicates the degree to which confounding variables are affecting results. As shown by the 1:1 line in Figure
6
, there is strong agreement between the attenuation predicted by analysis of the error model results (i.e.
m
and
IQR
) and that obtained from the epidemiologic model.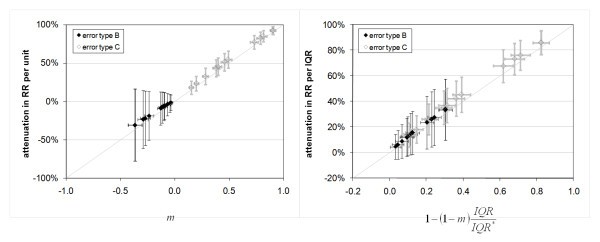 In this study, in which quantification of error is based on the variability between monitors, error due to spatial variation is much greater than error due to instrument imprecision, particularly for primary air pollutants [15]. Conceptually, therefore, we speculate that this error is more likely of the Berkson type, with true values varying randomly about a population-weighted average represented by the base case. If spatial error is best described by the Berkson-like type defined on a log basis (our error type B) and the mean of the measurements is the same mean as the true values, we estimate there to be a 24% to 34% attenuation in RR per IQR estimates (Figure 4, right panel), and a 19% to 31% bias away from the null in RR estimates on a per unit of measurement basis (Figure 4, left panel), for the primary pollutants studied (SO2, NO2/NOx, CO, and EC) when using a population-weighted average as the exposure metric. For the secondary pollutants and pollutants of mixed origin (O3, SO4, NO3, NH4, PM2.5, OC, and PM10), we estimate a 5% to 15% attenuation in RR per IQR estimates and a 2% to 9% bias away from the null in RR estimates on a per unit of measurement basis. We are currently investigating different methods for estimating actual error type based on simulated pollutant fields trained to have all of the characteristics, including the pattern of spatial autocorrelation, expected of true pollutant fields.
This study addresses error between measured and true ambient concentrations. Our results are consistent with previous finding that suggest that Berkson error, as defined on an unlogged scale (additive), produces no bias in the effect estimate [8, 11] as shown in Figure 5; however, Berkson-like error defined on a log basis (multiplicative) can lead to risk ratio estimates per unit increase that are biased away from the null (although with a reduction in significance). Thus, the direction and magnitude of the bias are functions of error type. With the multiplicative error structure used here in conjunction with a linear dose response, large "true" values of air pollution would likely be underestimated, resulting in an overestimation of pollution health effects. We have shown how multiple air pollution measurements over space can be used to quantify the amount of error and provide a strategy for evaluating impacts of different types of this error. The results suggest that estimating impacts of measurement error on health risk assessment are particularly important when comparing results across primary and secondary pollutants as the corresponding error will vary widely in both amount and type depending on the degree of spatial variability. These results are suggestive of error impacts one would have from time-series studies in which a single measure, such as the population-weighted average, is used to characterize an urban or regional population exposure. The methodology used here can be applied to other study areas to quantify this type of measurement error and quantify its impacts on health risk estimates.
Conclusions
Health risk estimates of exposure to ambient air pollution are impacted by both the amount and the type of measurement error present, and these impacts vary substantially across pollutants. By modeling combined instrument imprecision and spatial variability over a range of error types, we are able to estimate a range of effects of these sources of measurement error, which are likely a mixture of both classical and Berkson error types. This study demonstrates the potential impact of measurement error in an air pollution epidemiology time-series study and how this impact depends on error type and amount.
List of Abbreviations
SO4:

sulfate
NO3:

nitrate
NH4:

ammonium
EC:

elemental carbon
OC:

organic carbon
AQS:

US EPA's Air Quality System
SEARCH:

the Southeastern Aerosol Research and Characterization Study
ASACA:

Assessment of Spatial Aerosol Composition in Atlanta
ED:

emergency department
CVD:

cardiovascular disease
RR:

risk ratio
IQR:

interquartile range
CI:

confidence interval.
Declarations
Acknowledgements
The authors acknowledge financial support from the following grants: NIEHS R01ES111294, NIEHS K01ES019877, EPRI EP-P277231/C13172, EPA STAR R89291301, EPA STAR R83362601, EPA STAR R83386601, and EPA STAR RD83479901. The contents of this publication are solely the responsibility of the grantee and do not necessarily represent the official views of the USEPA. Further, USEPA does not endorse the purchase of any commercial products or services mentioned in the publication[19].
Authors' Affiliations
(1)
School of Civil and Environmental Engineering, Georgia Institute of Technology, Atlanta, USA
(2)
Department of Environmental Health and Bioinformatics, Rollins School of Public Health, Emory University, Atlanta, USA
(3)
Department of Biostatistics and Bioinformatics, Rollins School of Public Health, Emory University, Atlanta, USA
Copyright
© Goldman et al; licensee BioMed Central Ltd. 2011
This article is published under license to BioMed Central Ltd. This is an Open Access article distributed under the terms of the Creative Commons Attribution License (http://creativecommons.org/licenses/by/2.0), which permits unrestricted use, distribution, and reproduction in any medium, provided the original work is properly cited.