Nanoparticles in the environment: assessment using the causal diagram approach
Environmental Health
2012
11(Suppl 1):S13
Abstract
Nanoparticles (NPs) cause concern for health and safety as their impact on the environment and humans is not known. Relatively few studies have investigated the toxicological and environmental effects of exposure to naturally occurring NPs (NNPs) and man-made or engineered NPs (ENPs) that are known to have a wide variety of effects once taken up into an organism.
A review of recent knowledge (between 2000-2010) on NP sources, and their behaviour, exposure and effects on the environment and humans was performed. An integrated approach was used to comprise available scientific information within an interdisciplinary logical framework, to identify knowledge gaps and to describe environment and health linkages for NNPs and ENPs.
The causal diagram has been developed as a method to handle the complexity of issues on NP safety, from their exposure to the effects on the environment and health. It gives an overview of available scientific information starting with common sources of NPs and their interactions with various environmental processes that may pose threats to both human health and the environment. Effects of NNPs on dust cloud formation and decrease in sunlight intensity were found to be important environmental changes with direct and indirect implication in various human health problems. NNPs and ENPs exposure and their accumulation in biological matrices such as microbiota, plants and humans may result in various adverse effects. The impact of some NPs on human health by ROS generation was found to be one of the major causes to develop various diseases.
A proposed cause-effects diagram for NPs is designed considering both NNPs and ENPs. It represents a valuable information package and user-friendly tool for various stakeholders including students, researchers and policy makers, to better understand and communicate on issues related to NPs.
Keywords
Causal Diagram
Expert Elicitation
Noctilucent Cloud
Himalayan Glacier
Atmospheric Brown Cloud
Background
Within HENVINET, an FP6 funded project, causal diagrams were developed as a tool to evaluate areas of agreement and disagreement between scientists and to identify gaps of knowledge [1, 2]. The method of expert elicitation was applied by the HENVINET consortium to assess the health and policy implications of phthalates, where all details in the methodology behind the results presented here of the decaBDE and HBCD elicitations can be found [2]. In addition, an extensive review of the methodology with an overall discussion and analysis of the outcome for all the priority areas of the HENVINET consortium has been made [3]. Furthermore evaluations on advantages and disadvantages of the expert elicitation methodology have been made by others [4, 5]. This approach has been chosen as one potential method to handle complex issues that are typically faced by the environment and health community and decision-makers. The current manuscript describes a proposed cause-effect diagram for nanoparticles (NPs) applicable to both naturally occurring NPs (NNPs) and man-made or engineered NPs (ENPs), and provides a short justification for the inclusion of the proposed elements into the presented cause-effect diagram. However, it has to be noted that the presented cause-effect diagram has not been the topic of an expert- elicitation yet.
At the moment, it is unclear whether the benefits of nanotechnologies outweigh the risks associated with environmental release and exposure to NPs and there are concerns that NPs can also lead to a new class of environmental hazards [6]. Until now, relatively few studies have investigated the toxicological and environmental effects of exposure to NPs and ENPs. However, there is enormous effort at national and at international levels including the OECD and the European Union to investigate the impact of NPs on the environment and health. No clear guidelines exist on how to evaluate and quantify these effects, the provision of systematic information following NPs from releases to effects was requested [7] and furthermore it was argued to apply an integrated approach [8]. NPs differ in size, shape, chemical composition and in many physico-chemical properties. It is therefore crucially important to know which properties may cause adverse health effects [9].
Natural and engineered NPs present in the environment are influenced by a large number of physico-chemical processes and show different behaviour in organisms, soil, and water. The accumulation of engineered NPs (ENPs) has been shown in various organisms and environmental compartments, such as blue and green algae, fish and other aquatic organisms as well as soil and sediments [
10
–
16
]. Due to the low number of systematic studies and lack of knowledge on physicochemical properties and behaviour of NPs, these reports show an inconsistent picture of the effect of NPs on various environmental processes and their impact on human health. In the present work, we attempt to describe the elements of a cause-effect diagram as already developed within HENVINET for other environmental hazards and disease complexes [
1
,
2
]. The diagram for NPs is designed on the basis of current understanding of NPs mediated toxicity reports and review articles already available (Figure
1
). These diagrams have been shown to be helpful to evaluate the level of confidence in the current ability of scientists to predict the magnitude of a disease burden that are expected to occur as a result of the release of NPs in the environment [
1
].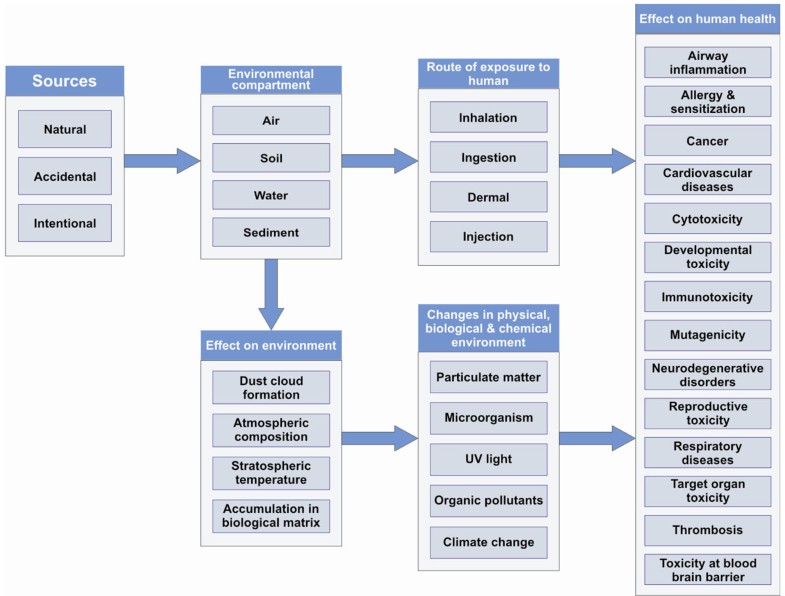 Elements of the NP cause-effect diagram
Conclusion
Nanotechnology, as a strongly growing and widely applied science, has a high potential of global socioeconomic value. On one hand, the new features of designed NPs provide unprecedented technical capabilities thereby enabling them to perform absolutely novel tasks in technology and science. Unfortunately, just the same new qualities can concurrently also include undesired intrinsic features, which sometimes lead to harmful interactions with exposed organisms.
In coherence with the described alarming aspects it seems to be a high time to establish linkages between direct and indirect health impact of NP exposure and evaluate the consensus among researchers and policy makers regarding the knowledge base. The causal diagram approach has proven to be a suitable conceptualization, simplification and visualization technique that allows communication linking the scientific disciplines involved, as documented by a wide range of examples [1, 2, 81, 82]. In the near future it is envisaged to use this diagram as the basis for an internet-based tool for knowledge assessment. These causal diagrams provide an important platform to identify knowledge gaps and potential agreements or disagreements on the effect of NPs on various environmental processes and their impact on human health and can contribute to sustainable governance regarding the future use of NPs.
Declarations
Acknowledgements
The work has been funded by the EU FP6 coordination action HENVINET, contract no 037019. The contribution of ACG was in part made possible within NanEAU (FNR/08/SR/07 - Fonds National de la Recherche Luxembourg). MD's contribution was supported by a grant from Norway through the Norwegian Financial Mechanism in the frame of the Polish-Norwegian Research Grant (PNRF-122-AI-1/07). The authors are also grateful to the reviewers for their valuable comments and suggestions and to Vanessa Peardon for her proofreading.
This article has been published as part of Environmental Health Volume 11 Supplement 1, 2012: Approaching complexities in health and environment. The full contents of the supplement are available online at http://www.ehjournal.net/supplements/11/S1.
Authors' Affiliations
(1)
Amity University, Lucknow, India
(2)
CSIR-Indian Institute of Toxicology Research, Lucknow, India
(3)
NILU - Norwegian Institute of Air Research, Kjeller, Norway
(4)
Slovak Medical University, Department of Experimental and Applied Genetics, Bratislava, Slovakia
(5)
Department of Environment and Agro-biotechnologies (EVA), Centre de Recherche Public – Gabriel Lippmann, Belvaux, Luxembourg
Copyright
© Smita et al; licensee BioMed Central Ltd. 2012
This article is published under license to BioMed Central Ltd. This is an Open Access article distributed under the terms of the Creative Commons Attribution License (http://creativecommons.org/licenses/by/2.0), which permits unrestricted use, distribution, and reproduction in any medium, provided the original work is properly cited.