Methodology

Open Access

Open Peer Review
This article has Open Peer Review reports available.
Imputation method for lifetime exposure assessment in air pollution epidemiologic studies
Environmental Health
2013
12:62
Received: 26 December 2012
Accepted: 24 July 2013
Published: 7 August 2013
Abstract
Background
Environmental epidemiology, when focused on the life course of exposure to a specific pollutant, requires historical exposure estimates that are difficult to obtain for the full time period due to gaps in the historical record, especially in earlier years. We show that these gaps can be filled by applying multiple imputation methods to a formal risk equation that incorporates lifetime exposure. We also address challenges that arise, including choice of imputation method, potential bias in regression coefficients, and uncertainty in age-at-exposure sensitivities.
Methods
During time periods when parameters needed in the risk equation are missing for an individual, the parameters are filled by an imputation model using group level information or interpolation. A random component is added to match the variance found in the estimates for study subjects not needing imputation. The process is repeated to obtain multiple data sets, whose regressions against health data can be combined statistically to develop confidence limits using Rubin's rules to account for the uncertainty introduced by the imputations. To test for possible recall bias between cases and controls, which can occur when historical residence location is obtained by interview, and which can lead to misclassification of imputed exposure by disease status, we introduce an "incompleteness index," equal to the percentage of dose imputed (PDI) for a subject. "Effective doses" can be computed using different functional dependencies of relative risk on age of exposure, allowing intercomparison of different risk models. To illustrate our approach, we quantify lifetime exposure (dose) from traffic air pollution in an established case–control study on Long Island, New York, where considerable in-migration occurred over a period of many decades.
Results
The major result is the described approach to imputation. The illustrative example revealed potential recall bias, suggesting that regressions against health data should be done as a function of PDI to check for consistency of results. The 1% of study subjects who lived for long durations near heavily trafficked intersections, had very high cumulative exposures. Thus, imputation methods must be designed to reproduce non-standard distributions.
Conclusions
Our approach meets a number of methodological challenges to extending historical exposure reconstruction over a lifetime and shows promise for environmental epidemiology. Application to assessment of breast cancer risks will be reported in a subsequent manuscript.
Keywords
Exposure
Air pollution
Traffic
Benzo(a)pyrene
PAH
Multiple imputation
Epidemiology
In-migration
Dose
Background
Historical reconstruction of exposure offers the opportunity to cover periods of a person's life when they may be most vulnerable[1, 2], but data challenges may make it difficult to attempt such a reconstruction for an epidemiologic study. Despite these difficulties, long-term assessment of residential exposure to pollutants is increasingly being used in environmental epidemiology of disease, particularly cancer[3–5]. As part of an effort in a large-scale study of environmental exposures and breast cancer[6], we wanted to add individualized inhalation exposures of PAH from traffic emissions to a previously collected set of individualized PAH exposures from diet and active/passive smoking. Within the category of PAH air exposure, we focused on traffic emissions because they are a major source of both indoor and outdoor exposures to PAH, and often the largest source in areas near cities, as has been confirmed in a number of experimental studies[7–12]. However, it was necessary to confront a number of methodological challenges before inhalation exposure from traffic could be obtained over a lifetime and before it could be totaled appropriately.
First, it was necessary to decide how to combine yearly exposures over decades. There was no guarantee that simply adding them to obtain a dose would capture possible differences in relative risk per unit of exposure at different study-subject ages. We approached this challenge by computing "effective doses" assuming a range of different functional dependencies on age of exposure. Effective doses are computed by summing functions of yearly exposure. Having a suite of effective doses available for use in regressions against health outcomes allows for broad coverage of the possible age-sensitivities.
Second, it was necessary to deal with exposure before study subjects arrived in the study area, as well as exposure that occurred in years before desirable records on emissions and traffic flows were available. A third challenge arose, because the earlier in time we went back to estimate exposure, the greater the percentage we found of missing residential information. To deal with these two types of missing-data problems we propose the use of multiple imputation, namely constructing a series of data sets with missing parameters randomly drawn from a set of predetermined values derived from an imputation model. The resulting multiple data sets are then available to be regressed against health outcomes. On the positive side of this approach, random errors in regression coefficients are reduced within an imputation data set, because sample sizes are increased. On the negative side, there is new variance in regression coefficients introduced when comparing results between imputed data sets. The net effect of these competing tendencies on overall variance can be assessed using Rubin's Rules or alternate formulations[13–15]. With this combined variance in hand, confidence limits on regression coefficients can be obtained that explicitly include uncertainty introduced by imputation of missing values.
The fourth challenge we faced was a consequence of limitations in the imputation process itself, namely the vulnerability to increased risk of recall bias, when information needed to impute a missing dose component is based in part on questionnaire answers obtained from individual study participants. This can lead to bias in regression coefficients and, therefore, the possibility of finding false or hidden associations with health outcome.
The quantity imputed is the portion of the total dose accumulated during periods of missing location data or missing emissions data. The percentage of the missing component can vary in magnitude by study subject. Although dealing with partially missing information presented a challenge, it also offered an opportunity to check the robustness of regressions with imputed data, and thus test for recall bias. To this end, we introduce the "percentage of dose imputed" (PDI) as a continuous index that allows limiting analysis to groups of study subjects depending on their degree of imputation. With PDI limit set to 0, the analysis is a complete-case analysis. With the limit on PDI set to 100%, the full population is analyzed. In this way, regression of health data could be performed as a function of the limit on PDI to see if the results were consistent as larger and larger components of imputed dose were allowed for study subjects. If there was consistency, then it would be reasonable to extend the results of a complete-case analysis to larger segments of the full population.
A fifth methodological challenge arose, because the observed doses among the subjects with complete information turned out to be right skewed: specifically in our case–control study the 1% of women who had lived for a long time near heavily trafficked intersections. This presented a challenge to our imputing doses in such a way as to properly populate "outlier" values. To deal with this type of imputation challenge, we propose approaches that do not assume standard distributions; moreover we recommend using more than one approach to allow testing the sensitivity of the regression results to the choice of imputation model.
All of these challenges are likely to be faced, to a lesser or greater degree, when researchers contemplate studies that require individualized historical exposures of adults over a lifetime, or even a great portion of it. As a result of all the potential difficulties, historical exposure is often ignored and analysts look for associations with exposures in recent periods when data are complete. However, doing so can introduce exposure misclassification, depending on the historical mobility of the population and the variation of exposure in place and time, with a resulting tendency to bias results towards the null. Associations can be missed[16]; and periods of greatest importance for health effects go unnoticed[4]. One approach to dealing with missing historical exposure data is to restrict analysis to a subset of the study population with complete data, but such a restriction can decrease sample size drastically and raises questions about applicability of results to the entire study population. Thus, it was of interest to explore new ways to accomplish multiple imputation in the historical context and to find ways to test for recall bias.
We illustrate the approaches developed to deal with the challenges using data from a population-based, case control study of breast cancer on Long Island, New York, a cancer for which a life-course approach to research is strongly recommended[17].
Results
The main results from this paper are Eqs. 2, 3, 4, 5, 6 and the approaches we described to operationalize them. In this section, we discuss results from the Long Island example.
Different biological effectiveness functions: For the illustrative example, Pearson correlation coefficients between dose calculated with different biological effectiveness factors ranged from 0.33 to 0.79 with no limits set on PDI (PDI < = 100%). The range was 0.59 to 0.99 for complete-case analysis (PDI = 0). See Table
1
and Additional file
1
: Tables S1-1 and S1-2.
Table 1
Pearson correlation coefficients between doses computed with different functional forms for the biologic effectiveness factor, averaged over 15 imputations a
Samples of women limited by allowed percentage of imputed dose (PDI)

Dose surrogate

CCA (PDI = 0%)

PDI < 20%

PDI < 40%

PDI < 60%

PDI < 80%

(PDI < = 100%)

N:

547

1164

1477

1764

2051

2986

Cumulative dose 1960-1995

(comparison dose variable)

Dose for 1995 only (Promoter model)

0.59 (0.11)

0.39 (0.15)

0.39 (0.16)

0.39 (0.16)

0.41 (0.16)

0.33 (0.15)

Peak annual dose in 1960–1995 (Threshold model)

0.99 (0.00)

0.93 (0.00)

0.93 (0.00)

0.92 (0.01)

0.91 (0.01)

0.75 (0.017)

Cumulative dose X (onset age)-2 (Age sensitive model)b

0.89 (0.024)

0.87 (0.028)

0.85 (0.033)

0.84 (0.039)

0.82 (0.044)

0.79 (0.06)

Pre-1960 surrogatec

−0.020

−0.031

−0.031

−0.030

−0.016

+0.00044
Early surrogate dosage (before 1960)
The early surrogate dosage for the breast cancer study subjects averaged 50% of the post-1960 dose (calculated for the B 1, constant sensitivity biologic model). Additional file1: Figure S1-4 graphs the average dependency on age. The Pearson correlation coefficient was 0.6.
There was essentially zero correlation between the early surrogate and the cumulative dose post-1960. The Pearson correlation coefficient ranged from −0.05 to 0.001 as the limit on PDI ranged from 0 to 100%. This low correlation means that inclusion of the early surrogate in the dose summation could alter the distribution curve for total dose.
Doses calculated after 1960 (Z calc and Z imp)
Of the 2,986 study subjects who arrived in the study area before 1996, about 55% of them arrived after 1960. Thus, individually modeled doses in the post-arrival period (
Z
calc
) are strongly affected by arrival date because late arrivers are missing their out-of-area contribution. Pearson correlation coefficient with year of arrival = −0.37. Figure
4
a graphs the relationship, showing how the
Z
calc
, post-arrival doses fall off for late arriving study subjects. Without accounting for out-of-area exposure through imputation, i.e., by adding the
Z
imp
contribution, false differences in dose calculations can arise, should cases and controls, because of unmeasured covariates, have a different distribution of arrival times.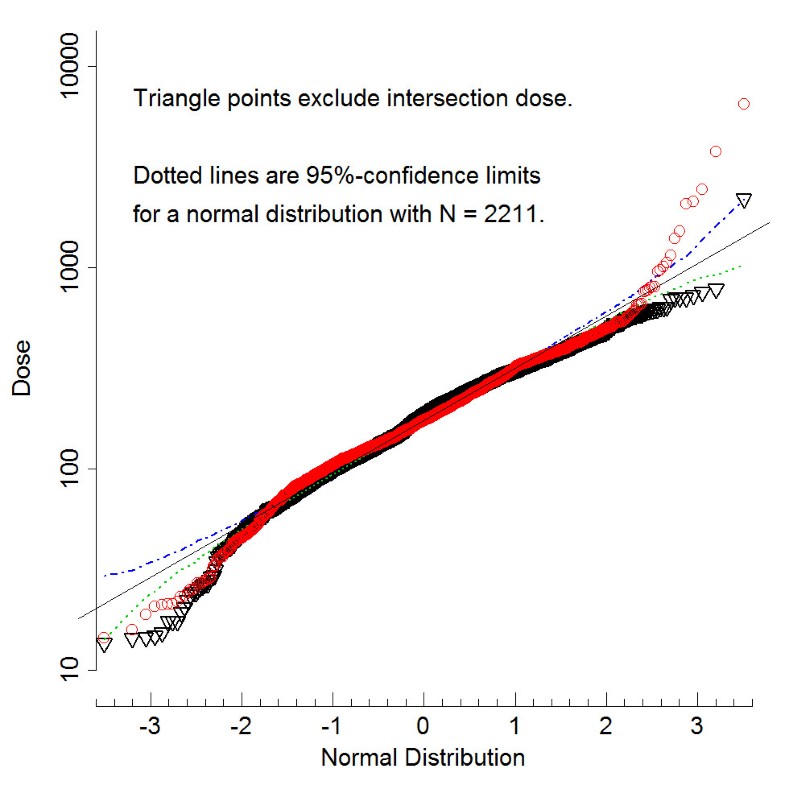 The Z imp surrogate itself, like Z calc, is highly correlated with year of arrival, albeit with a different sign (Pearson coefficient = 0.56). Figure 4b shows how adding the post-arrival, out-of-area surrogate, Z imp, to the individualized dose component, Z calc, removes the dependence on year of arrival.
To avoid interpreting BaP as more than a PAH proxy[34], doses are presented in the Figures, not in units of inhaled milligrams of BaP, but in units of the 1995 average dose computed for women in the study area. Note that Figures 4a and4b show graphs for but one imputed data set; however, the patterns are virtually identical at this level of detail for 14 additional imputed data sets, as is to be expected given the great variance around the mean dose curve (results not shown). Also note that a dose value in Figure 4b may be the sum of three terms, an out-of-area imputation, an in-area imputation, and a geographically modeled component.
Although adding
Z
calc
and
Z
imp
together eliminates the obvious way that recall bias could enter the estimation of doses, it is still necessary to go further and look for residual bias in
Z
calc
 + 
Z
imp
, which can be done using the PDI variable. We performed a chi-square analysis of cases and controls grouped by intervals of PDI. The results are shown in Table
2
. The p-value for rejecting the null hypothesis was 0.13, which is low enough to suggest some association between PDI and case status in our illustrative example, and therefore the possibility of differential bias.
Table 2
Distribution of women by limits on incompleteness index (PDI a ) in cumulative dose for one imputed data set b (Women who arrived before 1996)
| Limits on PDIa | Number of control women | Number of case women | Total |
| --- | --- | --- | --- |
| Zero (complete coverage) | 267 | 280 | 547 |
| >0 and < 20% | 336 | 281 | 617 |
| 20% to < 40% | 164 | 149 | 313 |
| 40% to < 60% | 150 | 137 | 287 |
| 60% to < 80% | 136 | 151 | 287 |
| 80% to < = 100% | 465 | 470 | 935 |
| Total | 1518 | 1468 | 2986 |
| Probability level for Chi-Square | | | 0.13 |
Right-skewed distribution and a 1% dose tail
The top 1% of the cumulative dose distribution showed unusually high values associated with doses from heavily-trafficked intersections, as shown in Figure 3, where probability plots are presented with and without the intersection dose component included in total dose. Without intersection dose included, the probability plot of log dose in Figure 3, with the exception of one point, trends smoothly below the normal line at the high end. However, with intersection dose included there is an abrupt deviation, with points falling well outside the upper 95% confidence limit on the normal curve shown in the Figure. The same skewed distribution appears when plotting doses computed for other assumptions about the biological effectiveness factor, B, with the exception of the pure promoter model, B 4 (results not shown). The skewed distribution at high doses was maintained no matter the limitation placed on imputation percentage (PDI) in 15 imputed data sets (results not shown).
Discussion
The past decade has seen an increasing understanding of the importance of the impact on chronic disease risk of exposures at all stages of life, especially exposures occurring during the early years of life when many organs are still undergoing rapid and formative growth[17]. Because many epidemiological studies of chronic illnesses such as cancer are usually initiated when the study population have already reached adulthood, capturing decades-old data on critical factors such as nutrition, exercise, and environmental exposures is a major challenge.
Residential address histories can be gathered by interview with relative ease, and we previously developed models for using histories obtained directly from patient interviews to estimate residential exposure to PAHs from traffic sources[35, 36] which we then calibrated against environmental measurements for participants in a breast cancer case–control study[18]. We further refined our methodology and historical database to take into account long-term changes in emission control technology[21]. A primary limitation, however, continues to be the completeness and accuracy of patient address recall. The present work provides a methodology to address this type of limitation by applying multiple imputation methods to extract the maximum information from available data, making it possible to use incompletely known residential data to put credible bounds on exposure metrics.
The early (pre-1960) surrogate dosage for the breast cancer study subjects averaged 50% of the post-1960 dose, showing that it can make a substantial contribution to lifetime dosage.b Interestingly, because this surrogate prior to scaling does not depend on information obtained from interview, it cannot directly introduce any recall bias into the dose estimates, although some bias can be carried over to it from the post-1960 averages. The way the early surrogate is defined in our example, without separate standardization by geographic region, the only connection to an individual is through age. However, the weak association (p = 0.13) between PDI and case status in our breast cancer data implies possible differential bias due to missing residential data; this will be investigated in a forthcoming epidemiological analysis that uses the present method to predict breast cancer risk.
Our finding of a consistent, strongly right-skewed distribution of traffic doses, associated with heavily trafficked intersections, means that non-standard distributions of exposure must be anticipated in studying traffic emissions. And, for our example data, this high-dose subpopulation is worthy of attention in future risk analyses that include these study subjects.
Because Pearson correlation coefficients between dose calculated with different biological effectiveness factors ranged from 0.33 to 0.79 with no limits set on PDI (PDI < = 100), the sensitivity of risk to age at exposure could be important in determining the strength of an association with health outcome; moreover, it suggests that regressions against health data might shed some light on which biologic model is most appropriate.
Conclusions
In historical reconstructions of exposure, investigators typically identify data that have been collected for environmental monitoring and not for epidemiology, and that do not fully cover the population of interest. We suggest here a way of filling in missing data that we hope will spur increased use of historical exposure reconstruction in health studies. A novel feature of our exposure reconstruction approach is an incompleteness index (PDI) that can be used to study the degree to which imputation might create artifactual dosages and, subsequently, improper associations with health outcomes -- a form of differential bias to which researchers need to be sensitive in general[37, 38] and specifically in traffic air pollution studies[39].
Endnotes
aThe risk equation in the main text, Eq. 1, was considered to be linear in dose. If the log odds is considered to be non-linear in exposure, then there would be terms in powers of Z as well a term in the log of Z[23, 40, 41] and possibly powers of log of Z. We did not consider such an extension of the methodology in the examples given in this paper.
bOne way to reduce the relative contribution of the early surrogate would be to trade one approximation for another, namely running the full exposure model at times earlier than the period for which full emissions and traffic data exists. This extrapolation could introduce misclassification due to errors in traffic flow rates and tailpipe emission rates, but might introduce less misclassification than would result from relying on an early surrogate. Depending on the variability in a model, an analyst might explore extrapolating the individualized model back in time to reduce the contribution from the early dose surrogate to a modest level relative to total dose.
Abbreviations
A:

Constant term in regression, including covariate contributions to risk
B1 through B4:

Functional forms for biological effectiveness
B(y'-yby-yb:

i): Biological effectiveness factor in subject, i, that relates exposure at a particular biological age, y'-y b, to detection of disease at a later biological age, y-y b
BaP:

Benzo(a)pyrene
β:

Vector of regression coefficients for Z(i,y)
D(y'ri[y′]):

Transfer function
E(y′i):

Exposure at date, y′, for subject, i
ϵ(y′):

Emission from a vehicle tailpipe in year, y′
pi:

Probability of an individual getting a disease
PDI:

Percentage of dose imputed
ri[y′]:

Residence of a subject at date, y′
T(y′):

Average number of vehicles on an average road on date y′
V1(i)V2(i):

Random variables with mean of unity
Y:

Date of disease detection
y′:

Date of an exposure
yb:

Date of birth
ystop:

Last exposure date of interest
Z(i:

y): Vector of effective doses for individual, i, in year, y
Zcalc:

Modeled component of individual dose
Zimp:

Imputed part of dose.
Declarations
Acknowledgments
Maureen Hatch provided advice during the early stages of this work. In addition, the following individuals provided information and/or assistance: Jing Nie, James Cook, Laura Palmer, Suffolk County Department of Public works, Michael J. Finocchi, Nassau Department of Public Works, Ed Finster, USEPA, Roy Fedelem, Long Island Regional Planning Board, Anthony Dentrone, Hagstrom maps, Sureli Nepomuceno, Columbia University Health Sciences Library. This work was supported in part by Intramural Research Program of NIH, National Cancer Institute, Division of Cancer Epidemiology and Genetics; USPHS grants CA/ES-66572, ES-10126, CA-63021, CA-17613, and, Long Island and Babylon Breast Cancer Coalitions, West Islip Breast Cancer Coalition for L.I., Inc., Huntington Breast Cancer Action Coalition, Noreen T. Holland Breast Cancer Foundation, Inc., Breast Cancer Grassroots Organizations for a Unified Purpose.
Authors' Affiliations
(1)
Consulting in the Public Interest (CIPI), Lambertville
(2)
Department of Epidemiology, Mailman School of Public Health, Columbia University, New York, NY, USA
(3)
Department of Preventive Medicine, Mount Sinai School of Medicine, New York, NY, USA
(4)
Department of Epidemiology, University of North Carolina at Chapel Hill, Raleigh, USA
Copyright
© Beyea et al.; licensee BioMed Central Ltd. 2013
This article is published under license to BioMed Central Ltd. This is an Open Access article distributed under the terms of the Creative Commons Attribution License (http://creativecommons.org/licenses/by/2.0), which permits unrestricted use, distribution, and reproduction in any medium, provided the original work is properly cited.