Review

Open Access

Open Peer Review
This article has Open Peer Review reports available.
Human exposure to nitro musks and the evaluation of their potential toxicity: an overview
Environmental Health
2014
13:14
Received: 16 April 2013
Accepted: 24 February 2014
Published: 11 March 2014
Abstract
Synthetic nitro musks are fragrant chemicals found in household and personal care products. The use of these products leads to direct exposures via dermal absorption, as well as inhalation of contaminated dust and volatilized fragrances. Evidence also suggests that humans are exposed to low doses of these chemicals through oral absorption of contaminated liquids and foods. As these compounds are lipophilic, they and their metabolites, have been found not only in blood, but also breast milk and adipose tissue. After personal use, these environmentally persistent pollutants then pass through sewage treatment plants through their effluent into the environment.
Little is known about the biological effects in humans after such a prolonged low dose exposure to these chemicals. While epidemiologic studies evaluating the effects of nitro musk exposures are lacking, there is limited evidence that suggest blood levels of nitro musks are inversely related to luteal hormone levels. This is supported by animal models and laboratory studies that have shown that nitro musks are weakly estrogenic. Nitro musks exposure has been associated with an increased risk of tumor formation in mice. The evidence suggests that while nitro musks by themselves are not genotoxic, they may increase the genotoxicity of other chemicals. However, animal models for nitro musk exposure have proven to be problematic since certain outcomes are species specific. This may explain why evidence for developmental effects in animals is conflicting and inconclusive. Given that animal models and cell-line experiments are suggestive of adverse outcomes, further epidemiologic studies are warranted.
Keywords
Nitro musksFragrancePersistent pollutantReview
Introduction
Synthetic nitro musks are alkylated nitrobenzene derivatives. These chemicals are an anthropogenic component in fragrant compositions. They were synthesized in the early 1900s as inexpensive substitutes for natural macrocyclic musks used in perfumes [
1
]. Nitro musks generally refer to the five most commercially relevant fragrant compounds (Figure
1
): ketone musk (4-tert-butyl-2,6-dimethyl-3,5-dinitroacetophenone), musk ambrette (2,6-dinitro-3-methoxy-4-tert-butyltoluene), musk moskene (1,1,3,3,5-pentamethyl-4,6-dinitro-2H-indene), musk tibetene (1-tert-butyl-3,4,5-trimethyl-2,6-dinitrobenzene) and musk xylene (1-tert-butyl-,5-dimethyl-2,4,6-trinitrobenzene). Musk moskene and musk tibetene have been prohibited from use in fragrant products because of adverse outcomes from structurally similar compounds [
2
]. Musk ambrette has been discontinued from use because its consumption was associated with hind limb weakness in rats and observed neuropathologic changes in the brain, spinal cord and peripheral nerves [
3
]. Ketone musk and musk xylene continue to be used as additives in detergents, fabric softener, household cleaning products and other fragrant non-cosmetic products with musk xylene being the most widely used nitro musk [
4
].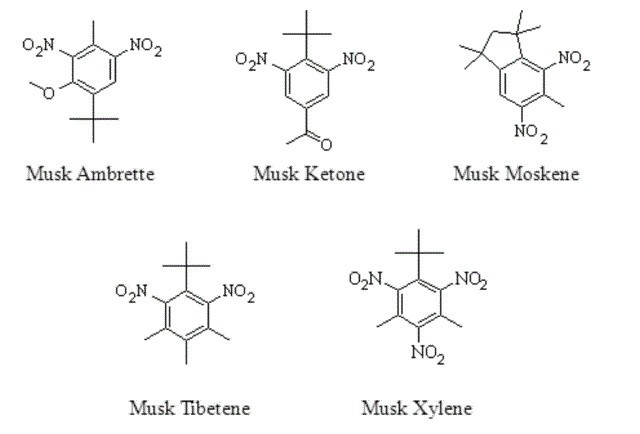 In 2008, under the authority of the Registration, Evaluation, Authorization and Restriction of Chemicals (REACH) regulation, musk xylene was classified as a substance of high concern with a very persistent, very bioaccumulative (vPvB) designation. A restricted use warning was placed on musk ketone. They found that nitro musk compounds do not degrade easily, causing them to be highly stable and ubiquitous in the environment [5].
Nitro musks have been largely replaced by polycyclic musks due to banning of these compounds in several countries [6, 7]. However, nitro musks are still being produced in China and India and used in non-cosmetic compounds in the United States that have not been reformulated. Given the environmental persistence and the continued use of nitro musks even at a decreased level, there are concerns for the effects of long-term exposure. This overview is designed to evaluate the literature on nitro musks and discuss areas for further research.
Conclusion
The use of animal models and laboratory studies is important for the risk assessment process. However, it can be difficult to extrapolate how these studies apply to typical everyday exposures of humans. The exposure concentrations of the nitro musks in the various animal models addressed above ranged from 1 μl/L to 5000 μl/L. Considering nitro musks have been found in aquatic systems at lower concentrations and that humans have significantly more body mass than the animals being studied, the studies may not be applicable to human nitro-musk exposure. At the same time, many of these animal studies involved short duration exposures. Although human exposure is likely at lower doses, it also is likely to be long-term. The animal studies do not address this exposure scenario.
The body of literature supports the conclusion that not only are we being exposed to nitro musks, we are also bioaccumulating them and passing them on to our offspring through breast milk and perinatal exposures. While the animal studies do not address long-term low dose effects, they do indicate that a particular area of focus for health outcomes from nitro musk exposure should be tumor genesis and cancer. While animal studies were conflicting for potential developmental effects, this lack of agreement indicates that more research needs to be done in this field. Human endocrine effects have been seen for nitro musk exposures; this indicates that more studies need to be done in animals and humans at environmentally relevant exposure levels. In light of the evidence, the precautionary principle should be taken into account. This can be done through a reduction in the use and production of products containing nitro musks.
Abbreviations
REACH:

Registration, Evaluation, Authorization and Restriction of Chemicals
vPvB:

Very persistent, very bioaccumulative.
Declarations
Acknowledgements
The work was supported by the IMSD Academic Training grant (R25 GM055353 (K.T.)).
Authors' Affiliations
(1)
Department of Environmental Health, Harvard School of Public Health, Boston, USA
(2)
Department of Epidemiology, Harvard School of Public Health, Boston, USA
Copyright
© Taylor et al.; licensee BioMed Central Ltd. 2014
This article is published under license to BioMed Central Ltd. This is an Open Access article distributed under the terms of the Creative Commons Attribution License (http://creativecommons.org/licenses/by/2.0), which permits unrestricted use, distribution, and reproduction in any medium, provided the original work is properly credited.