Research
Open Access
Open Peer Review
This article has Open Peer Review reports available.
The identification of complex interactions in epidemiology and toxicology: a simulation study of boosted regression trees
Environmental Health
2014
13:57
Received: 10 October 2013
Accepted: 28 June 2014
Published: 4 July 2014
Abstract
Background
There is a need to evaluate complex interaction effects on human health, such as those induced by mixtures of environmental contaminants. The usual approach is to formulate an additive statistical model and check for departures using product terms between the variables of interest. In this paper, we present an approach to search for interaction effects among several variables using boosted regression trees.
Methods
We simulate a continuous outcome from real data on 27 environmental contaminants, some of which are correlated, and test the method's ability to uncover the simulated interactions. The simulated outcome contains one four-way interaction, one non-linear effect and one interaction between a continuous variable and a binary variable. Four scenarios reflecting different strengths of association are simulated. We illustrate the method using real data.
Results
The method succeeded in identifying the true interactions in all scenarios except where the association was weakest. Some spurious interactions were also found, however. The method was also capable to identify interactions in the real data set.
Conclusions
We conclude that boosted regression trees can be used to uncover complex interaction effects in epidemiological studies.
Keywords
BoostingInteractionsToxicologyEpidemiology
Background
The assessment of synergistic and antagonistic effects among chemicals in a mixture has been much debated during the years [1]. If the effect of an exposure (chemical) A on a target depends on whether or not another exposure B is present and on the level/concentration of B, the effect is said to be non-additive (interactive). Interactive effects can be either synergistic, if the combined effect is greater than what could have been expected if A was present by itself, or antagonistic, if the combined effect is less than what could have been expected from A alone. The assessment of interactive effects is in most fields approached by first defining a null model without interactions from which departures would indicate interactive effects. The definition of the null model differs between epidemiology and toxicology; in the former field, it is based on the additivity of risk differences or as product terms in a statistical model and in the latter they are based on the hypothesized biological mechanisms [2].
There have been a number of null models proposed in toxicology [
1
], but two frameworks have been used extensively in practice, independent action (IA) and concentration addition (CA) [
2
,
3
]. The independent action (IA) model depends on statistical independence between exposures, i.e. each exposure acts independently of the other exposures but they all contribute to the outcome. The joint outcome of exposures is then the probabilistic sum. If the exposures are acting in a similar manner and can be substituted for one another in proportion to their potencies, the concentration addition (CA) model is used as null model. The two different approaches can thus yield different estimates of risk, depending on the mechanistic assumptions. If additivity holds for a combination of
N
exposures, the CA model can be written as
In the above equation, E i represents the concentration of exposure i associated with a certain response and c i represents the concentration of the i th exposure in combination with the other N−1 exposures yielding the same response. If the left hand side of equation 1 is less than one, there is a synergistic effect and if the left hand side is greater than one, the effect is antagonistic. It can be shown algebraically that this synergy corresponds to an interaction term with a regression coefficient larger than zero in a regression model whereas the antagonism corresponds to an interaction term with a coefficient less than zero. The additive case, i.e. the coefficient for the interaction term being equal to zero, corresponds to equation 1 [4]. Departures from additivity have been demonstrated in experimental settings [5–9] and in epidemiological studies [10, 11]. A recent review [12] highlighted some issues pertinent to the analysis of multi-pollutant mixtures in epidemiological data. The mixtures often consist of several correlated pollutants, the pollutants may interact with each other and there may be non-linear relationships with the outcome.
The assessment of interactions in a statistical model requires that interaction terms are present in the model. These terms are tested along with the main effects and the effects are evaluated. As long as the number of parameters in the model are not many compared to the sample size, the parameters and their standard errors can be estimated. When the number of parameters and possible interactions get large, the sample size might not be sufficient to estimate all parameters. An approach similar to that of genome-wide association studies (GWAS) called environment-wide association study (EWAS) has recently been proposed to screen both genetic and environmental data for candidate interacting factors [13–15]. In a first step, candidate factors are selected based on the strength of their marginal associations. Two-way interactions between the selected candidate factors are tested in a second step in which the false discovery rate (FDR, the expected proportion of false positives to the total number of positives) is estimated using a parametric bootstrap method which involves estimating interaction p-values under the null hypothesis of no interaction.
The nature of the data in epidemiological studies with many measured exposures, with an almost indefinite number of possible sizes and compositions of the interactions makes statistical learning methods, i.e. methods that are tailored to find interesting patterns in data, an attractive approach for identification and prediction of the joint effect. Recent applications of statistical learning methods in toxicology has primarily been used to predict toxicological properties from chemical structures and features. Examples include Support Vector Machines [16, 17], random forests and K-nearest neighbor classification [18], neural networks [19] and a combination of different methods [20]. This paper presents the results from the analysis of simulated chemical mixtures using a statistical learning method called gradient boosted regression trees (hereafter called boosted CARTs). We simulated an outcome containing interaction and nonlinear effects under four different scenarios and tested the method's ability to uncover these effects. We also show an analysis of real data relating environmental contaminants to serum bilirubin levels. Serum bilirubin is one of several markers used clinically in the assessment of liver function. The evaluation of mixture effects on serum bilirubin in humans is highly relevant, since several of the contaminants evaluated are associated with liver toxicity [21]. This method of finding plausible interactions is not limited to the study of mixture effects in toxicology and is therefore relevant in many areas where complex interaction effects are likely to exist.
Results
Table
1
shows the bootstrap validated root mean squared error (RMSE),
R
2
, the optimal
M
and
d
as well as the
M
and
d
chosen by the one SE rule. Figure
1
shows the ten most influential variables from the different scenarios. The seven variables present in the target function were correctly identified among the ten most important variables in the first three scenarios. For SNR = 0.1, the correct variables were not identified among the top ten as sex came at 14
th
place in the variable importance ranking. A few unimportant variables (Mn, Pb and two PCBs) placed before PCB 170 in the importance ranking as well.
Table 1
Optimal parameters and parameters chosen according to the one SE rule with R 2 as the metric
Optimal

One SE rule

d

M

RMSE

R 2

d

M

RMSE

R 2

SNR = 2

8

3,900

1.11

0.57

6

3,500

1.11

0.57

SNR = 1

8

3,000

1.50

0.40

6

2,700

1.52

0.39

SNR = 0.5

10

2,100

2.04

0.23

6

2,400

2.04

0.23

SNR = 0.1

10

1,300

4.29

0.02

5

1,400

4.29

0.02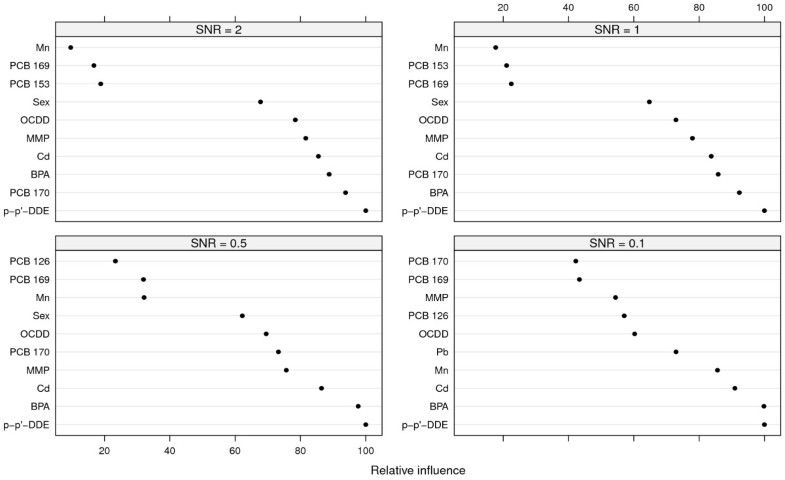 Discussion
In this study, we have shown that boosted regression trees may be a useful tool for uncovering complex interaction effects from a large set of environmental contaminants, as well as non-linear relationships. Simulated data have been used extensively to demonstrate the properties of CARTs, gradient boosting and the H statistic [23, 28, 29, 31]. Our study builds on those studies with the addition of correlated variables and different strengths of association. We based our simulated data on real data from the PIVUS study in which the contaminants were measured in the circulation, but the method could as well be applied on other multiple exposure data when complex interactions are likely to exist. Boosted CARTs are very flexible and usually perform very well when faced with the task of predicting a response. Since the search for interactions is fully automatic, the analyst has little control compared to a more traditional approach where subject matter knowledge may dictate where interactions should be sought for. The results from a boosted CART analysis should thus be wieved as exploratory and hypotheses generating until the results have been validated, preferably in external data unrelated to the data used for the analysis. If such external data are not available, the data can be split into a training set and a testing set where the testing set is held out during the modeling process and is only used to test the discovered interactions. Data-splitting is attractive since it allows interactions to be tested in a sample not used in the analysis without requiring external data. However, data-splitting reduces the sample size for both analysis and testing thereby lowering the power to detect interactions. If the sample size is not huge, a different split of the data may lead to different conclusions [24]. The split-sample validation approach suggested here tries to mitigate the last issue, and while not strictly a validation, it may be used as a robustness check as true interactions should be more stable in subsets of data than false ones.
The output from a boosted CART model does not provide confidence intervals or p-values for individual effects as traditional regression methods (i.e. least squares regression, generalized linear models) do. This makes interpretation and understanding of the model more difficult. Partial dependency plots are one way of visualizing the lower-order dependencies. In our example we visualized a four-way interaction using a four-by-four matrix of levelplots. While higher-order interactions are possible to visualize, some information is of course lost, as we cannot graph more than two continuous variables at the same time without resorting to some kind of binning. Confidence intervals for predicted values could possibly be obtained by using the bootstrap. All modeling steps would have to be repeated in each bootstrap sample, and unless M and d and possibly the shrinkage parameter are fixed from the start, an already resource-intensive method would be even more resource-intensive.
A decomposition of the covariate effects into main and interaction effects is not possible, and we cannot gauge the impact of the interactions as we would in a traditional model. The variable importance measure used for CARTs is based on the number of splits a variable is involved in averaged over the ensemble [23] and captures both additive and interaction effects. We therefore expect to find interactions among only the important variables [31], and the use of the H statistics and the derived null distributions can aid in understanding where interactions are most likely to occur. Another option could be to contrast, for each variable, the decrease in mean squared error resulting from splits corresponding to additive effects versus interaction effects. Based on limited simulations, we have seen no obvious advantage over the overall test but it is an approach worth investigating further. Once the interacting variables have been identified and the null distributions simulated, resample based p-values could be calculated as the fraction of H 0 larger than the observed H. While this is appealing as it relates to the traditional way of assessing the significance of an interaction term, a potential issue could be the narrow null distributions for higher order interactions. As can be seen in e.g. the lower panels of Figure 4, some null distributions are very narrow and even a small value of H could yield a very low p-value and thus be declared significant. Narrow null distributions arise because of how the interaction assessment is done. The null distributions are values of H calculated from fits to purely additive data. The numerator in equation 4 will be very small as the joint function will be very similar to the sum of its constituent functions. To interpret interaction effects when the null distributions are very narrow, our recommendation is to create the box-percentile plots so that the x-axis range is common for all investigated interaction orders and visually assess the significance of H.
Our proposed method performed well for all but the lowest SNR, which is not surprising considering the relatively small data set and the amount of searching done by the CARTs. The fact that the true interactions were found when SNR was set as low as 0.5 is encouraging and it could be argued, based on these results, that the power to detect interactions is good. The power simulations show that a sample size of 1,000 should be enough to uncover two-way and three-way interactions if the size of the interaction effects are about the same as the main effects and the signal to noise ratio is not low. Naturally, a larger sample size is required to uncover three-way interactions than two-way interactions. Boosted CARTs performed well in comparison with the parametric models with regards to power. The sample size required to achieve >80% power for the two-way interactions was larger for boosted CARTs than the parametric model when the coefficients for the two-way product term was small. However, the reverse was observed for the three-way interactions irrespective of the three-way product term's coefficient. All modeling steps were takien into account for both boosted CARTs and the parametric models and while boosted CARTs may perform worse for the assessment of lower-order interactions for a given sample size, the method's strength lies in the prediction of higher order interactions as well as nonlinear effects.
Correlated variables are very common in the study of multiple exposures [12]. Despite the correlation between the PCBs in this study, the boosted tree model correctly identified PCB 170 as the most important one in three out of four cases. The correlations between the simulated PCBs were rather low, however, as we used marker PCBs in place of all PCBs measured. We saw some signs of interactions involving PCBs other than PCB 170 (e.g. Figure 4 top right and bottom left panels) and for SNR = 0.1 the wrong PCBs seemed to be involved in interactions. This method thus does not solve the issue with highly correlated exposures and care should be taken when interpreting the results. It is not surprising that H is somewhat sensitive to correlated exposures. Nonlinearities are handled in CARTs via successive splits on the same variable and with correlated variables, the CART may choose to split on two or more variables instead of successive splits on one variable, thus creating a spurious interaction. One approach to discourage spurious interactions is to place an incentive for repeated splits on the same variable in the construction of each CART [31]. A very low shrinkage parameter further limits the influence of correlated variables [23]. Correlated exposures could also be summarized into one or more scores using e.g. principal component analysis. While the issues with correlated exposures are solved, the interpretation of the results is much more difficult.
The method outlined in this paper differs somewhat from the EWAS two-step approach in that no screening step is performed. This has the advantage of giving all variables a chance to predict the outcome, and variables with small marginal effects but large interaction effects would end up as relatively influential. The downside is that boosted CARTs are very resource-intensive and it is questionable if this method, in its current state, would be applicable in situations in which data on thousands of genes and environmental factors are measured on many thousand individuals. In situations like those, an EWAS approach [13, 14, 45] may be a reasonable way to narrow down the list of candidate variables. This screening step would however need to be accounted for in the parameter tuning step.
We used the squared error loss function in our study. This loss function is well suited to situations where the residuals are Gaussian with zero mean and constant variance. In situations where this is not the case, the performance degrades considerably and more robust loss functions should be used. The procedure described in this paper is not limited to continuous outcome variables. For binary outcome variables, which are very common in epidemiological studies, one could generate the artificial outcome data in equation 5 needed for the evaluation of interactions as Bernoulli random variables where the probability of a success is estimated from an ensemble consisting of depth d=1 CARTs.
A number of other learning techniques which can accommodate interactions between predictors in a high-dimensional setting merit some attention. RuleFit [46] is an add-on package for R that extracts rules from CARTs and fits them together with linear terms using regularized regression. The framework for detecting interactions presented here was first implemented in RuleFit [31]. At the time of writing, RuleFit can be used to evaluate up to three-way interactions. While interpreting three-way interactions certainly is difficult on its own, it is plausible that higher order interactions may occur in a chemical mixture. Random forests [47] is a technique also based on CARTs. In a random forest, CARTs are grown to full size on bootstrap samples from the data and a random sample of the predictors are used in determining the splits for the individual CARTs. The only tuning parameter in a random forest is the number of predictors to consider for each split and increasing the number of CARTs to add into the ensemble does not lead to overfitting and predictive performance is often comparable to boosting. This makes random forests easy to tune and a very attractive alternative to boosted CARTs. At the time of writing however, functions to extract the necessary partial dependencies needed for the H statistic are not implemented for random forests. Multivariate Additive Regression Splines (MARS) [48] fits an expansion of linear basis functions to the data. MARS approximates additive relationships better than CARTs and has the ability to separate main effects from the interaction effects. The method is however less well suited to approximate higher-order interactions [23]. Logic regression [49] share some similarities with CARTs in that they both generate rules, or logical conditions, and was developed to examine interactions in genetic association studies. The main drawback for the type of problems examined here is that Logic regression requires binary predictors. It could be argued that the predictors could be converted to binary form via dichotomization, but that would lead to an unnecessary loss of information. Although CARTs perform binary splits in the predictors, the trees in the ensemble combine to mitigate the problems with dichotomization. Chi-squared automatic interaction detection (CHAID) [50] uses multiple Bonferroni adjusted χ 2-tests and multi-way splits to build prediction rules. The predictors and the response are assumed to be categorical so the same issues regarding continuous predictors as Logic regression applies here. Two relatively new approaches based on the lasso are hierNet [51] and GLINTERNET[52] which try to find two-way interactions subject to hierarchical constraints. Simulations suggest that both hierNet and GLINTERNET outperformed boosting with respect to the FDR [52] although the interaction assessment for boosting was not based on the H statistic.
Suggested workflow
Figure
13
shows the workflow for a typical analysis

1.

Choose a loss function to optimize. This step is equivalent to choosing the link function in a generalized linear model, e.g. the squared error loss function is similar to ordinary least squares regression and the bernoulli loss function is similar to logistic regression. If the appropriateness of the squared-error loss function is in doubt, the laplace loss function offers a more robust alternative.

2.

Tune the parameters. Boosted CARTs have three parameters to tune; tree depth, the number of CARTs to include in the ensemble and the shrinkage parameter. The values can be determined by evaluating the performance over a grid of tuning parameter values using the boostrap or cross-validation. We recommend using the one standard error rule when choosing the tuning parameters.

3.

Evaluate total interaction strength. If d>1, there may be one or more interactions present. The total interaction strength can be evaluated for the most important varaibles which is often a smaller subset of all variables included in the analysis. If there is no evidence of interactions, go to step 5.

4.

Evaluate higher order interactions. When the interacting variables have been identified, the next step is to assess the higher order interactions.

5.

Visualize the results. Levelplots and/or contour plots can be used to visualize interactions. Additive effects can be visualized using plots of the estimated step functions.
Conclusions
Boosted CARTs can be used to uncover complex interaction effects and generate hypotheses in epidemiological studies. In this example, simulated as well as real data on environmental contaminants were used to illustrate such interaction effects, but the method could well be applied to other kinds of exposure data.
Abbreviations
PCB 118:

2,3',4,4',5-Pentachlorobiphenyl
PCB 126:

3,3',4,4',5-Pentachlorobiphenyl
PCB 153:

2,2',4,4',5,5'-Hexachlorobiphenyl
PCB 169:

3,3',4,4',5,5'-Hexachlorobiphenyl
PCB 170:

2,2',3,3',4,4',5-Heptachlorobiphenyl
PCB 209:

Decachlorobiphenyl
OCDD:

Octachlorodibenzo-p-dioxin
HCB:

Hexachlorobenzene
TNC:

trans-nonachlor
p-p'-DDE:

1,1-bis-(4-chlorophenyl)-2,2-dichloroethene
BDE47:

2,2',4,4'-tetra-bromodiphenyl ether
BPA:

Bisphenol A
MEHP:

Mono-2-ethylhexyl phthalate
MEP:

Monoetyl phthalate
MIBP:

Monoisobutyl phthalate
MMP:

Monomethyl phthalate
Al:

Aluminum
Cd:

Cadmium
Co:

Cobalt
Cr:

Chromium
Cu:

Copper
Hg:

Mercury
Mn:

Manganese
Mo:

Molybdenum
Ni:

Nickel
Pb:

Lead
Zn:

Zinc
FDR:

False discovery rate
SNR:

Signal to noise ratio.
Declarations
Acknowledgements
The authors thank Dr Johanna Penell for valuable discussions. This study was supported by the Swedish Research Council (VR) and the Swedish Research Council for Environment, Agricultural Sciences and Spatial Planning (FORMAS).
Authors' Affiliations
(1)
Department of Medical Sciences, Occupational and Environmental Medicine, Uppsala University, Uppsala, Sweden
(2)
Department of Medical Sciences, Cardiovascular Epidemiology, Uppsala University, Uppsala, Sweden
(3)
Uppsala Clinical Research Center, Uppsala University Hospital, Uppsala, Sweden
Copyright
© Lampa et al.; licensee BioMed Central Ltd. 2014
This article is published under license to BioMed Central Ltd. This is an Open Access article distributed under the terms of the Creative Commons Attribution License (http://creativecommons.org/licenses/by/2.0), which permits unrestricted use, distribution, and reproduction in any medium, provided the original work is properly credited. The Creative Commons Public Domain Dedication waiver (http://creativecommons.org/publicdomain/zero/1.0/) applies to the data made available in this article, unless otherwise stated.