Review
Open Access
Open Peer Review
This article has Open Peer Review reports available.
The Chernobyl childhood leukemia study: background & lessons learned
Environmental Health
2004
3:12
Received: 17 August 2004
Accepted: 08 November 2004
Published: 08 November 2004
Abstract
Many challenges emerged during completion of a study to examine radiation dose and acute leukemia among children in areas of the former Soviet Union. In an era of globalization, our experiences might benefit others involved in multinational investigations.
Keywords
Chronic Lymphocytic LeukemiaAcute LeukemiaChernobyl AccidentFormer Soviet UnionChernobyl Disaster
Introduction
This paper identifies the major challenges faced and the lessons learned in addressing them by the collaborative research groups involved in developing and conducting a large, multi-national case-control study of acute leukemia among children in areas of the former Soviet Union (FSU) that were most heavily exposed to radioactive fallout as a result of the April 1986 accident in reactor vessel #4 of the Chernobyl Nuclear Power Plant.
In this accident, a variety of radioisotopes including iodine (131I), cesium (137Cs, 134Cs), and strontium (90Sr), were released from the damaged reactor vessel contaminating soil, vegetation, and groundwater [1]. Fallout from the Chernobyl accident contaminated large portions of Eastern Europe, the then Union of Soviet Socialist Republics (USSR) and more distant regions. Areas of the FSU, including the now independent republics of Belarus, Russia, and Ukraine, were among the most heavily contaminated. The intent of the research project was to examine acute leukemias without specific regard to national boundaries, while recognizing the requirement to bring together investigators from these three republics in a common effort.
Acute external exposures to ionizing radiation have been etiologically linked with observed increases in the risk of all types of leukemia, except chronic lymphocytic leukemia; the risk is greatest for acute myeloid leukemia [2–12]. The association between exposure to ionizing radiation from the Chernobyl accident and the occurrence of leukemia has been summarized in a recent review [10] which highlights mixed results from published studies to date (see the review article for a comprehensive overview of published studies). Accounting for differences between the studies in the methodologies used to assess the radiological exposures, the procedures for identifying childhood malignancies and in the lengths of follow up, these authors concluded that there is not strong evidence demonstrating increases in childhood or adult leukemia from Chernobyl exposures [10]. Nonetheless, because the link between high dose ionizing radiation exposure and the development of leukemias is widely established, and children are felt to represent a uniquely susceptible population, this issue remains of high scientific and public heath interest. The study described herein focused on this most susceptible subgroup.
Collaborative studies are challenging at best; international consortia efforts are even more so. The study of border-crossing disasters such as that in Chernobyl need be investigated as a single scientific challenge to take advantage of standardizing the investigative process across national boundaries, and to afford adequate sample size and the associated statistical power to reach meaningful conclusions. This paper will not recount the events of the Chernobyl disaster or specific results of the investigation. Rather, it will share the lessons learned while conducting a collaborative, multinational study for the benefit of other investigators.
Conclusions
Our experiences in the organization and successful implementation of a multinational, retrospective study of acute leukemia in regions impacted by the Chernobyl disaster have been highlighted. Issues identified during the implementation of our multi-national epidemiology study, along with strategies for resolution are summarized in table
1
. While trained research teams within each Republic were responsible for collecting data, we relied on a distinctive series of working groups of collaborators from participating institutions to coordinate various aspects of the study such as case confirmation, data quality, dosimetry, and data analyses. This allowed all project teams to remain interconnected and equally involved while utilizing the unique expertise of various collaborators.
Table 1
Potential issues regarding the implementation of multi-national epidemiology studies
Challenge:

Resolution strategy:

•Language

•Dual language versions (Russian & English) for all printed materials; use of interpreters

•Geographic distance between collaborators

•e-mail accounts for key collaborators; site visits, progress meetings

•Limited experience with epidemiology

•Mandatory training workshops for interviewers; audits to assure compliance with protocols

•Subject ascertainment

•Cases identified through manual record reviews at oncodispensaries and childhood oncology centers; controls identified from manual review of raion medical records

•Limited comprehensive cancer registry data

•Manual records review at oncodispensaries, childhood cancer centers and mortality files

•Lack of telephone to contact participants

•Mailed letters of introduction; field trips to communities

•Locations of study participants

•Field trips for data collection; assistance of local residents

•Radiologic contamination data in multiple locations

•Visits to multiple Institutes & offices; contacts of collaborators

•Adequate communications

•All research sites provided immediate Internet access

•Timely compensation for local investigators

•Direct pay facilitated by USA agencies (e.g., Civilian Research and Development Foundation)

•Common research protocols and joint methodology for individual radiation assessment

•Periodic meetings of all USA/FSU investigators to promote personal relationships and scientific value of combined data

•Data collation and analysis

•Establish Data Coordination Office in the Former Soviet Union

•Transfer all data electronically

•Data access and archives

•Access by mutually-agreeable policy

•Transfer data to USA institution for permanent storage

•Multidisciplinary international study

•Highly cooperative, joint international consortium with working groups
The breakup of the former Soviet Union in 1991 created national autonomy in Belarus, the Russian Federation, and Ukraine. Although the study area for this project included selected regions of the FSU, the intent was to study acute leukemia without regard to specific national boundaries, while recognizing the requirement to bring together investigators from these three Republics in a common effort. Proprietary concerns and country-specific restrictions on the sharing of scientific information were thoroughly addressed to gain agreement and to facilitate the pooling of analytic information.
The Consortium played an integral role in providing infrastructure support for this project through the appointment of project support administrators at each research site to oversee communications, equipment procurement/maintenance, and compensation. The fiscal aspects of supporting research are unique to each country. A careful examination of collaborating scientific institutions and the financial regulations of each participating country prior to setting up any support mechanisms is critical, and may result in country-specific arrangements. Essential computer, laboratory, and communication equipment was supplied. Computer software, which was compatible across the three research settings, was installed and upgraded periodically. Equipment was segregated and secured to insure exclusive use by project staff.
It should be emphasized that this investigation represents the largest retrospective study examining the relationship between Chernobyl radiation exposures and risk of acute leukemia conducted to date and the only research effort to bring together data from the most exposed areas into a single study; results of the multinational case-control study are presented in a separate paper [19]. The conduct of multinational epidemiologic studies presents numerous challenges [17, 20], including issues such as language, physical infrastructure, telephone coverage, and road conditions, as well as geographic distances and issues of participant ascertainment. However, as demonstrated by our experiences, these challenges can be effectively overcome through attention to organization, communication, and quality assurance. Moreover, these challenges are greatly offset by unique opportunities to yield information of great significance to science and society.
Author contributions
MCM and AMM were responsible for the study concept. MCM and AMM drafted the manuscript; KMM, PLM, RCM, VFS and RWD provided critical review and input. MCM, KMM, PLM, RCM, VFS, RWD and AMM participated in interpretation, as well as in data acquisition efforts. All authors read and approved this manuscript.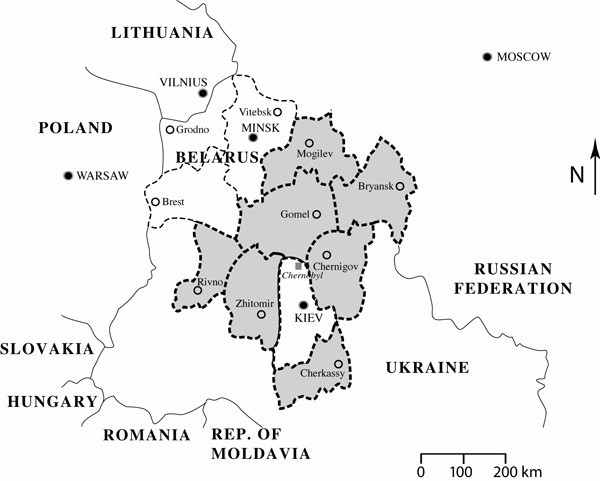 List of Abbreviations
FSU:

former Soviet Union
USSR:

Union of Soviet Socialist Republics
USA:

United States of America
ICRHER:

International Consortium for Research on the Health Effects of Radiation
the:

"Consortium"
FHCRC:

Fred Hutchinson Cancer Research Center
DIWG:

dosimetry intercomparison working group
Declarations
Acknowledgments
This work was supported by Grant # N00014-94-1-0049 issued to Georgetown University from the Office of Naval Research in support of the International Consortium for Research on the Health Effects of Radiation. The contents are solely the responsibility of the authors and do not necessarily represent the views of the Office of Naval Research, Georgetown University or the International Consortium for Research on the Health Effects of Radiation.
The collegiality and enthusiastic support, as well as critical feedback on earlier drafts of this paper, received from ICRHER members and others, are gratefully acknowledged.
Authors' Affiliations
(1)
Division of Cancer Prevention and Population Sciences, Roswell Park Cancer Institute, Carlton &, Buffalo, USA
(2)
School of Medicine and Biomedical Sciences, State University of New York at Buffalo, Main Street, Buffalo, USA
(3)
International Consortium for Research on the Health Effects of Radiation (ICRHER), Bartlesville, USA
(4)
Medical Radiological Research Center, Obninsk, Russia
(5)
Fred Hutchinson Cancer Research Center, Seattle, USA
References
United Nations Scientific Committee on the Effects of Atomic Radiation UNSCEAR 2000 Report to the General Assembly,with scientific annexes. I. Sources and II. Effects of Ionizing Radiation. Annex J, Exposure and Effects of the Chernobyl Accident. 2000, New York, NY, United Nations publications.,Google Scholar
Boice JDJ: Cancer following irradiation in childhood and adolescence. Med Pediatr Oncol Suppl. 1996, 1: 29-34. 10.1002/(SICI)1096-911X(1996)27:1+<29::AID-MPO6>3.3.CO;2-2.View ArticleGoogle Scholar
Boice JD, Inskip PD: Radiation-induced Leukemia. Leukemia. Edited by: ES Henderson TALMFG. 1996, Philadelphia, WB Saunders, 195-206. 6thGoogle Scholar
Committee on the Biological Effects of Ionizing Radiation (BEIR V) NRC: Health Effects of Exposure to Low Levels of Ionizing Radiation: BEIR V. 1990, Washington, DC, National Academy PressGoogle Scholar
Folley JH, Borges W, Yamawaki T: Incidence of leukemia in survivors of the atomic bomb in Hiroshima and Nagasaki, Japan. Am J Med. 1952, 13: 311-321. 10.1016/0002-9343(52)90285-4.View ArticleGoogle Scholar
Ishimaru T, Hoshino T, Ichimaru M, Okada H, Tomiyasu T: Leukemia in atomic bomb survivors in the Atomic Bomb Casualty Commission (ABCC) master sample, Hiroshima and Nagasaki 1 October 1950 to 30 September 1966. Atomic Bomb Casualty Commission Technical Report. 1969, 25-69.Google Scholar
Pierce DA, Shimizu Y, Preston DL, Vaeth M, Mabuchi K: Studies of the mortality of atomic bomb survivors. Report 12, Part I. Cancer: 1950-1990. Radiat Res. 1996, 146: 1-27.View ArticleGoogle Scholar
Ron E: Ionizing radiation and cancer risk: evidence from epidemiology. Radiat Res. 1998, 150: S30-41.View ArticleGoogle Scholar
Lange RD, Moloney WC, Yamawaki T: Leukemia in atomic bomb survivors. Atomic Bomb Casualty Commission Technical Report. 1959, 25-59.Google Scholar
Moysich KB, Menezes RJ, Michalek AM: Chernobyl-related ionising radiation exposure and cancer risk: an epidemiological review. Lancet Oncol. 2002, 3: 269-279. 10.1016/S1470-2045(02)00727-1.View ArticleGoogle Scholar
Preston DL, Kusumi S, Tomonaga M, Izumi S, Ron E, Kuramoto A, Kamada N, Dohy H, Matsuo T, Matsui T: Cancer incidence in atomic bomb survivors. Part III. Leukemia, lymphoma and multiple myeloma, 1950-1987. Radiat Res. 1994, 137: S68-97.View ArticleGoogle Scholar
Ichimaru M, Ishimaru T, Belsky JL: Incidence of leukemia in atomic bomb survivors belonging to a fixed cohort in Hiroshima and Nagasaki, 1950--71. Radiation dose, years after exposure, age at exposure, and type of leukemia. J Radiat Res (Tokyo). 1978, 19: 262-282.View ArticleGoogle Scholar
Dainiak N, Schull WJ, Karkanitsa L, Aleinikova OA: Radiation Injury and the Chernobyl Catastrophe. International Conferences on the Health Effects of Low-Dose Radiation (1993) and Biological Effects of Radiation Injury (1996). 1996, Houston, Texas (1993) and Minsk, Belarus (1996), AlphaMed Press, 15, supplement 2: 1-320.Google Scholar
Olson SH, Mignone L, Harlap S: Selection of control groups by using a commercial database and random digit dialing. Am J Epidemiol. 2000, 152: 585-592. 10.1093/aje/152.6.585.View ArticleGoogle Scholar
Wacholder S, Silverman DT, McLaughlin JK, Mandel JS: Selection of controls in case-control studies. II. Types of controls. Am J Epidemiol. 1992, 135: 1029-1041.Google Scholar
Wacholder S, Silverman DT, McLaughlin JK, Mandel JS: Selection of controls in case-control studies. III. Design options. Am J Epidemiol. 1992, 135: 1042-1050.Google Scholar
Mitchell LE, Beaty TH, Lidral AC, Munger RG, Murray JC, Saal HM, Wyszynski DF: Guidelines for the design and analysis of studies on nonsyndromic cleft lip and cleft palate in humans: summary report from a Workshop of the International Consortium for Oral Clefts Genetics. Cleft Palate Craniofac J. 2002, 39: 93-100. 10.1597/1545-1569(2002)039<0093:GFTDAA>2.0.CO;2.View ArticleGoogle Scholar
McCarthy PLJ, Paltiel O, Maslova E, Kulikov S, Hahn T, Kopecky KJ, Drozdova V, Shmatina N, Tichonova L, Van Hoff J, Gavrilova I, Weinstein H: Histopathologic verification of acute leukemia (AL) in a cohort of 463 post-Chernobyl patients from Belarus, Russia and Ukraine. Leuk Res. 2004, 28: 1273-1280. 10.1016/j.leukres.2004.04.008.View ArticleGoogle Scholar
Davis S, Day RW, Kopecky KJ, Mahoney MC, McCarthy PL, Michalek AM, Moysich KB, Onstad LE, Stepanenko VF, Voillequé PG, for the International Consortium For Research On The Health Effects Of Radiation: Childhood Leukemia in Belarus, Russia and Ukraine Following the Chernobyl Power Station Accident: Results From an International Collaborative Population-Based Case-Control Study.Google Scholar
Kessler RC: The World Health Organization International Consortium in Psychiatric Epidemiology (ICPE): initial work and future directions -- the NAPE Lecture 1998. Nordic Association for Psychiatric Epidemiology. Acta Psychiatr Scand. 1999, 99: 2-9.View ArticleGoogle Scholar
Copyright
© Mahoney et al; licensee BioMed Central Ltd. 2004
This article is published under license to BioMed Central Ltd. This is an Open Access article distributed under the terms of the Creative Commons Attribution License (http://creativecommons.org/licenses/by/2.0), which permits unrestricted use, distribution, and reproduction in any medium, provided the original work is properly cited.