Review

Open Access

Open Peer Review
This article has Open Peer Review reports available.
Translocation pathways for inhaled asbestos fibers
Environmental Health
2008
7:4
Received: 09 August 2007
Accepted: 24 January 2008
Published: 24 January 2008
Abstract
We discuss the translocation of inhaled asbestos fibers based on pulmonary and pleuro-pulmonary interstitial fluid dynamics. Fibers can pass the alveolar barrier and reach the lung interstitium via the paracellular route down a mass water flow due to combined osmotic (active Na+ absorption) and hydraulic (interstitial pressure is subatmospheric) pressure gradient. Fibers can be dragged from the lung interstitium by pulmonary lymph flow (primary translocation) wherefrom they can reach the blood stream and subsequently distribute to the whole body (secondary translocation). Primary translocation across the visceral pleura and towards pulmonary capillaries may also occur if the asbestos-induced lung inflammation increases pulmonary interstitial pressure so as to reverse the trans-mesothelial and trans-endothelial pressure gradients. Secondary translocation to the pleural space may occur via the physiological route of pleural fluid formation across the parietal pleura; fibers accumulation in parietal pleura stomata (black spots) reflects the role of parietal lymphatics in draining pleural fluid. Asbestos fibers are found in all organs of subjects either occupationally exposed or not exposed to asbestos. Fibers concentration correlates with specific conditions of interstitial fluid dynamics, in line with the notion that in all organs microvascular filtration occurs from capillaries to the extravascular spaces. Concentration is high in the kidney (reflecting high perfusion pressure and flow) and in the liver (reflecting high microvascular permeability) while it is relatively low in the brain (due to low permeability of blood-brain barrier). Ultrafine fibers (length < 5 μm, diameter < 0.25 μm) can travel larger distances due to low steric hindrance (in mesothelioma about 90% of fibers are ultrafine). Fibers translocation is a slow process developing over decades of life: it is aided by high biopersistence, by inflammation-induced increase in permeability, by low steric hindrance and by fibers motion pattern at low Reynolds numbers; it is hindered by fibrosis that increases interstitial flow resistances.
Keywords
Malignant MesotheliomaAsbestos ExposureParietal PleuraAsbestos FiberInterstitial Pressure
Conclusion
Asbestos fibers are found basically in all organs in subjects exposed to asbestos [
55
]. The block diagram in Fig.
5
shows primary (black arrows) and secondary (white arrows) asbestos fibers translocation within the body. The size of the arrows for secondary translocation are representative of asbestos fibers accumulation. The lowest concentration of asbestos fibers were found in the brain and pleural space [
56
] reflecting low permeability of the blood-brain barrier and of the endothelial-parietal mesothelial complex, respectively. Interestingly, in pleural mesothelioma, the most representative asbestos fibers are ultrathin ones [
3
], in line with a lower steric hindrance, compared to longer fibers, to be dragged down water fluxes. Fiber deposition was found relevant in the kidney and in the liver [
56
]. In the kidney this could be explained on the basis of a high blood perfusion and microvascular pressure. In the liver, this finding is in line with a high microvascular permeability of the liver sinusoids. The higher fiber concentration in the lung interstitium, compared to other organs, may result from two translocation routes as fibers can reach the lung interstitium both from the alveoli and from the blood.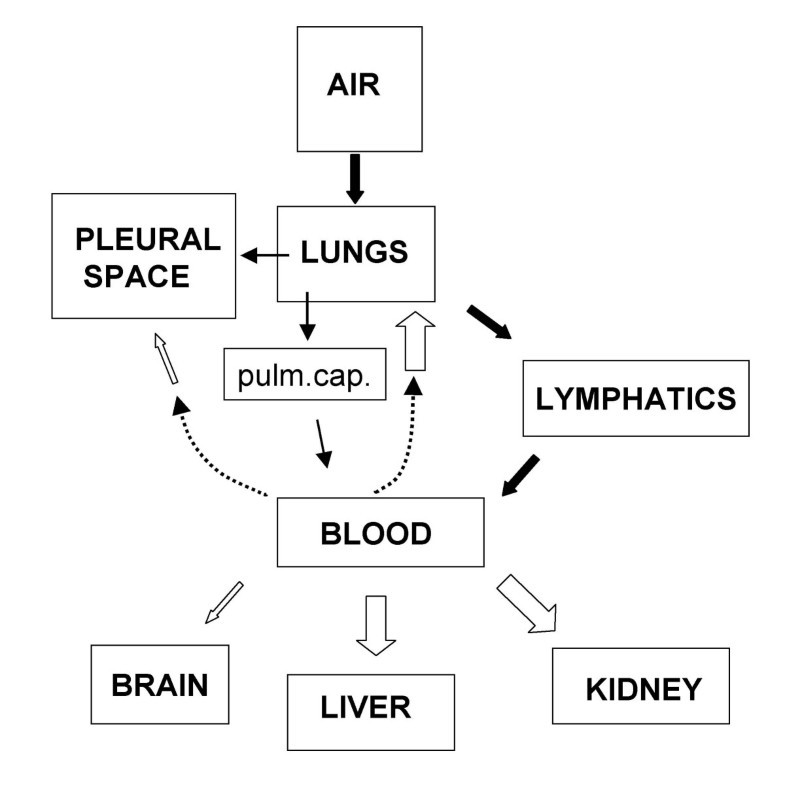 In conclusion, the translocation of asbestos fibers within the body can be interpreted as a water flow driven process aided by the high biopersistency of asbestos fibers. Given the average size and aspect ratio of the asbestos particles, it is difficult to envision their translocation through the porous extracellular interstitial space and through the membrane barriers separating compartments. On the one hand, translocation may be aided by the increase in permeability of the membranes due to asbestos-induced inflammation and by the motion features of particulates in Poiseuille flow at low Reynolds numbers; on the other, translocation is likely hindered by fibrosis that actually increases interstitial flow resistance. The net result is a slow translocation process for asbestos particles developing over decades of life.
Declarations
Acknowledgements
A contribution for publication expenses comes from Fondazione Banca del Monte di Lombardia and from BONSAI FP6 European Research program.
Authors' Affiliations
(1)
Department of Experimental Medicine, University of Milano-Bicocca, Monza, Italy
(2)
Clinic of Occupational Medicine and Research Centre of Inhaled Particles, University of Milano, Milano, Italy
Copyright
© Miserocchi et al; licensee BioMed Central Ltd. 2008
This article is published under license to BioMed Central Ltd. This is an Open Access article distributed under the terms of the Creative Commons Attribution License (http://creativecommons.org/licenses/by/2.0), which permits unrestricted use, distribution, and reproduction in any medium, provided the original work is properly cited.