Review

Open Access

Open Peer Review
This article has Open Peer Review reports available.
Ancillary human health benefits of improved air quality resulting from climate change mitigation
Environmental Health
2008
7:41
Received: 04 April 2008
Accepted: 31 July 2008
Published: 31 July 2008
Abstract
Background
Greenhouse gas (GHG) mitigation policies can provide ancillary benefits in terms of short-term improvements in air quality and associated health benefits. Several studies have analyzed the ancillary impacts of GHG policies for a variety of locations, pollutants, and policies. In this paper we review the existing evidence on ancillary health benefits relating to air pollution from various GHG strategies and provide a framework for such analysis.
Methods
We evaluate techniques used in different stages of such research for estimation of: (1) changes in air pollutant concentrations; (2) avoided adverse health endpoints; and (3) economic valuation of health consequences. The limitations and merits of various methods are examined. Finally, we conclude with recommendations for ancillary benefits analysis and related research gaps in the relevant disciplines.
Results
We found that to date most assessments have focused their analysis more heavily on one aspect of the framework (e.g., economic analysis). While a wide range of methods was applied to various policies and regions, results from multiple studies provide strong evidence that the short-term public health and economic benefits of ancillary benefits related to GHG mitigation strategies are substantial. Further, results of these analyses are likely to be underestimates because there are a number of important unquantified health and economic endpoints.
Conclusion
Remaining challenges include integrating the understanding of the relative toxicity of particulate matter by components or sources, developing better estimates of public health and environmental impacts on selected sub-populations, and devising new methods for evaluating heretofore unquantified and non-monetized benefits.
Keywords
Contingent ValuationClimate Change MitigationClimate Change PolicyEconomic ValuationAncillary Benefit
Background
Averting the course of climate change would result in human health benefits directly associated with lessened global temperature changes and associated impacts, but would also bring ancillary health benefits from reduced ground-level air pollution in the short-term [1–5]. Many fossil-fuel combustion processes that generate greenhouse gases (GHG) also emit other harmful air pollutants. Several measures aimed at reducing GHG emissions can also improve local air quality, most commonly particulate matter (PM) and ozone (O3) precursors. Further, whereas the benefits from climate change mitigation would materialize far in the future, co-benefits, or ancillary benefits, would occur in the short-term.
Figure
1
describes the relationships among the health consequences of climate change and air quality policies and the general framework of how these responses can be assessed. Air quality policies are routinely evaluated in terms of the estimated health outcomes avoided and their economic impact [
6
,
7
]. However, assessment of the health impacts of GHG strategies often considers only consequences in the far future (i.e., left side of Figure
1
), without integration of the short-term benefits of related policies [
8
]. Well-informed public health and environmental strategies require full consideration of consequences, including co-benefits and potential ancillary harms.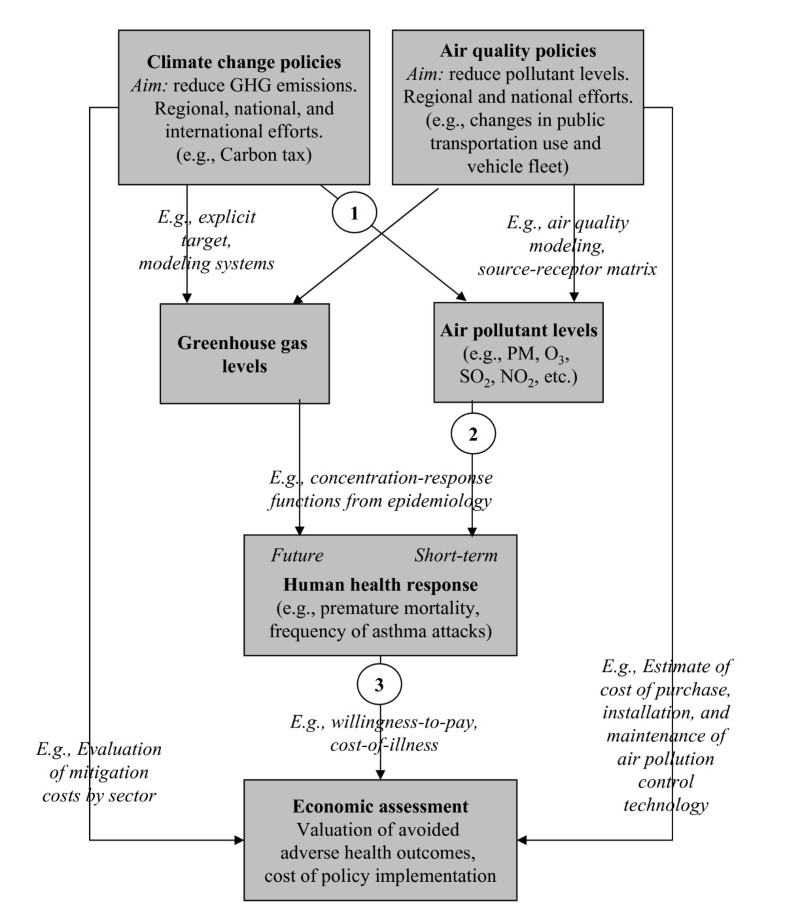 A broad array of tools to evaluate the health-related ancillary costs and benefits of climate change is currently available, and some examples are provided in italics in Figure 1. The general structure for most assessments involves three key steps: (1) estimating changes in air pollutant concentrations, comparing levels in response to GHG mitigation to concentrations under a baseline "business-as-usual" scenario; (2) estimating the adverse health impacts avoided from reduced air pollution; and (3) for some studies, estimating the monetary benefit from these averted health consequences, often with comparison to the cost of the climate change mitigation measure. The first step is sometimes accomplished through emissions scenarios and information regarding how emissions translate into pollutant concentrations, such as with air quality modeling systems. The second step usually relies on concentration-response functions from existing epidemiological studies on ambient air pollution and health. The third stage utilizes a variety of techniques to translate health benefits into monetary terms, such as contingent valuation (CV). Additional steps include sensitivity analysis, such as applying multiple climate change scenarios or concentration-response functions for health effects.
This paper aims to illuminate the weight of evidence on the ancillary health benefits of GHG policies, provide a framework for such analysis, and critique relevant methods. We focus on the effects of air quality; however a full assessment of the complete ancillary consequences would consider other factors such as the cost of mitigation measures and ecological impacts. We close with recommendations on the appropriate role of ancillary health benefits and costs in the climate change mitigation debate. As part of these recommendations, we identify a number of public health and economic related research topics that require clarification in order to promote more effective ancillary benefits assessments with respect to GHG mitigation policies.
Discussion
Estimating the ancillary public health consequences of GHG policies is a challenging task drawing upon expertise in economics, emission inventories, air pollution modeling, and public health. However, to date most assessments have focused more heavily on one aspect of the framework (i.e., a portion of Figure 1), whether it be estimation of changes in air pollutant concentrations, health response, or economic analysis (see Table in additional file 1). We have summarized the limitations in the health and economics estimations, however other uncertainties exist for the selection of policy alternatives and estimation of changes in air quality. In spite of differences in approaches, choice of climate change policy, etc., the wealth of evidence from multiple studies provides a broad consensus that ancillary health benefits from improved air quality are substantial, which can be useful information for the policy debate about the scope, design, and timing of climate policy.
Results from current ancillary benefits studies may be underestimates due to unquantified benefits, as only a subset of the health consequences from air pollution have adequate exposure-response relationships [59, 135–137]. A USEPA evaluation of the Clean Air Interstate Rule (CAIR) noted numerous unquantified health impacts such as chronic respiratory damage for O3, pulmonary function for PM, and lung irritation for NOx [135]. The nature of unquantified effects is continually evolving. Some pollution and health relationships considered unquantifiable by USEPA in 1999 [7] have since been identified, such as for acute O3 exposure and mortality [51, 76–78] and air pollution's association with lung cancer [138, 139]. Further some endpoints may be included in one analysis, but regarded as too uncertain for another, perhaps due to a different study location or differences in researchers' judgment. One approach to address health endpoints with uncertain concentration-response functions is to include these effects qualitatively in discussion of unquantified benefits. Another is to incorporate these effects in sensitivity analysis.
Similarly, some economic costs may not be easily quantifiable, even if the health response to air pollution is understood. For example, the USEPA's CAIR analysis identified several unquantifiable costs including employment shifts as workers become reemployed, administration costs in state and federal governments, and some permitting costs [135]. Only a limited number of studies are available regarding the value of children's health, such as several that estimated the cost of children's asthma [140–143]. Valuing reduced mortality risks for newborns or children is challenging because children are generally not the key decision-makers over their own health. Techniques to transfer adult monetary valuations to children have been explored [144].
This work has focused primarily on health benefits from improved air quality resulting from climate change mitigation, however a full assessment of the short-term consequences of climate change policies would incorporate tradeoffs that may in fact be negative or for which the direction of impact is difficult to predict. Policies might alter unemployment rates and income levels, which have been linked to increased suicides [145, 146], domestic violence [147, 148], depression [149], and mental health [150, 151]. The relationships between low income or unemployment and health are not fully understood and somewhat controversial. Still, changes in employment or income from climate policies have the potential to introduce another set of health-related ancillary benefits or costs.
As another example, GHG mitigation might incorporate policies to deter suburban sprawl, which could reduce transportation-related air emissions and thereby improve health in the short-term. However, a fuller understanding of the consequences of such a policy would address changes in population-weighted air pollution exposure, which may be higher in urban areas, as well as urban crime, and other potential impacts from higher population density. Other examples are transition to biofuels, which could have implications for nutrition, or the use of bikes rather than cars for transportation, which would lower air pollution emissions but could potentially also harm health if biking occurred near major roadways, increasing proximity to high pollution at an increased ventilation rate, or could improve health through increased exercise. Thus, while our discussion and most research of ancillary consequences have focused on benefits, a full suite of positive and adverse consequences could exist.
One of the most controversial aspects of ancillary benefits analysis is the valuation of health in non-industrialized countries. Previous Intergovernmental Panel on Climate Change (IPCC) assessments sparked heated debate because they presented non-market values for health improvements that some thought unethically devalued lives in non-industrialized countries. Challenges to economic valuation of health in these regions are described elsewhere [152]. Limited data availability, such as for wages, prohibits application of some approaches. Medical cost information may not reflect social opportunity costs. Hedonic labor market studies, which presume that labor and goods markets are competitive and workers have reasonable information on death and injury risks, may carry more uncertainties in some regions than others. Valuation of the health of various household members, particularly children, may be quite different than in developed countries because of children's more central role in the economy. Rapid economic growth means preferences are changing as well, raising questions about the applicability of indigenous studies several years hence.
A related challenge is differential effects by subpopulations. Epidemiological evidence supports the hypothesis that some segments of the population (e.g., racial or socio-economic groups) face disproportionate health burdens from air pollution. Current ancillary benefit analysis does not include separate estimation of health and economic damages by sub-groups or confront issues of environmental justice. Further information is needed on the relationship between air pollution and health and economic valuation methods with respect to subpopulations.
In order to conduct the most robust ancillary benefits analyses, we recommend reliance on the most defensible, transparent methods, even if they are recognized as deficient. Because a variety of approaches are available, none of which are ideal, we recommend the application of multiple methods and extensive sensitivity analysis considering a range of changes in air pollution concentrations, spatial distribution of impacts (if considered), health endpoints, epidemiological concentration-response functions, and economic valuation estimates.
Conclusion
Overall, though still a work in progress, the present techniques available for the analyses of the ancillary public health costs and benefits are adequate and appropriate for implementation by those comparing the relative merits and overall value of various GHG mitigation policies. Estimates of considerable benefits that remain after a variety of sensitivity analyses can alleviate some concerns regarding limitations of individual methods or assumptions. The short-term public health changes associated with GHG mitigation strategies should be considered as a key factor in the choice of GHG policies.
List of abbreviations
AQVM:

Air Quality Valuation Model
BenMAP:

Benefits Mapping and Analysis Program
BTRE:

Bureau of Transport and Regional Economics
CAAA:

Clean Air Act Amendments
CAIR:

Clean Air Interstate Rule
CO2 :

carbon dioxide
COI:

cost of illness
CV:

contingent valuation
CVD:

cardiovascular
EU:

European Union
GHG:

greenhouse gases
MRAD:

minor restricted activity days
NOx :

nitrogen oxides
O3 :

ozone
PM:

particulate matter
PM10 :

particulate matter with an aerodynamic diameter = 10 µm
PM2.5 :

particulate matter with an aerodynamic diameter = 2.5 µm
PPP:

purchasing power parity
QALY:

quality-adjusted life year
RAD:

restricted activity days
SO2 :

sulfur dioxide
TSP:

total suspended particles
USEPA:

US Environmental Protection Agency
VOCs:

volatile organic compounds
VSC:

value of a statistical case
VSL:

value of a statistical life
VSLY:

value of a statistical life year
WTP:

willingness to pay
Authors' Affiliations
(1)
School of Forestry and Environmental Studies, Yale University, New Haven, USA
(2)
Graduate School of Public Health, University of Pittsburgh, Pittsburgh, USA
(3)
Industrial and Systems Engineering Department, P. Catholic University of Chile, Engineering School, Santiago, Chile
(4)
Resources for the Future, Washington, USA
(5)
School of Medicine, New York University, Tuxedo, USA
Copyright
© Bell et al; licensee BioMed Central Ltd. 2008
This article is published under license to BioMed Central Ltd. This is an Open Access article distributed under the terms of the Creative Commons Attribution License (http://creativecommons.org/licenses/by/2.0), which permits unrestricted use, distribution, and reproduction in any medium, provided the original work is properly cited.