The coastal environment and human health: microbial indicators, pathogens, sentinels and reservoirs
Environmental Health
2008
7(Suppl 2):S3
Published: 7 November 2008
Abstract
Innovative research relating oceans and human health is advancing our understanding of disease-causing organisms in coastal ecosystems. Novel techniques are elucidating the loading, transport and fate of pathogens in coastal ecosystems, and identifying sources of contamination. This research is facilitating improved risk assessments for seafood consumers and those who use the oceans for recreation. A number of challenges still remain and define future directions of research and public policy. Sample processing and molecular detection techniques need to be advanced to allow rapid and specific identification of microbes of public health concern from complex environmental samples. Water quality standards need to be updated to more accurately reflect health risks and to provide managers with improved tools for decision-making. Greater discrimination of virulent versus harmless microbes is needed to identify environmental reservoirs of pathogens and factors leading to human infections. Investigations must include examination of microbial community dynamics that may be important from a human health perspective. Further research is needed to evaluate the ecology of non-enteric water-transmitted diseases. Sentinels should also be established and monitored, providing early warning of dangers to ecosystem health. Taken together, this effort will provide more reliable information about public health risks associated with beaches and seafood consumption, and how human activities can affect their exposure to disease-causing organisms from the oceans.
Keywords
Marine MammalFecal Indicator BacteriumTularemiaFrancisella TularensisCombine Sewer Overflow
Introduction
Bodies of water, particularly the coastal oceans and the Great Lakes, provide a source of food, employment, recreation and residence, and are the first defense from various natural and man-made hazards and disasters. Maintaining these as functional and healthy ecosystems is essential for our future well-being. Currently 50% of the world population lives in towns and cities within 100 km of the coast [1]. These coastal areas are impacted through pollution inputs due to changes in land use and hydrology, with vast amounts of our wastes entering on a daily basis. Ocean and estuarine ecosystems can therefore impact the extent to which humans are exposed to microbial pathogens, which include both marine-indigenous pathogens and externally introduced microbial contaminants. These pathogens can be found in association with marine animals, phytoplankton, zooplankton, sediments and detritus. Environmental factors, including salinity, temperature, nutrients and light, influence the survival and sometimes the proliferation of pathogens.
Recent research relating oceans and human health is addressing a range of issues in environmental health microbiology (Figure
1
), including examinations of the sources and sinks of pathogens, human exposures, effects of development and management practices, and the expression of disease. New detection methods have been developed and tested, which represent not only a comparison of different approaches but take into account idiosyncrasies of different geographical areas (e.g. tropical vs. temperate regions), as well as the standardization of sample collection and processing methods. This work has broadened our perspectives on the types of microbial pathogens present in the ocean and the importance of non-point sources of contamination in the environment. In this manuscript we present several of the current challenges to understanding the impacts of microbes of public health concern in the coastal environment, including (1) indicator organisms, and their relationship to water quality, (2) non-point sources of contamination, (3) direct pathogen detection, (4) virulence, (5) non-enteric diseases resulting from recreational water use, (6) animals and environments as sentinels of water quality, and (7) zoonotic and emerging diseases.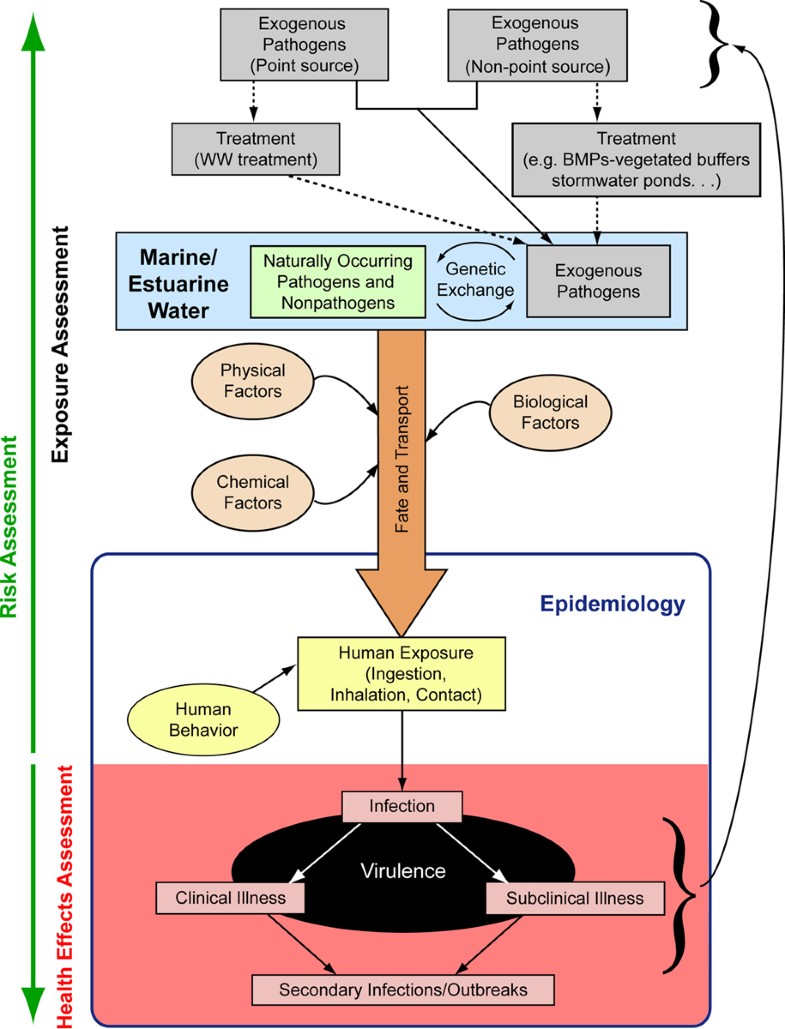 Conclusion
Oceans directly and indirectly impact the extent to which humans are exposed to disease-causing organisms. Recent research has greatly enhanced our understanding of the relationships between pathogens, coastal and marine environments, and human health. Assays for rapid detection of water-borne and shellfish-borne pathogens have been developed and optimized, and progress toward simultaneous and real-time detection is underway. Genetic factors associated with virulence are being discovered so that lethal strains can be specifically identified. Similarly, genetic targets are being revealed that help differentiate human from nonhuman sources of fecal contamination. Alternative indicators are being proposed to more accurately assess risks to human health, and new measures of contamination are being linked to health outcomes to help improve management criteria. In some instances, marine organisms and coastal habitats act as reservoirs for newly-introduced terrestrial pathogens and can contribute to disease transmission. These organisms and habitats are acting as sentinels for health status within a given ecosystem and can also help warn of threats from emerging pathogens. Overall, this research is leading to a greater understanding of how oceans affect human health, and how humans themselves influence this process.
List of abbreviations used
US EPA:

United States Environmental Protection Agency
FIB:

fecal indicator bacteria.
Declarations
Acknowledgements
The Oceans and Human Health Initiative research described within this paper is supported by the National Science Foundation, The National Institute for Environmental Health Sciences and the National Oceanic and Atmospheric Administration. The authors thank Karen Swanson for helping to create Figures 1 and 4; and two reviewers for their helpful comments and suggestions. Grant numbers are: NIEHS P50 ES012742 and NSF OCE-043072 (RJG, LAA-Z, MFP), NSF OCE04-32479 and NIEHS P50 ES012740 (RSF), NSF OCE-0432368 and NIEHS P50 ES12736 (HMS-G), NIEHS P50 ES012762 and NSF OCE-0434087 (JSM).
This article has been published as part of Environmental Health Volume 7, Supplement 2, 2008: Proceedings of the Centers for Ocean and Health Investigators Meeting. The full contents of the supplement are available online at http://www.ehjournal.net/supplements/7/S2.
Authors' Affiliations
(1)
Hollings Marine Laboratory, NOAA National Ocean Service, Charleston, USA
(2)
Woods Hole Oceanographic Institution, Woods Hole Center for Oceans and Human Health, Woods Hole, USA
(3)
Water Resources Research Center, University of Hawaii, Honolulu, USA
(4)
Rosenstiel School for Marine and Atmospheric Sciences, University of Miami, Miami, USA
(5)
Department of Environmental and Occupational Health Sciences, University of Washington, Seattle, USA
(6)
The Josephine Bay Paul Center for Comparative Molecular Biology and Evolution, Marine Biological Laboratory, Woods Hole Center for Oceans and Human Health, Woods Hole, USA
(7)
Civil and Environmental Engineering, MIT, Woods Hole Center for Oceans and Human Health, Cambridge, USA
(8)
Northwest Fisheries Science Center, NOAA Fisheries, Seattle, USA
(9)
Atlantic Oceanographic and Meteorological Laboratory, NOAA Office of Oceanic and Atmospheric Research, Miami, USA
(10)
Cooperative Institute of Marine and Atmospheric Studies, University of Miami, Miami, USA
Copyright
© Stewart et al; licensee BioMed Central Ltd. 2008
This article is published under license to BioMed Central Ltd. This is an open access article distributed under the terms of the Creative Commons Attribution License (http://creativecommons.org/licenses/by/2.0), which permits unrestricted use, distribution, and reproduction in any medium, provided the original work is properly cited.