Research

Open Access

Open Peer Review
This article has Open Peer Review reports available.
Between-airport heterogeneity in air toxics emissions associated with individual cancer risk thresholds and population risks
Environmental Health
2009
8:22
Received: 10 January 2009
Accepted: 08 May 2009
Published: 08 May 2009
Abstract
Background
Airports represent a complex source type of increasing importance contributing to air toxics risks. Comprehensive atmospheric dispersion models are beyond the scope of many applications, so it would be valuable to rapidly but accurately characterize the risk-relevant exposure implications of emissions at an airport.
Methods
In this study, we apply a high resolution atmospheric dispersion model (AERMOD) to 32 airports across the United States, focusing on benzene, 1,3-butadiene, and benzo [a]pyrene. We estimate the emission rates required at these airports to exceed a 10-6 lifetime cancer risk for the maximally exposed individual (emission thresholds) and estimate the total population risk at these emission rates.
Results
The emission thresholds vary by two orders of magnitude across airports, with variability predicted by proximity of populations to the airport and mixing height (R2 = 0.74–0.75 across pollutants). At these emission thresholds, the population risk within 50 km of the airport varies by two orders of magnitude across airports, driven by substantial heterogeneity in total population exposure per unit emissions that is related to population density and uncorrelated with emission thresholds.
Conclusion
Our findings indicate that site characteristics can be used to accurately predict maximum individual risk and total population risk at a given level of emissions, but that optimizing on one endpoint will be non-optimal for the other.
Keywords
Emission Rate
Intake Fraction
Incremental Concentration
Emission Threshold
Integrate Risk Information System
Background
For hazardous air pollutants (HAPs), even after implementation of the maximum available control technology (MACT) standards for major stationary sources of air pollution, the residual cancer risks associated with air toxics in the United States (US) generally exceed the 10-6 lifetime risk level often considered as a de minimis cancer risk [1, 2]. Therefore increasing attention has been paid to various mobile and area sources and other efforts to control residual risks. While a variety of efforts have been implemented and have contributed to risk reductions [3], some source categories which may contribute to air toxics risks in some settings have not been extensively characterized or formally addressed.
Airports represent a complex source type of increasing importance in many areas. Airports do not meet the definition of a major or area source under Section 112 of the Clean Air Act [4], yet include a combination of sources that contribute to air toxics risks. For example, a study of air toxics risks from O'Hare International Airport in Chicago, Illinois (ORD) [5], estimated that cancer risks associated with the airport exceeded 10-6 for a 1000 square mile area surrounding the airport, with a maximum individual risk (MIR) of 10-4. Aircrafts, which contributed 87 percent of these risks, are considered mobile sources but are not subject to the requirements of Section 112 [6].
However, modeling risks from airports or from proposed airport expansions can be complex and somewhat uncertain, given the need for accurate emissions inventories and atmospheric dispersion models that address the intricacies of airport emissions (i.e. aircraft emissions that vary over time and space, including vertically). For this reason, some have concluded that currently available data are inadequate to conduct air toxics risk assessments for airports [6]. For airports, even screening analyses can therefore be time consuming and computationally intensive.
In spite of these data and analytical limitations, there is increasing interest among community groups and other stakeholders in including air toxics risks when considering the marginal contribution of airports or proposed airport expansions to health risks [7]. Given this, it would be desirable to be able to quickly but reasonably estimate the emission rate required for a specific airport to reach a given MIR threshold (which we henceforth define as the de minimis individual risk emission threshold, or DMIRET). In principle, the DMIRET would depend on the proximity of populations to runways and taxiways, meteorological conditions, and the proportion of ground-level versus elevated emissions. It would also depend on the characteristics of the pollutant itself, including its potency, chemical reactivity, and whether it is found in the gas or particle phase.
If the DMIRET could be predicted by these and other covariates for a given toxic air pollutant, the likelihood of MIR thresholds being exceeded could be quickly evaluated. This would allow national regulatory agencies to quickly determine which airports would require greater attention and more extensive modeling efforts to address air toxics. In addition, it would allow interested community groups to quickly ascertain whether an airport or airport expansion would likely contribute to air toxics health risks.
However, focusing exclusively on MIR thresholds in making prioritization decisions could be non-optimal. Although many screening-level cancer risk characterizations are driven initially by an individual risk perspective [3], cost-benefit or related analyses would require population risk estimates, i.e. the sum of individual risks. For example, in the evaluation of residual risks for HAPs, if a source/pollutant combination exceeds the MIR threshold, then the number of people at various risk levels and other considerations are utilized in formulating risk management decisions [3]. It would therefore be important to determine whether population risk measures are correlated with the MIR measures. It is possible that a source would have a lower MIR but a greater total population risk, based on the spatial gradient of concentrations, downwind population density, and other factors.
In this study, we determine for 32 airports distributed across the US the minimum aircraft emission rates of three HAPs with differing potencies and chemical characteristics (benzene, 1,3-butadiene, and benzo [a]pyrene) that would lead to a MIR of 10-6. We determine whether significant variability exists in these minimum emission rates and develop models to explain any observed variability based on publicly available covariates. We also calculate the total population risk within 50 km of the airport at these minimum emission rates, and we determine which covariates predict these various measures and whether they are correlated with one another. These analyses allow us to consider the likelihood that an emphasis on avoiding MIR thresholds would be an optimal strategy from a population risk perspective.
Methods
Airport sample selection
As applying detailed atmospheric dispersion models to characterize the marginal effects of all individual airports in the US was infeasible, we instead selected a subset of airports that were representative of the US and adequate to characterize variability in the DMIRET. We began with a set of 325 airports that had been previously characterized using the Emissions and Dispersion Modeling System (EDMS) [
8
], a combined emissions and dispersion model for assessing air quality at civilian airports and military air bases [
9
]. These airports represent 95% of commercial jet aircraft operations. We stratified the data set into four census regions – Northeast, Midwest, South and West, as defined by the US Census Bureau [
10
]. We then randomly selected 10 percent of airports in each region, yielding 5 airports in the Northeast, 8 in the Midwest, 12 in the South, and 7 in the West (Figure
1
). Therefore, we obtained a sample of 32 airports for this study, which balanced the need for a large enough sample size for regression analysis with the limitation on computational capacity for air dispersion modeling.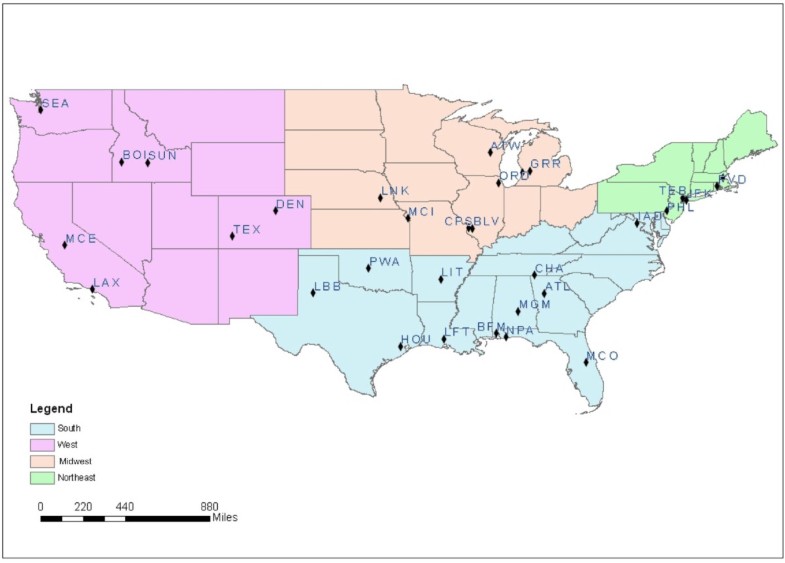 Atmospheric modeling
We modeled the incremental concentration due to aircraft emissions from airports in the study sample using AERMOD. AERMOD's concentration estimates are based on a steady-state plume approach with significant improvements over previous commonly applied regulatory dispersion models [11, 12]. The concentration distribution predicted by AERMOD has been compared with 16 field studies and one laboratory wind tunnel study. With few exceptions, AERMOD's performance is superior to that of the other applied models tested [12]. Breeze AERMOD 6 Graphical User Interface [13] was used to enter input parameters to AERMOD while the executable AERMOD version 07026 by US Environmental Protection Agency (EPA) [14, 15] was used to calculate the incremental concentrations.
Several preprocessors are used to generate input data for AERMOD. AERMET is a meteorological data preprocessor that incorporates air dispersion based on planetary boundary layer turbulence structure and scaling concepts. AERMAP is a terrain data preprocessor that incorporates complex terrain using US Geological Survey (USGS) Digital Elevation data. AERSURFACE is a tool that processes land cover data to determine the surface characteristics for use in AERMET.
Surface meteorology and upper air data were obtained from the National Oceanic and Atmospheric Administration (NOAA) [16] for the year 2006. The 1992 National Land Cover Dataset was obtained from USGS from the National Map Seamless Server and was used as input to AERSURFACE. 1 degree terrain elevation data as input to AERMAP were obtained from Trinity Consultants [17].
Emissions distribution approach
Conclusion
In spite of these limitations, our analyses corroborate our hypotheses and demonstrate the viability of our approach. Using state-of-the-art four-dimensional emissions characterization and atmospheric dispersion modeling, we demonstrated that both the emission rate contributing to a 10-6 maximum individual risk and the total population exposure within 50 km of the airport per unit emissions vary substantially across airports but can be predicted with reasonable precision using easy to obtain variables, such as distance from the airport, total population, and mixing height. These results provide a method to quickly but reasonably determine the likelihood of public health impacts of concern for airport modifications or expansions. In addition, there is low correlation between the emission rate contributing to a 10-6 maximum individual risk and the total population risk within 50 km of the airport at that emission rate, emphasizing that decisions based solely on one factor may not be optimal for the other factor. Our methods can be generalized to other source categories and can be expanded to include other pollutants with non-threshold dose-response curves in future assessments.
Abbreviations
ATL:

Hartsfield-Jackson Atlanta International Airport
BaP:

Benzo [a]pyrene
BR:

Breathing rate
DMIRET:

de minimis individual risk emission threshold
EDMS:

Emissions and Dispersion Modeling System
EPA:

Environmental Protection Agency
HAP:

Hazardous air pollutants
iF:

Intake Fraction
IRIS:

Integrated Risk Information System
ISC:

Industrial Source Complex model
JFK:

John F. Kennedy International Airport in New York City
LAX:

Los Angeles International Airport in Los Angeles
MACT:

Maximum available control technology
MIR:

Maximum individual risk
NOAA:

National Oceanic and Atmospheric Administration
OEHHA:

Office of Environmental Health Hazard Assessment
ORD:

O'Hare International Airport in Chicago
PVD:

Providence/T.F. Green International Airport in Warwick, RI
SUN:

Friedman Memorial Airport in Hailey, Idaho
TEB:

Teterboro Airport in Teterboro, New Jersey
TEX:

Telluride Regional Airport in Telluride, Colorado
THC:

Total hydrocarbon
USGS:

US Geological Survey
VOC:

Volatile organic carbon
Declarations
Acknowledgements
This study was sponsored by the Federal Aviation Administration (FAA) through the Partnership for AiR Transportation Noise and Emissions Reduction (PARTNER) under Cooperative Agreement No. 03-C-NE-MIT-026, Subcontract Agreement No. 5710002069. Any opinions, findings, and conclusions or recommendations expressed in this material are those of the authors and do not necessarily reflect the views of the FAA. We thank Steven Melly, Philip Soucacos, Melissa Ohsfeldt, Ted Thrasher, Saravanan Arunachalam, Vlad Isakov and Breeze technical support for valuable input.
Authors' Affiliations
(1)
Department of Environmental and Occupational Health, Rollins School of Public Health, Emory University, Atlanta, USA
(2)
Department of Environmental Health, Harvard School of Public Health, Boston, USA
Copyright
© Zhou and Levy; licensee BioMed Central Ltd. 2009
This article is published under license to BioMed Central Ltd. This is an Open Access article distributed under the terms of the Creative Commons Attribution License (http://creativecommons.org/licenses/by/2.0), which permits unrestricted use, distribution, and reproduction in any medium, provided the original work is properly cited.