Research
Open Access
Open Peer Review
This article has Open Peer Review reports available.
Development of risk maps to minimize uranium exposures in the Navajo Churchrock mining district
Environmental Health
2009
8:29
Received: 08 April 2008
Accepted: 09 July 2009
Published: 09 July 2009
Abstract
Background
Decades of improper disposal of uranium-mining wastes on the Navajo Nation has resulted in adverse human and ecological health impacts as well as socio-cultural problems. As the Navajo people become increasingly aware of the contamination problems, there is a need to develop a risk-communication strategy to properly inform tribal members of the extent and severity of the health risks. To be most effective, this strategy needs to blend accepted risk-communication techniques with Navajo perspectives such that the strategy can be used at the community level to inform culturally- and toxicologically-relevant decisions about land and water use as well as mine-waste remediation.
Objective
The objective of this study was to develop GIS-based thematic maps as communication tools to clearly identify high risk exposure areas and offer alternatives to minimize public and ecological health impacts.
Methods
Thematic maps were produced that incorporated data derived from environmental sampling and public health surveys. The maps show the location and quality of unregulated water resources and identify regulated water sources that could be used as alternatives. In addition, the maps show the location of contaminated soil and sediment areas in which disturbance of surface deposits should be avoided. Preliminary feedback was collected from an informal Navajo working group to assess the clarity and efficacy of this proposed communication method.
Results
The working group found the maps to be both clear and effective, and made suggestions for improvements, such as the addition of more map features. The working group predicted that once the maps are presented to the public, water hauling and soil use behaviors will change, and dialogue with chapter officials will be initiated to accelerate further risk reduction efforts.
Implications
Because risk communication is complicated by language barriers, lack of infrastructure, and historical mistrust of non-Navajo researchers, mapping provides an easily interpretable medium that can be objectively viewed by community members and decision makers to evaluate activities that affect toxicant exposures.
Keywords
UraniumGeographic Information SystemRisk CommunicationUranium ConcentrationToxicant Exposure
Background
Risk assessments performed by the federal government, state agencies, and private contractors at hazardous waste disposal sites serve as a foundation for estimating human and ecologic health risks [1]. However, these assessments are often ineffective for native communities as they do not address cultural factors affecting contaminant exposure such as consumption of locally-raised livestock and native plants, and their use in traditional medicines and ceremonies [2]. In addition, commonly applied risk assessment methodologies often result in communication of risk management strategies that are not acceptable to native communities because the risk reduction practices are threatening to cultural practices and beliefs [3]. Furthermore, the lack of communication of study results to communities- particularly after concerns over exposure to toxic waste have been raised- has contributed to failed environmental health improvements in native communities [4].
Exposure scenarios appropriate for many native populations differ from those for the general U.S. population. Studies among other native groups including the Akwesasne Mohawk, Shoshone, Southern Paiute, Ouje-Bougoumou Cree, and Ojibwa have all employed alternative methods of exposure assessment and risk communication to address environmental hazards in these communities [5–8]. These studies not only highlight the benefits of collaborative methods in addressing environmental exposures, but also underscore common challenges facing different native groups particularly when risk reduction measures are recommended that would alter subsistence diets or cultural practices. Developing partnerships with communities that allow these assessments to be done in a way that respects cultural values and also ensures the data have the scientific validity to provide answers that address their health concerns can be a slow process. Efforts to broadly characterize exposures and risks from uranium in the context of known risk factors in Navajo communities have been developed based on interactions between researchers and community members that span more than 20 years. This exposure characterization is an initial step in research to determine the contribution of these exposures to the health status of the community members. The implementation of this research into health effects is in progress in an eight-year study that is only beginning to result in publications in the peer-reviewed literature [9]. The approach investigated here offers an additional alternative to integrated risk assessment which was developed out of the communication and frequent guidance among the university and community partners and research participants in twenty affected Navajo communities.
Churchrock chapter, a local government unit of the Navajo Nation in northwestern New Mexico, is familiar with historical research and risk assessment that has not been collaborative. For decades, residents of Churchrock have lived with a legacy of environmental contamination left behind from uranium mining and milling activities. After an earthen tailings dam failed in 1979, sending 1,100 tons of radioactive mill waste and 94 million gallons of acidic wastewater down the Puerco River, ecological studies were conducted to assess radionuclide contamination in water, sediment, vegetation and livestock [10–16]. Human health risks in these studies were estimated as lifetime cancer risk, and calculated using exposure assumptions developed for the U.S. as whole, not the Navajo specifically. These studies were based solely on radiological risk, ignoring the chemical toxicity of many of the contaminants of concern [17]. In addition, the studies made recommendations to the Navajo community to cease consumption of organ meat, stop drinking water from sources known to contain elevated uranium levels, and stay away from the river bank under dry or windy conditions. However, these were not realistic alternatives for Navajo residents who relied on local water sources that are not routinely monitored, consumed locally-grown animal meat, and herded livestock and gathered herbs in close proximity to the river.
Among the Navajo people, more than 50% of residents in the affected communities drink from unregulated water sources, and >80% of Navajo families haul drinking water, despite having municipal water supplied to their homes (Figure
1a
) [
18
]. Some residences are within a few hundred feet of exposed uranium mining-waste piles, creating increased contact with contaminated sediments that have spread into residential areas (Figure
1b–c
). Food chain contamination is also a concern, as mutton is a staple of the Navajo diet 19. and elevated levels of uranium have been detected in livestock and forage in Churchrock and other uranium-impacted areas 9; Figure
1d
.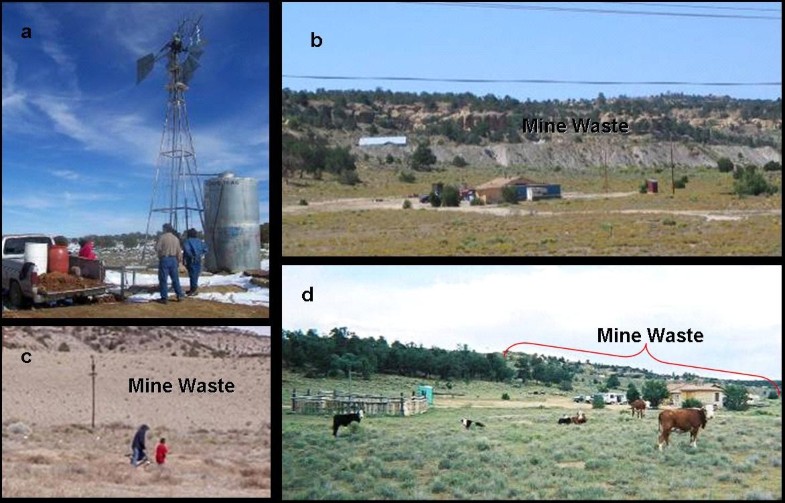 It is possible that exposure to uranium, a nephrotoxicant, may be contributing to an excess of kidney disease among the Navajo [20–22]. The age-adjusted prevalence of end-stage renal disease (ESRD) among the Navajo people is more than three times that of the general U.S. population [23]. Known risk factors for kidney disease, such as diabetes and hypertension, are also elevated among the Navajo, but alone cannot explain the severity, high prevalence, and early onset (often at ages less than 20) of chronic kidney disease [24, 25]. These health problems, along with a lack of data describing the environmental distribution of uranium, prompted the Eastern Navajo Health Board, the University of New Mexico Community Environmental Health Program, and the Southwest Research and Information Center to jointly investigate environmental, health, socioeconomic, and cultural risk factors contributing to kidney disease. Two programs were initiated through this collaboration: the Churchrock Uranium Monitoring Project (CRUMP), and the Diné Network for Environmental Health (DiNEH) Project. Between 2003 and 2007, CRUMP collaborators focused on the chemical and radiological characterization of environmental media impacted by abandoned mines in residential areas in Churchrock and four adjoining Navajo chapters. Since 2004, the DiNEH Project has collected water and sediment data and conducted a health and water-use survey in these and 15 other chapters of the Eastern Agency of the Navajo Nation.
The collection of health and environmental data has been an important first step in identifying risk for persistent health problems in these communities. This effort has been aided significantly by the use of geographic information systems (GIS) for managing survey data, identifying areas of concern for environmental sampling, and mapping the locations of water resources in remote areas. Because GIS provides a means to understand spatial disease patterns in relation to the physical environment; the use of GIS in environmental epidemiology and risk assessment is rapidly increasing [26, 27]. However, the role of thematic maps (produced with GIS) in risk communication, particularly in Native and rural communities, has not been widely studied. Few studies have employed GIS as a component of an integrated risk assessment 7; [28, 29], and while these studies have highlighted the utility of thematic mapping for this purpose, they have not reported on community feedback regarding their potential efficacy as an intervention.
The need for clear, concise, and readily understood information is critical in these communities where the likelihood that the hazards will be addressed in a systematic and comprehensive manner is minimal in the near term. Soil and water in livestock wells are the primary sources of contamination. Residents spend substantial time out of doors engaged in various activities that bring them in contact with contaminated soils including walking or riding horses across the land, or herding sheep, cattle, and horses. The geographic area occupied by the Navajo Nation is roughly the size of West Virginia, and although soil contamination can be distributed across many areas of the reservation, it is likely to occur in pockets that allow residents to move via other routes if they know the location of contamination. With respect to water, only 30% of Navajos lack access to regulated water in their homes (compared to 0.6% of the general US population, and 12% of US tribal members as a whole), and therefore residents frequently haul water from numerous wells intended for livestock use only [30]. Knowing where contaminated soil areas and water sources exist can help the residents to make more informed choices and select alternative geographic areas for their activities that minimize the risk to their health.
The objectives of this investigation were to 1) utilize both environmental and water-use data collected through CRUMP and DiNEH projects to define land and water resources that may act as routes for toxicant exposure for the Churchrock community; and 2) integrate these data using GIS tools to provide thematic maps that communicate exposure risks in an easily interpretable manner. These maps are intended to support other ongoing outreach activities conducted by CRUMP and DiNEH initiatives (e.g., educational presentations at chapter houses, youth activities) and were created as a response to a community need for a more permanent, readily available and rapidly interpreted source of information in chapter houses where community members gather.
Results and implications
Figures 4 and 5 provide a detailed view of Churchrock Chapter as an example of the mapping output for both water use recommendations and soil use restrictions, respectively. The Navajo working group (comprised of Navajo project staff and community advisors (n = 10)) that reviewed the first iteration of these maps ranged in age from approximately 30 to 75. Participants were equally male and female and educational background varied from secondary to graduate level. A series of 16 questions were answered and documented so that maps could be revised and displayed in the most productive manner.
Water use recommendation map
With the exception of some of the elders, all participants that completed this questionnaire were able to understand the use recommendations presented on the map as well as identify the regulated water resource available for use. Additional features were suggested to improve the geographic reference for map readers, including road names and locations of landmarks and stores. When asked if the maps would be clear to a relative or friend who spoke only Navajo, the group was split in their responses. For those who did not believe Navajo speakers would find the map format clear, they also did not believe translating the entire legend into Navajo would improve clarity. This was a significant point, because Navajo is historically only a spoken language and most Navajo do not read or write the language. However, the group consensus was that they would prefer the maps be created in both languages to instill the importance of learning and carrying on the language in younger generations.
The working group was asked questions regarding how they might change their water hauling behaviors after reviewing the maps. With the exception of one person, everyone said that they would be very likely to seek an alternative water source if the map indicated that a hauling source they frequented had more than one red stop light recommendation. However, when asked if they would switch their unregulated hauling source for drinking to a regulated one, the group was also split. Some said they would be very likely to switch while others said they might only consider looking for an alternative. This is not surprising given the high percentage of Navajo that do not believe regulated water is more beneficial to their health. The majority of the working group said they would discontinue domestic water use if it had a red light recommendation, but were split on switching sources if it had a yellow recommendation. The same was true for livestock water use.
Soil restriction map
Similar to the questions assessing clarity of the water use maps, the working group was able to identify the correct soil restrictions, with the exception of some of the elders. Opinions on clarity for map readers that spoke only Navajo also carried through. Some members of the group thought that no additional features should be added to the map, while others recommended the addition of landmarks and stores as well as the locations of abandoned uranium mines or piles. The majority of the group said they would consider limiting activities (such as riding their hose, walking, or herding sheep) in areas designated in red or in yellow, and unanimously said they would approach a chapter official and request an alternative if they found that their primary designated grazing area had a restricted use recommendation. The group was split when asked if they would consider traveling to an area designated in blue to collect soil to repair a road washout or other use; some responded they would be very likely while others said they would consider it.
Overall efficacy
All members in this working group had experience communicating about the research project to community members. Based on these past experiences with risk communication in their communities, they were asked how effective these maps would be if kept on display at the chapter houses. On a scale of 1–5, with 1 being ineffective and 5 being very effective, the average response was 4.3, suggesting that the maps are an effective way to disseminate risk information with suggested improvements. Three display options were suggested, including placement in a binder at the chapter house with risk information, in placement in the chapter binder with take-home handouts, and a large format wall display. The group recommended using all three options together as the most effective means of communication. For the permanent placement of maps in the chapter houses, the group felt a written explanation focused on walking the reader through an example would suffice to educate the chapter members on how to use the maps. There was a distinction between the responses between the younger members of the working group compared to the elders. The younger members were more likely to change behavior after seeing these maps, while the older members, albeit not entirely opposed to changing behavior, were more hesitant. This may be a common response for the elders who have had a long history of drinking from particular sources and do not see an obvious relationship with their health problems. Comments from elders over the years often indicate that their concern is for their grandchildren rather than for themselves. The suggestions provided by this working group will be used to make the next iteration of display maps for presentation at chapter houses.
Limitations
The number and type of maps created are limited by the available data. It is our hope that continuous feedback from community members will highlight which maps are most useful for communicating risk and help to focus field and laboratory data collection efforts in the future. In addition, it is uncertain at this point how the maps will be used by individual chapters and what their overall impact will be. The most significant question is whether our approach produces appropriate and effective responses from community members that would measurably mitigate exposure to toxicants in drinking water and sediment. Future work should focus on incorporating community feedback to produce a more "final" product, and creating a survey instrument to quantify behavioral changes as a result of this method of risk communication. Such iterative response and revision has been a hallmark of the collaboration in this partnership over the nearly decade of working together to understand contamination and health.
Implications
The use of GIS-based thematic mapping for risk communication provides a novel approach for dissemination of knowledge to impacted communities. Rather than typical risk assessment and communication approaches where restrictions are imposed or unrealistic alternatives are presented, risk-based mapping provides a format that brings the community into the decision-making process. Basic public and environmental health data are easily presented in this visual layout empowering individuals and officials to interact with the information and make decisions regarding daily activities that influence contaminant exposures. Visual renderings of data are preferred over oral presentations of data due to the language barrier, especially among elderly residents who understand little to no English and have limited education in water or soil science. In addition to the accessibility of centrally located maps, the emphasis on these maps being an iterative, rather than a final product is not only empowering to residents, but also increases the relevance of this type of intervention. Since the original preparation of this manuscript, suggestions have been provided to the research team to enhance the maps by developing photos of each of the wells with summaries of contaminants and warnings in English and Navajo. These are being prepared and connected to the wall maps as well as inserted in the chapter binders to ensure the project remains responsive to the needs of the communities, and provides information in diverse ways the help to meet the needs of community members and bridge the differences between cultures.
As researchers continue to do work in Native American communities, it is our hope that they begin to incorporate non-traditional approaches to risk communication such as the method presented here. Strategies such as this are educational and empowering to residents. More importantly, they provide a means to inform decisions made by the impacted communities instead of for them by outsiders. Strategies such as the mapping described here can provide a public health intervention through stimulating behavior change through informed decision-making. The comprehensive nature of information provided reduces frustration and fear by providing sufficient information to prioritize activities and take action at an individual level. The work described here is not intended to drive remedial action, although these tools can be used by communities to support their requests to policy- and decision-makers, furthering the empowerment of the residents.
Abbreviations
GIS:

Geographic Information Systems
DiNEH:

Diné Network for Environmental Health
ENHB:

Eastern Navajo Health Board
CRUMP:

Churchrock Uranium Monitoring Project
NTUA:

Navajo Tribal Utility Authority
NAAQS:

National Ambient Air Quality Standard
EPA:

Environmental Protection Agency
NOAA:

National Oceanographic and Atmospheric Administration
NNDWR:

Navajo Nation Department of Water Resources
SDWA:

Safe Drinking Water Act
NNEPA:

Navajo Nation Environmental Protection Agency
MCL:

Maximum Contaminant Level
PRG:

preliminary remediation goals
EPA:

Environmental Protection Agency
TDS:

Total dissolved solids
CEHW:

Community Environmental Health Worker.
Declarations
Acknowledgements
Financial support was provided by a NIH Ruth L. Kirschstein National Research Service Award; Robert and Patricia Switzer Foundation; Tisch College of Citizenship and Public Service; Tufts Institute of the Environment; the School of Engineering, the Graduate School of Arts and Sciences, and the Summer Scholars Program at Tufts; Church Rock Uranium Monitoring Project, and NIEHS grants (R25 ES013208, RO1 ES014565, and P30 ES012072) to UNM CEHP.
Authors' Affiliations
(1)
Tufts University School of Engineering, Department of Civil and Environmental Engineering, Medford, USA
(2)
Tufts Community Research Center, Department of Public Health and Family Medicine, BostonMA, USA
(3)
Community Environmental Health Program, College of Pharmacy, MSC09 5360, 1 University of New Mexico, Albuquerque, USA
(5)
Southwest Research and Information Center, Uranium Impact Assessment Program, Albuquerque, USA
(6)
Eastern Navajo Health Board, Crownpoint, USA
(7)
College of Pharmacy, University of New Mexico, AlbuquerqueNew Mexico, USA
Copyright
© deLemos et al; licensee BioMed Central Ltd. 2009
This article is published under license to BioMed Central Ltd. This is an Open Access article distributed under the terms of the Creative Commons Attribution License (http://creativecommons.org/licenses/by/2.0), which permits unrestricted use, distribution, and reproduction in any medium, provided the original work is properly cited.