Research

Open Access

Open Peer Review
This article has Open Peer Review reports available.
Prediction and analysis of near-road concentrations using a reduced-form emission/dispersion model
Environmental Health
2010
9:29
Received: 1 February 2010
Accepted: 25 June 2010
Published: 25 June 2010
Abstract
Background
Near-road exposures of traffic-related air pollutants have been receiving increased attention due to evidence linking emissions from high-traffic roadways to adverse health outcomes. To date, most epidemiological and risk analyses have utilized simple but crude exposure indicators, most typically proximity measures, such as the distance between freeways and residences, to represent air quality impacts from traffic. This paper derives and analyzes a simplified microscale simulation model designed to predict short- (hourly) to long-term (annual average) pollutant concentrations near roads. Sensitivity analyses and case studies are used to highlight issues in predicting near-road exposures.
Methods
Process-based simulation models using a computationally efficient reduced-form response surface structure and a minimum number of inputs integrate the major determinants of air pollution exposures: traffic volume and vehicle emissions, meteorology, and receptor location. We identify the most influential variables and then derive a set of multiplicative submodels that match predictions from "parent" models MOBILE6.2 and CALINE4. The assembled model is applied to two case studies in the Detroit, Michigan area. The first predicts carbon monoxide (CO) concentrations at a monitoring site near a freeway. The second predicts CO and PM2.5 concentrations in a dense receptor grid over a 1 km2 area around the intersection of two major roads. We analyze the spatial and temporal patterns of pollutant concentration predictions.
Results
Predicted CO concentrations showed reasonable agreement with annual average and 24-hour measurements, e.g., 59% of the 24-hr predictions were within a factor of two of observations in the warmer months when CO emissions are more consistent. The highest concentrations of both CO and PM2.5 were predicted to occur near intersections and downwind of major roads during periods of unfavorable meteorology (e.g., low wind speeds) and high emissions (e.g., weekday rush hour). The spatial and temporal variation among predicted concentrations was significant, and resulted in unusual distributional and correlation characteristics, including strong negative correlation for receptors on opposite sides of a road and the highest short-term concentrations on the "upwind" side of the road.
Conclusions
The case study findings can likely be generalized to many other locations, and they have important implications for epidemiological and other studies. The reduced-form model is intended for exposure assessment, risk assessment, epidemiological, geographical information systems, and other applications.
Keywords
Geographical Information SystemTraffic VolumeRoad SegmentDownwind DistanceAverage Absolute Relative Error
Background
The use of geocoded data and geographical information systems (GIS) has rapidly becoming routine practice in many types of environmental analyses, including risk assessment and environmental epidemiology. Most studies have used surrogates of pollutant exposure, including proximity measures such as the distance from residences or schools to highways or Superfund sites. While easy to display and analyze within a GIS, proximity is at best a crude surrogate of exposure since it incompletely accounts for the nature of emission sources, effects of meteorology, orographic features and other factors that affect pollutant emissions, transport, fate and exposure. Further, quantitative exposure estimates are not obtained [1]. Relatively few studies have used emission and dispersion models to predict exposures to ambient air pollutants. Such models, which can predict spatially- and temporally-resolved concentrations, have the potential to improve exposure estimates and facilitate new types of analyses.
Approaches for estimating air pollutant exposures from roadways have been reviewed by Lipfert and Wyzga [2] and HEI [3]. As mentioned, most studies have used proximity as a surrogate of exposure, most often the distance between the subject's residence and highway, although several studies have used other measures, e.g., traffic intensity [4]. While quite easy to derive within GIS framework, a significant drawback of proximity and traffic intensity measures is the potential for biased and misclassified exposure estimates since such measures do not consider effects of meteorology, vehicle emissions, and time-activity patterns of the study subjects, e.g., time spent away from the location considered. Moreover, such measures are unlikely to properly account for the small scale variation in pollutant concentrations [1].
Simulation models have been used to evaluate near-roadway impacts of traffic-related air pollution in a variety of applications [5–10]. These models utilize emission and dispersion components, the latter typically based on the Gaussian plume equation. Such models can be data-intensive, requiring data on pollutant emissions, emission source and roadway configurations, meteorological conditions, and land use parameters. CALINE4 is one of the more popular Gaussian-based line source models [11]. With appropriate input data, simulation models can be used to predict short- and long-term air pollution concentrations at desired locations called "receptors," and multiple receptors can be used to represent spatial and temporal gradients at regional, urban and local scales. The development of the site-specific emission information that "drives" such models is not trivial. Vehicle emissions depend on many factors, including the number, speed, type and age of vehicles, all of which can vary significantly over the course of a day. Emission/dispersion models do not require data from existing pollutant monitoring sites to estimate near-road concentrations and exposures, although such information may be used to estimate the "background" component of concentrations contributed by other "local" and "regional" emission sources, i.e., those not explicitly modeled because they are distant, too numerous, or too difficult to simulate. The drawbacks of dispersion models include, among others, extensive input data requirements, errors due to unmeasured variability in emissions and other parameters, the need for accurate locational information, simplified and possibly unrealistic model assumptions; the relevance of the background estimates, and a need for validation.
Another type of process-based modeling uses computational fluid dynamic (CFD) models [12]. Based on the Navier-Stokes equations, such models are useful for estimating short-term dispersion of plumes, especially in areas containing obstacles like large buildings and complex terrain, and with calm or very light winds, a situation when other types of models perform poorly. However, CFD models are especially demanding in terms of data inputs and computational requirements, and they are not immune to many of the other drawbacks just discussed for dispersion models.
A fourth and recent approach for estimating air pollutant exposures, called "land use regression" (LUR) models, fit concentrations measured at multiple sites using statistical models and land characteristics, traffic and other data as independent variables, which then are used to predict pollutant concentrations at other sites [13]. The primary advantage of LUR models is their ability to characterize small-scale variations in urban settings without the need for detailed (and accurate) emission information. However, these models are area-specific and cannot be reliably extrapolated to areas with different topography, land uses, emission types, etc. Since monitored pollutant levels are used as the dependent variable in the regression model, they also require a network of air sampling sites and historical data. LUR models have been used to estimate only long-term concentrations.
This paper focuses on near-road exposures of traffic-related air pollutants, which have been receiving increased attention due to evidence linking emissions from high-traffic roadways to asthma aggravation, impaired lung function, increased cardiovascular mortality, increased all-cause mortality, and other adverse health effects [3, 14, 15]. The development of relatively simple, reliable and "user-friendly" models that can be easily linked to a GIS or used in other analyses would benefit researchers needing to generate reliable predictions of pollution concentrations.
The first objective of this paper is to develop a streamlined model for microscale analyses, specifically, to predict short- and long-term air pollution concentrations of carbon monoxide (CO), particulate matter below 2.5 μm dia (PM2.5) and other air pollutants near roads that match widely-used and validated emission and dispersion models. The reduced-form model has several advantages over existing models, including the ability to predict concentrations for an arbitrarily large number of receptors and time periods, fast computations, and relatively limited data needs. All of this can facilitate use of the model in exposure assessment, epidemiology and risk assessment applications, especially if predictions are needed for a large number of receptors and/or road segments. Also, the simple form of the reduced-form model permits easily incorporation into GIS and other applications. The second objective of this paper is to identify critical variables, exposure patterns and knowledge gaps that should be recognized in exposure and risk assessment applications addressing near-road exposures.
The paper is organized as follows. We first review approaches for estimating exposures from vehicles. The development of reduced-form submodels to simulate emissions and dispersion is then described. This involves the use of response surface techniques for key variables, which are assembled in a modular fashion to facilitate development and verification. Sensitivity analyses identify critical variables and illustrate the model's behavior. We then select key variables and derive parameterizations for the reduced-form model. The assembled model is demonstrated using two case studies. The first compares predictions of CO to concentrations monitored near a major freeway. The second highlights issues in exposure assessment by predicting CO and PM2.5 concentrations in an area surrounding a major freeway and an arterial road. These applications show several surprising and important results regarding the distribution, spatial and temporal variability of concentration predictions. We close on comments regarding implications for exposure and risk assessment, and limitations of the model.
Methods
Emission modeling
The first of two submodels, which predicts hourly estimates of vehicle emission rates, is based on MOBILE6.2 model, a macroscopic model developed by the U.S. Environmental Protection Agency that is widely used in emission inventory and dispersion modeling applications. Model predictions are based on emission tests using standard driving cycles designed to represent typical driving patterns along different types of roads, e.g., freeway, arterial, ramp and local roads [16]. Our goals were to match MOBILE6.2 predictions given the information that is typically available for mobile source modeling, to incorporate the major factors that affect vehicle emissions, and to strike a reasonable balance between simplicity and the ability to predict emissions. We were primarily concerned with exposures near large roads, i.e., freeways and arterials, and did not examine idling, cold start, and other types of emissions. This task was facilitated by previous sensitivity analyses that have identified critical model inputs, including those using conditions relevant to the Detroit case study [9, 17]. After selecting critical inputs, we used a set of lookup tables for emission factors organized by year and pollutant, taken directly from MOBILE6.2 outputs, and then estimated emissions on the segment by scaling up the emission factors by the road's vehicle mix and volume.
Dispersion modeling
The second submodel was developed to represent CALINE4, a line-source Gaussian plume dispersion model originally developed by the California Department of Transportation to predict 1- and 8-hr CO concentrations at pre-determined receptor positions near roadways [11]. The model can also simulate formation and dispersion of NO2, using a simple set of reactions to predict its formation from precursors NO and O3, and PM, using algorithms to model deposition and settling processes. Required inputs include roadway geometry, hourly surface meteorology, traffic volume and emission rates. Individual highway segments are divided into a series of elements, each modeled as an "equivalent" finite line source that is normal to the wind direction and centered at the element's midpoint, from which incremental concentrations are computed and summed to predict the concentrations at designated receptors. We derived a reduced-form dispersion submodel using multiplicative parametric equations that are simple to implement and solve, essentially representing a response surface analysis for individual processes in the model.
The CALINE4 documentation includes sensitivity analyses for selected model inputs [
11
]. To guide the development of the reduced-form model, we performed sensitivity analyses for key parameters that were individually varied over a wider range than analyzed previously, while other parameters were maintained at nominal values. Figure
1
defines several of the parameters used in this analysis. Road alignment angle R is defined from north with a range of 0 to 180° (e.g., 90° = east-west alignment). Receptors are defined with respect to the road by distance x (m) measured normal from the road centerline. Wind angle θ is defined for a given receptor such that θ = 0° indicates that the wind is perpendicular to the road but that the receptor is upwind of the road; θ = 90° or 270° are winds parallel to the road; and θ = 180° is again for a wind perpendicular to the road, but this time the receptor is downwind.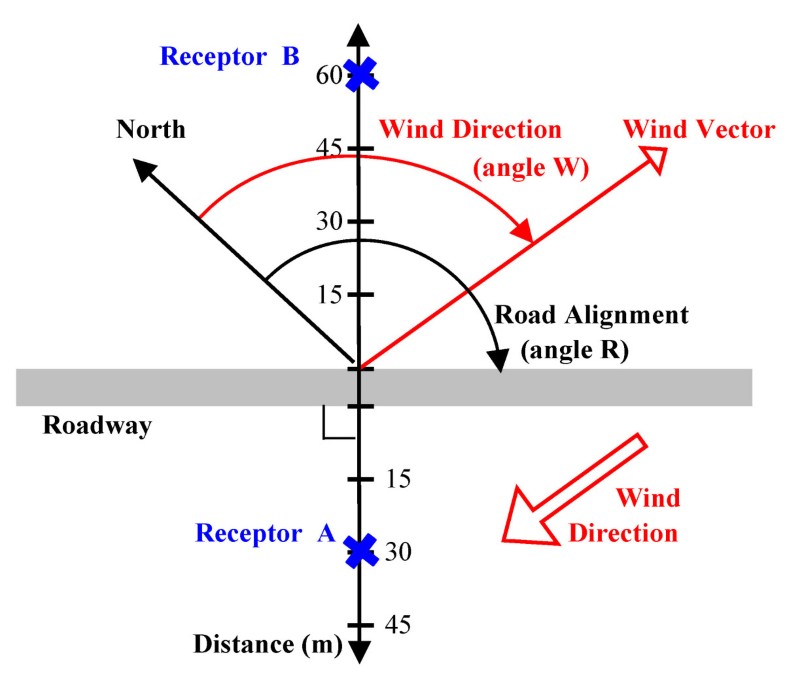 Most of CALINE4 analyses used 1 hr runs, a straight roadway element 2 km in length, flat surrounding terrain, a set of receptors aligned normal to the road at the segment's center, downwind distances from 15 to 300 m at 15 m intervals, and a receptor height of 1.8 m. The nominal case also assumed: mixing height = 500 m; ambient temperature = 15°C; background concentration = 0 ppm; atmospheric stability category (SC) = D (the most common case); wind speed = 4 m s-1; vehicle volume = 10,000 vehicles hr-1; road at grade level; mixing zone width = 30 m, and an artificially high emission rate to obtain sufficient precision in model outputs. Model predictions were subsequently adjusted to derive concentrations for a nominal emission rate of 1 g km-1. The sensitivity analysis varied the following inputs: each SC A through F (for this, we used a wind speed of 2 m s-1 since SC F is not defined at 4 m s-1); wind speeds of 1, 2, 4, 6, 8, 10 and 12 m s-1; wind angles from 0 to 180° in 10° increments, sufficient given the symmetry of the problem; vehicle volumes from 1,000 to 15,000 vehicles hr-1 in increments of 2,000; the road at grade, 6 m below grade, and as a bridge 6 m above grade; mixing heights of 25, 50, 100, 200, 500 and 1000 m; and mixing zone widths of 20, 30 and 45 m. Predicted concentrations at each downwind distance were graphically displayed. Previous sensitivity analyses have examined wind direction variability, surface roughness, deposition velocity, highway geometry (including width, height, length), and other factors [11]. These can be important in special cases, but they generally represent secondary influences.
Reduced-form dispersion model
A reduced-form dispersion model using analytical expressions was derived that obtained comparable predictions to CALINE4, guided by the results of the sensitivity analysis. A multiplicative and modular model structure using sub-models for each major input parameter was selected, thus allowing easy updates. We attempted to strike a balance between reproducing CALINE4's output exactly, using readily available data, and keeping calculations fast and simple, and we maintained those inputs that changed predicted concentrations by more than 10 or 15%. This criterion applies only to the nominal conditions modeled, e.g., flat terrain, and road at grade level. Generally, input parameters making smaller differences were omitted. A variety of model structures for the submodels were evaluated, including exponential, power law and polynomial regression models, among others, and parameter coefficients were estimated using maximum likelihood estimates and non-linear Newton gradient search procedures.
Like other Gaussian dispersion models, calm winds cannot be accurately modeled. We set the minimum wind speed to 0.5 m s-1. For calms, no calculations were attempted (the hour's concentration was recorded as not available). Daily averages were calculated if at least half of the hourly observations were available.
Model evaluation
We first verified the reduced-form model by examining inter-model agreement using correlations, relative errors, absolute relative error statistics, and scatter plots. The performance of the reduced-form model was evaluated over the full range of input parameters. Next, we conducted a limited evaluation of the reduced-form model by comparing hourly and daily average predictions to CO measurements for the year 2004 at the Allen Park, Michigan monitoring site, which is operated by the Michigan Department of Environmental Quality (MDEQ). The site was selected due to its proximity to both a major freeway and a permanent traffic recorder (PTR), which records hourly traffic volume. The site is 17 km SW of downtown Detroit in a flat and largely tree-free area, just north of Goddard Road and 150 m SE of interstate I75, which oriented at 40° (although it curves just S of the site). The surrounding land use is primarily residential, although there are various commercial and industrial facilities within 5 km of the site. CO is monitored using U.S. EPA approved instrumentation (DASIBI 3008 analyzer). Surface meteorological observations are also collected at this site. For 2004, the annual average daily traffic (AADT) near the monitoring site was 101,000 vehicles day-1, and the commercial average daily traffic (CADT) was 13,500 vehicles day-1. (These values are lowered by 6% from the PTR measurements to account for egress of vehicles prior to the Allen Park location, which is 3.5 km from the PTR [18]). We obtained hourly CO, meteorological, and PTR data for 2004. Most (> 95%) of the CO and meteorological data were available; traffic count data had lower availability (74%). After row-wise eliminations (including calms), 6,046 hours, representing 263 days with most data available, were available. We predicted CO hourly and daily CO concentrations using the reduced-form model, the monitored traffic flow, the regional 2004 vehicle age distribution, the local vehicle mix [17], and the Allen Park meteorological data. Due to some local features that appeared to influence wind direction, primarily a line of trees 25 m N, we used hourly wind direction data from the local airport, located 18 km to the west of the monitoring site.
Detroit case study
To demonstrate a more complex application, we modeled a 1 km2 area of Detroit, Michigan around the intersection of a freeway (M39, the Southfield Expressway) and arterial road (M5, Grand River). We set up a rectangular receptor grid consisting of 43 rows by 41 columns on 25 m centers (1935 receptors; Additional file 1: figure S1). Hourly traffic volume, speed and emission rates were estimated for the two roads and each vehicle class used in MOBILE6.2, based on weekday road-specific volume measurements, and the regional traffic mix (which distinguishes road type [19]. We adjusted the hourly volumes for Saturday, Sunday and holiday periods using factors derived from the hourly year-round PTR measurements on I-75 (described previously) since traffic volume measurements for the two roads were available for only weekday periods. Hourly meteorological data was obtained from the local airport, located 23 km SW of the study region. We then used the reduced-form model to predict CO and PM2.5 concentrations at each receptor for each hour in 2004, which were processed into daily averages. Annual average and selected percentile concentrations were examined and plotted, as were "best case" and "worst case" conditions, selected on the basis of the lowest and highest concentration averaged across the modeled domain.
Discussion
In this paper, we adapted two widely used emission/dispersion models, MOBILE6.2 and CALINE4, into a reduced-form model that is relatively simple and convenient to use. In part, our motivation was to use this model to estimate exposures in the context of an environmental epidemiology investigation. The approach also seems applicable for hot-spot analyses, risk assessment, GIS and urban planning applications, and traffic engineering purposes. The model uses a modest number of input variables to quickly generate predictions of ambient air pollutant concentrations that are comparable to those of the "parent" models. Such process-based simulation models enable the integration and synthesis of the major determinants of near-road ambient air pollution exposures: meteorology, vehicle emissions, and receptor location.
Two case studies were used to demonstrate the model's performance and the nature of near-road exposures, and they show several important findings that may not be well understood by exposure assessment practitioners. The highest concentrations are most likely to occur near intersections and downwind of major roads during periods of unfavorable meteorology (e.g., low wind speeds) and high emissions (e.g., weekday rush hour). In the Detroit case studies, CO and PM2.5 concentrations attributable to roadway emissions were low relative to air quality standards, however there are many limitations to this analysis: background levels must be added; PM2.5 emissions were significantly underestimated (see below); and public health impacts of roadway impacts appear large, based on the epidemiological evidence. Concentration gradients are steep, and receptors must be localized within 30 to 50 m to minimize errors. Both hour-to-hour and day-to-day variation are significant, and this variation results in unusual distributional and correlation characteristics, e.g., strong negative correlation for receptors on opposite sides of a road. We suspect that these findings can be generalized to many other locations, and they have important implications for epidemiological and other studies. Linking traffic volumes, vehicle emissions and dispersion models allows prediction of pollution concentrations at specific locations and times of interest, allowing subject-specific emission estimates.
The reduced-form model has limitations. First, we recognize that this is a simplified model that shares all the limitations of the underlying emission and dispersion models. For example, performance under very light winds or complex topography is unlikely to be accurate. Moreover, no predictions are made for calms, a limitation common to Gaussian plume models. This exclusion can result in significant errors and exposure misclassification, especially if calms are frequent, especially during rush hour periods. In Detroit, calms are relatively common is early morning, before the rush hour traffic period, but typically there are several days per year when calms extend entirely through the morning rush hour (based on examining 2004 - 2006 data), and we note that the worst-case day in 2006 included 9 hours of calms. In such cases, no morning prediction would be obtained, and the daily (24-hr) prediction could be significantly biased downwards. Imposing data completeness criteria, e.g., requiring that each 24-hr prediction have complete (or nearly complete) data, partially addresses this problem for model validation studies, but may perpetuate biases in epidemiological studies since exposure estimates for those days with potentially the highest concentrations are more likely to be omitted. Also, while MOBILE6.2 is a trip-based model considered to give reasonable predictions at a regional scale, it yields only approximate predictions for specific vehicles and road segments since it does not account for microscale features, e.g., specific vehicles, local temperatures, and acceleration/deceleration/cruise patterns.
PM2.5 predictions are especially uncertain. Unlike other pollutants, MOBILE6.2's estimates of PM2.5 emissions do not depend on temperature and speed, and recent tests indicate PM2.5 emission factors are underestimated by more than 2.3 times for heavy-duty diesel vehicles, and by 1.6 times for LDGVs and trucks, [9, 25, 26] and an empirical analysis of Detroit data shows even larger differences [27]. Recent work to improve the roadway emission inventories and utilize more sophisticated emission and dispersion models has begun, including MOVES and AERMOD that should advance simulation modeling and result in more accurate predictions [9]. In particular, MOVES has several capabilities that should improve emission estimates, e.g., with appropriate inputs it can provide estimates at national, county and, most importantly to the present application, project level scales, it incorporates substantial new emissions test data, and vehicle classification is based on Federal Highway Administration's system, which will facilitate the use of existing highway activity information. Potentially, MOVES' outputs can be incorporated into the reduced-form model. Second, for simplicity, we omitted parameters from the reduced-form model, including several that are known to be important (e.g., road height), and several that have moderate to marginal impacts (e.g., mixing height and stability category). Third, while predictions from the reduced-form model compare favorably to those from MOBILE6.2/CALINE4, this does not represent a validation of the model. Nor is our comparison of predictions to measurements at Allen Park a full evaluation, much less validation of the model. Similarly, our second case study examining the temporal and spatial patterns in Detroit does not represent results drawn from a spatially-validated model. Analyses using much more extensive, diverse, and representative data are needed for purposes of model validation. Fourth, the reduced-form model is designed for simple road geometries, specifically, straight segments. Curved roads cannot be represented, although this is unlikely to be important for larger roads. Fifth, like any model, accurate input data are needed to produce quality predictions. Finally, while the reduced-form model yields a wide range of outputs and is mechanistically-based, we do not have direct evidence indicating whether its predictions are better than much simpler measures, e.g., based on proximity or short-term wind measurements.
Conclusions
After a thorough sensitivity analysis of the "parent" models MOBILE6.2 and CALINE4 to identify key parameters and inputs, we developed an efficient reduced-form model that simulates vehicle emissions and dispersion near roads. The application of this model in a real-world setting showed general agreement with monitored CO levels, although annual levels were under-predicted and the correlation between hourly and 24-hr predictions with measurements was only fair. These results are quite typical for uncontrolled field settings. In the second case study, we show that while the long term concentration gradients around roads were roughly symmetrical, this did not apply to short-term concentrations. This has important implications for monitoring campaigns aimed at characterizing pollutant levels near roads, for example, errors in estimating long-term concentrations from short-term measurements can be large, especially for upwind receptors. It also suggests that sampling during multiple seasons is preferable to extending the sampling period in a season, and that the variability is dependent on receptor location. Moreover, we saw strong negative correlation between short-term concentrations, e.g., 24-hr averages, for receptors on opposite sites of the road. Exposure assessments as well as LUR models can be improved by accounting for such variation
The reduced-form model facilitates a number of analyses. We anticipate applications deriving exposure estimates in epidemiological investigations examining the association between traffic-related pollutants and health effects, as well as in health risk assessments. Because it is computationally efficient, the reduced-form model might be used in Monte Carlo analyses, a way to address uncertainties in input parameters. The model also can help evaluate sampling designs intended to estimate means and other statistics, e.g., determining the appropriate number of monitoring sites or sampling periods.
Declarations
Acknowledgements
The authors appreciate the assistance Mr. Lawrence Whiteside at the Michigan Department of Transportation (MDOT), and Ms. Deborah Sherrod at the Michigan Department of Environmental Quality. Although portions of the research described in this article has been funded wholly or in part by the United States Environmental Protection Agency through grant EPA-G2007-STAR-A1 to Science to Achieve Results (STAR) Program: Development of Environmental Health Outcome Indicators, it has not been subjected to the Agency's required peer and policy review and therefore does not necessarily reflect the views of the Agency and no official endorsement should be inferred.
Authors' Affiliations
(1)
Department of Environmental Health Sciences, University of Michigan, Ann Arbor, USA
Copyright
© Batterman et al; licensee BioMed Central Ltd. 2010
This article is published under license to BioMed Central Ltd. This is an Open Access article distributed under the terms of the Creative Commons Attribution License (http://creativecommons.org/licenses/by/2.0), which permits unrestricted use, distribution, and reproduction in any medium, provided the original work is properly cited.