Commentary
Open Access
Open Peer Review
This article has Open Peer Review reports available.
Environmental health and justice and the right to research: institutional review board denials of community-based chemical biomonitoring of breast milk
Environmental Health
2015
14:90
Received: 29 June 2015
Accepted: 17 November 2015
Published: 25 November 2015
The Erratum to this article has been published in Environmental Health 2016 15:82
Abstract
Recently, conflicts and challenges have emerged regarding environmental justice and research ethics for some indigenous communities. Alaska Community Action on Toxics (ACAT) responded to community requests for breast milk biomonitoring and conceived the Breast Milk Pilot Study (BMPS). Despite having community support and federal and private funding, the BMPS remains incomplete due to repeated disapprovals by the Alaska Area IRB (Institutional Review Board). In this commentary, we explore the consequences of years of IRB denials, in terms of health inequalities, environmental justice, and research ethics. We highlight the greater significance of this story with respect to research in Alaska Native communities, biomonitoring, and global toxics regulation. We offer suggestions to community-based researchers conducting biomonitoring projects on how to engage with IRBs in order to cultivate reflective, context-based research ethics that better consider the needs and concerns of communities.
Keywords
BiomonitoringIRBsBreastmilkAlaska NativesRight-to-knowEnvironmental justicePCBsOrganochlorine pesticides
Background
This commentary examines some of the long-term consequences following an Institutional Review Board (IRB) rejection of a community-based participatory research (CBPR) project. Recently, Alaska Native communities collaborating with Alaska Community Action on Toxics (ACAT) have faced challenges from an IRB. ACAT is an environmental health, justice, research and advocacy organization that works with Alaska Native communities to address concerns about environmental contaminants and community health. In 2005 in response to community requests for biomonitoring research, ACAT, partnering tribes and academic researchers initiated the Breast Milk Pilot Study (BMPS). The project sought to measure levels of persistent chemicals in breast milk, promote breastfeeding, address concerns about toxic exposure and health, and support women's right to know about toxics in their bodies. These goals are supported in the scientific literature [1, 2], however the BMPS remains incomplete.
Although the Belmont Report and other sources stress the importance of protecting human subjects from harm and of emphasizing research benefits, some IRBs may have difficulty in reaching a balance between protecting individual human subjects and facilitating research of crucial importance to the subjects and the communities they are attempting to protect. In this commentary, we address the challenges ACAT faced following repeated disapproval of their project by the Alaska Area Institutional Review Board (AAIRB). We explore the short and long-term consequences, examining outcomes with respect to structural health inequalities and research ethics. We highlight the greater significance of this story regarding research with global indigenous communities who are often exposed to environmental pollution and its effects on health and cultural survival. We pose and reflect on the following questions: (1) what are the ethical ramifications when carefully planned research inspired by and developed in collaboration with indigenous communities is repeatedly denied IRB approval? What does it mean when assumptions about the inherent vulnerability [3] of indigenous peoples prevent them from exploring environmental health problems that may be exacerbating health disparities in Native communities?
This commentary is based on a thorough review of ACAT's archives and documents covering the AAIRB process and ACAT's efforts to develop, fund, and carry out the BMPS in collaboration with academic and Alaska Native community partners. We conducted interviews with a former IRB official, researchers, and clinicians who have worked with ACAT and who have long-established relationships with Alaska Native communities. We engaged in critical self-reflection with ACAT staff (Seguinot-Medina, Miller, Waghiyi, Eckstein) and an affiliated researcher (Carpenter) about conflicts with the AAIRB that affected morale and the communities' goals to use research findings to support toxics regulation and local cleanup efforts. Researchers at Northeastern University (Saxton and Brown) provided outside analysis of ACAT staff and researchers' insights and conducted an extensive literature review about breastfeeding and biomonitoring research in which researchers report results to research participants. This commentary project was approved by Northeastern University's IRB.
Indigenous Research, IRBs, and Ethical Nuance vs. Imperialism
For indigenous people throughout the world, research, in and of itself, "is not [necessarily] considered a societal good" [3]. Some indigenous people in the U.S. share this sentiment, given the long history of the exploitation and the dismissal, devaluation, appropriation, and desecration of their beliefs, practices, knowledge, environments, bodies, and bodily substances [4]. However, there are sincere efforts to do research that validate indigenous knowledge and prioritize their concerns. Community-based participatory research (CBPR) is a partnership approach that equitably involves community members in the conceptualization, design, implementation, and evaluation of research projects Certainly, these efforts are not without challenges, but productive relationships have been sustained in environmental health research projects with Native Americans and Alaska Natives [5].
By U.S. law, research with American Indians and Alaska Natives requires intensive reviews by multiple IRB committees. In the U.S., the Indian Health Service (IHS) under the Department of Health and Human Services charges Area IRBs with evaluating research projects involving American Indians and Alaska Natives. Area IRBs are supposed to include volunteers from diverse backgrounds: Native and non-Native, researchers, clinicians, and community leaders. Some tribes also have internal IRBs that serve to vet proposed projects conducted by the tribe itself. Regional Indian Health Centers and clinics (IHCs) also evaluate projects involving biomedical and public health research and interventions. In Alaska, there are nine IHCs, including the NSHC. The approval of the indigenous group and IHC is required before an Area IRB will review a proposal. If researchers are affiliated with another institution, such as a university or a hospital, those IRBs must also approve the project.
Still, in some cases, IRBs exert "ethical imperialism" [6], wherein universal ethical frameworks are used to evaluate projects irrespective of the expectations that indigenous people hold about their health and environment. In other cases, the values, political beliefs, and liability concerns of institutions (e.g. universities, hospitals, state agencies) and the IRBs that serve them can shape whether or not a proposal gets approved [7]. There is also a tendency to "homogenize" indigenous people as inherently vulnerable "regardless of their particular social position" [3], their relationships to researchers, or their intention to consent.
Certainly, our intent in writing this commentary is not to undermine the efforts of those IRBs that are sincerely concerned with potential negative consequences by researchers. It is important to have people from diverse academic and community backgrounds on IRBs. It is also important that indigenous persons vet projects and ensure they are in line with the priorities of the participating indigenous communities as well as any applicable legal and cultural standards [8]. IRBs can help foster important discussions about the ethical implications of research. They can also help researchers, whose values are sometimes clouded by their own professional ambitions or lab-bench visions, to improve their cultural competency and real-world ethical nuances. The IRB approval process can involve a cooperative process of dialogue, feedback and revisions to ensure that researchers have reflected upon and incorporated ethical concerns into their research designs. These discussions can also help IRB members understand different approaches to research. However, this was not the case for the Alaska Area IRB (AAIRB) when it reviewed the BMPS. As of this writing (November 2015), the BMPS remains unapproved and unresolved.
ACAT and the Breast Milk Pilot Study (BMPS)
For eighteen years, ACAT has built long-standing, culturally and ethically grounded relationships with Alaska Natives, especially with the Yupik people on St. Lawrence Island: located in the Northern Bering Sea (Fig.
1
). Annie Alowa, a Yupik elder, helped establish ACAT following decades of observing trends of cancers, low birth weights, and miscarriages in her community. ACAT's board and research team include nine Alaska Natives. Together they have led efforts to research potential environmental causes of diseases and to demand state and military accountability to clean up toxic military dump sites on St. Lawrence Island. They also prompt effective regulations and bans at the state, national, and international levels on toxic chemicals produced far away from the Arctic but found in the bodies, subsistence foods, and environments of St. Lawrence Island Yupik and other Arctic peoples.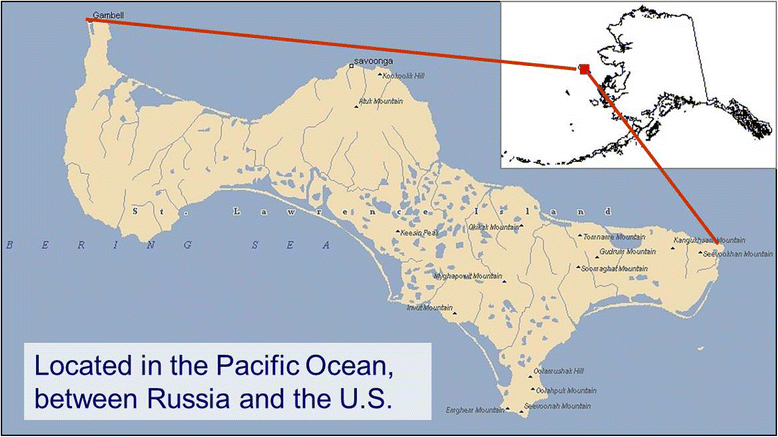 The BMPS was conceived in 2005 following a study that analyzed PCB levels in the blood of the St. Lawrence Island Yupik People [9]. ACAT partnered with environmental health scientists at the State University of New York at Albany (SUNY Albany) to conduct the BMPS. Together, they prepared proposals for potential community collaborators, funders, the Norton Sound Health Consortium (NSHC—the primary health care provider for Alaska Natives in the Norton Sound region), and the AAIRB. ACAT received letters of support from tribal councils and community organizations including the Native Villages of Savoonga and Gambell on Saint Lawrence Island, and the Native Villages of Brevig Mission, Diomede, White Mountain, and Unalakleet. It featured questions and hypotheses posed by St. Lawrence Island Yupik people and a culturally sensitive and scientifically appropriate methodology for conducting research on breast milk contaminants. Kawerak, Inc., a tribal non-profit organization and the NSHC were also supportive.
On January 5, 2005, ACAT and research partners from SUNY Albany prepared a grant application to the NIEHS to fund an environmental justice CBPR project that included environmental monitoring in the Norton Sound region as well as the BMPS. The BMPS included a non-invasive breast milk sampling protocol. Each participant would receive a special kit with a manual breast pump, instructions on how to collect samples (Fig.
2
), and carefully designed materials that encouraged sustained breastfeeding (Fig.
3
). Participants would self-express 10 ml of milk at home at one month and three months postpartum. Samples would be analyzed for two persistent organic pollutants (POPs), organochlorine (OC) pesticides and congeners of PCBs, including those found at formerly used defense sites (FUDS) in the region. In addition, one venous blood draw (<50 ml) would be taken from pregnant participants at a routine prenatal checkup in their eighth month of pregnancy to identify health markers (such as thyroid hormone levels) that might correlate with the levels of contaminants in breast milk.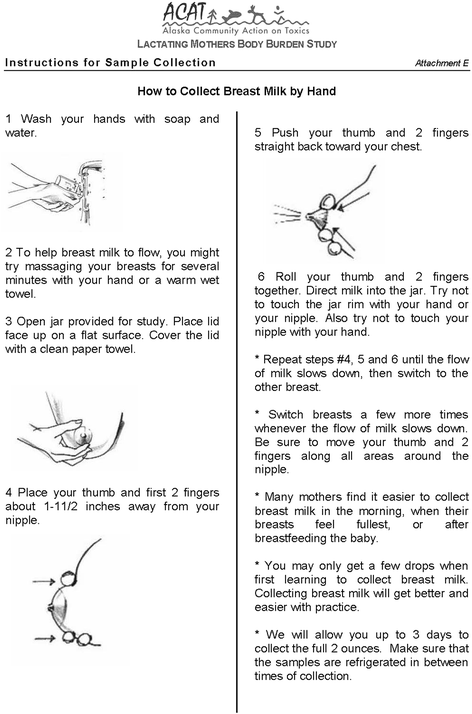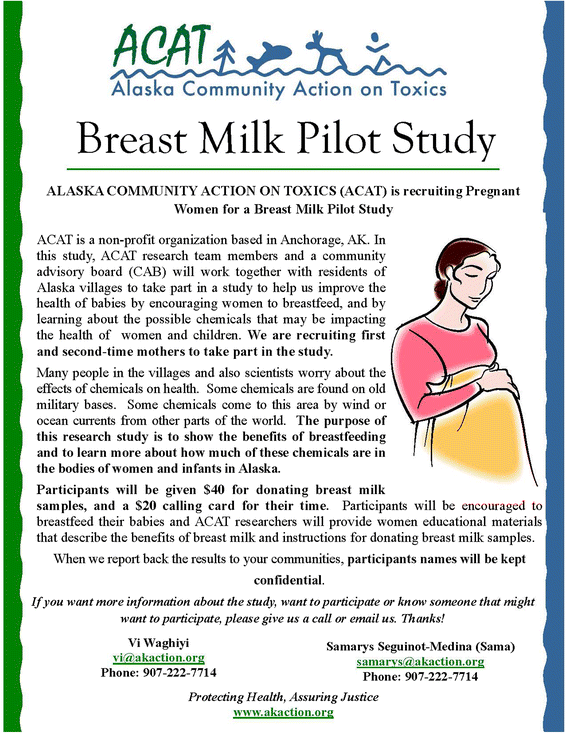 To quell community members' potential concerns about infants consuming tainted breast milk, the BMPS included a breastfeeding intervention. This included a lactation consultation and culturally appropriate breastfeeding educational materials detailing the many documented social, cultural, economic, and health benefits of breastfeeding. The materials also referenced literature about the role of breast milk in potentially reversing harms induced by exposure to contaminants in utero [10].
Upon receiving the NIEHS grant, on March 8, 2007 ACAT submitted an application to the AAIRB. Two months later, on May 25, 2007, the AAIRB sent written notice to ACAT and researchers requesting: (1) results from similar research studies conducted on St. Lawrence Island, (2) more details on ACAT's relationships with the Yupik and researchers from SUNY Albany, (3) additional discussion of the risks and benefits, (4) clarification of the purpose and research methods, (5) rationale for using blood to test for thyroid hormones, and the removal of this test as a listed benefit to participants (many of whom lack regular access to health care providers given their geographic isolation), (6) justification of the small sample size, (7) more information on the report-back component, (8) description of the disposition and labeling of the specimens, and (9) changes to the consent form and its language. ACAT responded on June 15, 2007, making the requested changes and clarifying the project's proposed methods and activities.
On October 21, 2007, the AAIRB responded to ACAT's revisions and clarifications, indicating that they consulted with an outside expert in their review. The AAIRB stated that the BMPS was of "limited scientific value" and expressed concerns that reporting back breast milk contaminant levels would discourage Native mothers and others from breastfeeding and from eating potentially contaminated foods.
In 2008, ACAT prepared and submitted a second application to the AAIRB, paying careful attention to concerns about breastfeeding cessation and reporting back of results. ACAT's Research Anthropologist Lorraine Eckstein (one of the authors) has considerable expertise with human subjects requirements, including: two years serving on a biomedical IRB and one year on a sociological IRB at the University of Washington, and eight additional years at ACAT serving as the Human Protections Administrator for Federalwide Assurance (FWA) for the Protection of Human Subjects. Eckstein assured that researchers on ACAT's research team complied with IRB regulations for the protection of human subjects including biomonitoring research with Alaska Natives. The Native Village of Savoonga and the tribal non-profit organization Kawerak, Inc. contributed letters of support. ACAT presented the project to the NSHC Ethics Review Board (NSHC RERB) to explain the study further. In 2009, the NSHC RERB indicated for the second time that it would approve the project pending the AAIRB's approval. ACAT submitted the application to the AAIRB, but never received a response.
A few years later, in a meeting at the ACAT office (March 9, 2011), the AAIRB Administrator offered a verbal apology on behalf of the AAIRB. The Administrator explained that the AAIRB was changing their paper application process to the IRBNet electronic submission system, and that it was possible that ACAT's application might have gotten lost in that process.
On January 5, 2010, ACAT received a Passport Foundation Grant to supplement additional analyses for the BMPS. In its third application to the AAIRB, the ACAT research team emphasized how the study would encourage breastfeeding with educational materials, and cited science on breast milk's health protective properties. Once again, participant information packets included this information along with the sampling kits and instructions. The protocol explained that breast milk and blood samples from "approximately 40 lactating mothers in Arctic Alaska communities" would be analyzed in a lab for various contaminants. This application also justified the small sample size as appropriate for a pilot study.
Having worked with SUNY Albany before, ACAT thought it could move the BMPS forward through their university IRB, which approved the project on May 17, 2010. Due to the obligations to the tribes that requested this study, the research team commenced with participant recruitment. However, on January 29, 2011, a letter from NSHC called for the immediate suspension of research, pending AAIRB approval. ACAT and researchers from SUNY Albany stopped recruitment and prepared a third application to the AAIRB.
Although the third application (January 2010) to the AAIRB incorporated suggestions and feedback from NSHC RERB, the AAIRB, and outside advisers, the AAIRB sent ACAT a letter dated June 8, 2011 requesting that changes be made to the BMPS screening process and that the ACAT list benefits and risks. The AAIRB recommended that ACAT consult with an outside expert about using biological samples other than breast milk as proxies.
One of the authors, David O. Carpenter, Director of the Institute for Health and the Environment at SUNY Albany designed the sampling methodology for the BMPS. He explained that while the blood levels and the breast milk levels are totally interrelated, the importance of testing breast milk is that, unlike blood, breast milk is transmitted directly from mothers to infants and children. Over time, breastfeeding flushes chemicals out of a woman's body and into her child's body. Thus, a breast milk sampling mechanism would help scientists determine children's exposures throughout their breastfeeding time. Breast milk, as Smolders et al. [11] observe: "is a major uptake route for environmental contaminants […] and represents the main exposure source for breast feeding infants." During an interview with Saxton, Carpenter suggested that another reason for testing breast milk is that researchers "will get the same information [regarding kinds of contaminants] from blood, [but] the concentrations aren't going to be as high … [The tests] are much more sensitive if you use breast milk because the fat content is high." Results can also be compared to global monitoring of breast milk conducted by the World Health Organization and others.
ACAT responded to the AAIRB on June 27, 2011 and complied with the requests, but kept the breast milk biomonitoring component to honor the original Alaska Native-driven research questions. They attached six letters of support from Alaska Native communities. The leaders of the Native Village of Savoonga on St. Lawrence Island detailed why they wanted to do the BMPS:
We believe that this project is a good way to increase our knowledge about toxics on our Island, our foods, and our Yupik people. We…hope that the results will be helpful for us to make changes to environmental laws and policies that will protect the health of our children and our future generations. [unpublished observation June 2011].
Another supporting community expressed concern about contaminants, traditional foods, and children's health:
We depend on our ocean for food and are concerned about the sick seals, walrus, and polar bear. We need to know if we are consuming contaminants from the food…and passing it on to our babies we breast feed. [unpublished observation June 2011].
Armed with such support, in their IRB application cover letter, ACAT requested a meeting with the AAIRB to discuss additional questions or concerns. On September 30, 2011, ACAT received a denial letter from the AAIRB.
On January 5, 2012, ACAT team members visited the AAIRB office to schedule a meeting. An AAIRB committee member agreed to meet and discuss concerns and strategies to get the BMPS approved. ACAT also sought advice from staff at NSHC. On February 21, 2012 ACAT leaders and team members gave a 10-minute presentation to the AAIRB, during which committee members had opportunities to make comments, ask questions, or voice concerns. None were expressed, and the AAIRB administrator indicated that they would review the presentation and application and contact ACAT with any additional questions or comments.
On May 18, 2012, after five years of failed communications, three denied applications, an expired NIEHS grant, and an extension from the Passport Foundation, ACAT sought legal counsel from a local law firm to discuss the BMPS and potential legal actions that could help facilitate the approval and completion of the project. On May 25, 2012 ACAT submitted a new application to the AAIRB.
On July 11, 2012, ACAT received a modification request letter from the AAIRB asking for clarification of the specific study sites in the protocol. The letter also stated: "Researchers must form a Community Advisory Board (CAB) from each community represented. The IRB strongly recommends including NSHC nursing moms as CAB members and/or a lactation consultant from the region." The AAIRB requested an official CAB roster, prohibited members of the BMPS research team from being on the CAB (including Alaska Native researchers with decades of experience living and working in the communities), recommended that nursing moms and/or a lactation consultant from the region be included as CAB members, and solicited complete documentation of CAB meetings, including dates, agendas, and minutes. ACAT was willing to form a CAB and provide minutes; however, the suggestion to form a CAB from each participating community was impractical for this pilot study, which was designed to have a small number of participants from each community. The AAIRB also recommended that a NSHC health care provider, rather than the SUNY Albany research partner, conduct the report-back results. The AAIRB also required more revisions to the consent form and recruitment flyer, new letters of support from each participating community, and official approval from the NSHC Board of Directors (which would not give approval unless the AAIRB approved the study first).
On August 15, 2012 ACAT submitted a letter to the AAIRB asking for clarification on this latest modification request. An AAIRB administrator responded to the concern about the CAB in an email: "Demonstrate that the CAB has discussed this project and the potential negative consequences to
ALL
breastfeeding mothers and how this can be mitigated." The AAIRB's concern that the dissemination of the study findings would discourage breastfeeding by mothers throughout Alaska continued, leading the AAIRB to request the use of blood and tissue instead of breast milk:
We have consulted a recognized expert on contaminants and after much discussion [the committee] has determined that the IRB would approve this project if the investigators considered collecting blood instead of breast milk. . . . The collection of blood would a) eliminate the potential risk of decreasing breastfeeding, b) allow for testing of additional contaminants that are not found in breast milk, and c) blood is collected on a routine basis and could be more acceptable. [Unpublished observation August 2012]
The identity of the outside experts referenced in the AARIB's letters was never shared with ACAT, despite numerous requests for this information.
In a final effort to move the BMPS forward, leaders from the St. Lawrence Island Native Villages of Gambell and Savoonga sent letters to the AAIRB, expressing their concerns about the health issues their communities are facing, thanking them for approving past projects, and urging them to reconsider their decision. On October 12, 2012 ACAT submitted a letter and supporting documents through their attorney, seeking answers and clarification on why the BMPS had never been approved after more than five years of concerted effort to comply with all of the AAIRB's extensive and repetitive requests, requirements, meetings, presentations, protocol revisions, consultations with experts, and modifications. Ultimately, ACAT decided to halt the BMPS due to exhaustive modifications required by the AAIRB and extenuating staff, resource and financial circumstances related to sustaining the project.
10 years later: responding to the AAIRB
Here we analyze challenges that shaped ACAT's interactions with the AAIRB. Specifically, we use scientific literature on breast milk biomonitoring and contaminants, including case studies of previous community-based participatory and biomonitoring research and indigenous feedback to critique the AAIRB's: (1) fears about contaminants in breast milk and traditional foods, (2) reservations about results report-back, and (3) differing ideas about using research to support advocacy efforts. We pose new questions about the roles that IRBs play and discuss the potential consequences that ethical imperialism can have for indigenous communities wanting to conduct their own research on environmental health disparities.
Conclusion
Although this case study focuses on Alaska Natives, the lessons are applicable to other groups, and should serve to educate IRBs broadly about the importance of local cultural context and of the value of full report-back of results to participants. In telling this story, our intention is not to cast blame; rather, we seek to help prepare researchers and communities as they confront these challenges during ethical reviews of their proposed studies. We encourage researchers who have conflicts with IRBs to share their experiences with others and to work collaboratively to develop legal, educational, and institutional strategies that counter research paternalism within IRBs, state and federal agencies, and corporations. The goal is to create reflective and process-oriented research ethics that are in tune with the realities and needs of the communities that partner with us.
Abbreviations
AAIRB:

Alaska Area Institutional Review Board
ACAT:

Alaska Community Action on Toxics
BMPS:

Breast Milk Pilot Study
CAB:

Community Advisory Board
CBPR:

Community Based Participatory Research
FUDS:

Formerly Used Defense Sites
IHC:

Indian Health Center
IHS:

Indian Health Service
IRB:

Institutional Review Board
MOMS:

Making Our Milk Safe or MaPP
NIEHS:

National Institute of Environmental Health Sciences
NSHC:

Norton Sound Health Corporation
NSHC RERB:

NSHC Ethics Review Board
OC:

Organochlorine
PCB:

Polychlorinated Biphenyl
POP:

Persistent Organic Pollutant
Declarations
Acknowledgements
Partial support for this work comes from National Science Foundation grant GEO-1032754 ("Northeast Ethics Education Partnership for Research Ethics/Cultural Competence Training") to Phil Brown. The authors wish to thank the peer reviewers and the editors of EH for their thoughtful comments and suggestions. The Breast Milk Pilot Study referred to in this article was funded by a National Institutes of Environmental Health five-year grant entitled "Environmental Health and Justice in Norton Sound, Alaska" and by an award from the Passport Foundation. All errors and omissions are our own. We are grateful to Susan Pinney for comments on the article.
Open Access This article is distributed under the terms of the Creative Commons Attribution 4.0 International License (http://creativecommons.org/licenses/by/4.0/), which permits unrestricted use, distribution, and reproduction in any medium, provided you give appropriate credit to the original author(s) and the source, provide a link to the Creative Commons license, and indicate if changes were made. The Creative Commons Public Domain Dedication waiver (http://creativecommons.org/publicdomain/zero/1.0/) applies to the data made available in this article, unless otherwise stated.
Authors' Affiliations
(1)
Department of Anthropology, College of Social Sciences, California State University, Fresno, Fresno, USA
(2)
Northeastern University, Social Science Environmental Health Research Institute, Boston, USA
(3)
Alaska Community Action on Toxics, Anchorage, USA
(4)
University at Albany, Institute for Health and the Environment, Rensselaer, USA
(5)
Native Village of Savoonga Tribal Member, St. Lawrence Island, USA