Urban and transport planning, environmental exposures and health-new concepts, methods and tools to improve health in cities
Environmental Health
2016
15(Suppl 1):S38
Abstract
Background
The majority of people live in cities and urbanization is continuing worldwide. Cities have long been known to be society's predominant engine of innovation and wealth creation, yet they are also a main source of pollution and disease.
Methods
We conducted a review around the topic urban and transport planning, environmental exposures and health and describe the findings.
Results
Within cities there is considerable variation in the levels of environmental exposures such as air pollution, noise, temperature and green space. Emerging evidence suggests that urban and transport planning indicators such as road network, distance to major roads, and traffic density, household density, industry and natural and green space explain a large proportion of the variability. Personal behavior including mobility adds further variability to personal exposures, determines variability in green space and UV exposure, and can provide increased levels of physical activity.
Air pollution, noise and temperature have been associated with adverse health effects including increased morbidity and premature mortality, UV and green space with both positive and negative health effects and physical activity with many health benefits. In many cities there is still scope for further improvement in environmental quality through targeted policies. Making cities 'green and healthy' goes far beyond simply reducing CO2 emissions. Environmental factors are highly modifiable, and environmental interventions at the community level, such as urban and transport planning, have been shown to be promising and more cost effective than interventions at the individual level. However, the urban environment is a complex interlinked system.
Decision-makers need not only better data on the complexity of factors in environmental and developmental processes affecting human health, but also enhanced understanding of the linkages to be able to know at which level to target their actions. New research tools, methods and paradigms such as geographical information systems, smartphones, and other GPS devices, small sensors to measure environmental exposures, remote sensing and the exposome paradigm together with citizens observatories and science and health impact assessment can now provide this information.
Conclusion
While in cities there are often silos of urban planning, mobility and transport, parks and green space, environmental department, (public) health department that do not work together well enough, multi-sectorial approaches are needed to tackle the environmental problems. The city of the future needs to be a green city, a social city, an active city, a healthy city.
Keywords
Environmental ExposureGreen SpaceUrban Heat IslandPterygiumHealth Impact Assessment
Background
Cities have long been known to be society's predominant engine of innovation and wealth creation, yet they are also its main source of crime, pollution, and disease [1]. Bettencourt and colleagues [1] showed that processes relating urbanization to economic development and knowledge creation are very general, being shared by all cities belonging to the same urban system and sustained across different nations and times but that there are efficiencies of scale; quantities reflecting wealth creation and innovation have increasing returns, whereas those accounting for infrastructure show economies of scale. Recent estimates show that 60–80 % of final energy use globally is consumed by urban areas [2] and more than 70 % of global greenhouse gas emissions are produced within urban areas [3]. As a result, also environmental pollution increases with urbanization.
Lamsal and colleagues [4] found that urban NO2 pollution, like other urban properties, is a power law scaling function of the population size: NO2 concentration increases proportional to population raised to an exponent. The value of the exponent varies by region from 0.36 for India to 0.66 for China, reflecting regional differences in industrial development and per capita emissions. Fragkias and colleagues [5] found a near-linear relationship between population size and carbon emissions suggests that large urban areas in the U.S. are only slightly more emissions efficient than small ones. For each year in their sample, variation in population size across cities in the U.S. urban system explained approximately 70 % of the variation of CO2 emissions.
Already in 1973, Oke [6] described the relation between population and urban heat island effect. The high density of buildings and roads can cause so-called urban heat islands defined as built up areas that are hotter than nearby rural areas [7]. Fuller and colleagues [8] showed that in Europe green space coverage increases more rapidly than city area, but that a decline in green space availability per capita accelerates with increasing population density, suggesting that access to green space could decline rapidly as cities grow, increasing the geographical isolation of people from opportunities to experience nature.
In cities, environmental exposures such as air pollution [9], [13] temperature [14], [15] and noise [16] have been associated with adverse health effects, while ultraviolet radiation (UVR) [17] and green space [18], [20] have been associated with both positive and negative health effects, and are therefore important to measure and control.
Today, more than two thirds of the European population lives in urban areas and this share continues to grow. The development of our cities will determine the future economic, social and territorial development of the European Union [21]. Urban sprawl and the spread of low-density settlements is one of the main threats to sustainable territorial development; public services are more costly and difficult to provide, natural resources are overexploited, public transport networks are insufficient and car reliance and congestion in and around cities are heavy. Although air pollution decreased over the last decades in North American and European cities, more than 80 % of the population in the WHO European Region lives in areas with levels of ambient particulate matter (PM) exceeding WHO Air Quality Guidelines. The exposure to traffic noise is increasing as a result of continuing urbanization and rising traffic volumes, and around 20 % of the Europeans are regularly exposed to noise exceeding WHO guidelines [http://ec.europa.eu/environment/noise/health_effects.htm].
In a seminal paper, Rydin and colleagues [
22
] provided an analysis of how health outcomes can be improved through modification of the physical fabric of towns and cities and discussed the role that urban planning can have in delivering health improvements. The work began from the premise that cities are complex systems, with urban health outcomes dependent on many interactions and feedback loops, so that prediction within the planning process is fraught with difficulties and unintended consequences are common. They provided, amongst others, separate examples on built environment and physical activity, green space and urban heat islands. Here we expand the work by Rydin and colleagues [
22
] on urban design, environmental exposures and health, evaluate the linkages and highlight the large exposure variation that exists within cities. The focus here is on cities in higher income countries, but applicable to those in low and middle income countries. The aim is to provide a narrative towards new insights and possible solutions for the current environmental and health challenges in cities, focusing on the links between built environment, environmental exposure and health and identifying new concepts, methods and tools to inform science and policies (Fig.
1
).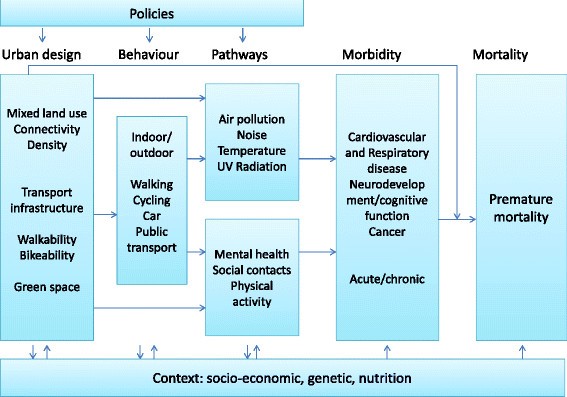 Methods
Search strategy and selection criteria
We searched PubMed, Web of Science and Science Direct, and references from relevant articles in English language from Jan 1, 1980, to Oct 1, 2014, using the search terms: "city", "urban" in combination with "air pollution", "noise", "temperature", "UV", "green space", "heat island", "carbon emissions", "built environment", "walkability", and/or "mortality", "respiratory disease", "cardiovascular disease", "hypertension", "blood pressure", "annoyance", "cognitive function", "reproductive outcomes" following an initial rapid review of the literature of the topic area and the author's knowledge We focused on systematic reviews, meta-analyses and articles published in the past 5 years; however, we used older articles if they represent seminal research or are necessary to understand more recent findings.
Conclusions
In conclusion, in this paper we have put cities in a wider context and made links between urban and transport planning, environment and health. We considered multiple environmental exposures identifying common determinants and linking the built environment, environmental concentrations, personal behavior and exposures and health. We provided a state of the art on the health effects of important environmental exposures in cities and provided a framework to link science and policies. Finally we proposed a range of new concepts, methods and tools such as the exposome, citizens science and citizens observatories, environmental, personal and remote sensing, and health impact assessment that can be employed to improve understanding and inform policies and actions. Further work is urgently needed to reduce the burden of disease related to the built environment and environmental exposures in cities and make cities a health promoting place. For this to happen we need collaboration between e.g. researchers and practioners in urban planning, mobility and transport engineering, architecture and landscape architecture, environmental science, behaviour, and public health. The city of the future needs to be a green city, a social city, an active city, a healthy city.
Declarations
CREAL structural core funding has covered the publication fee of this article.
This article has been published as part of Environmental Health Volume 15 Suppl 1, 2016: Healthy-Polis: Challenges and Opportunities for Urban Environmental Health and Sustainability. The full contents of the supplement can be found at http://www.ehjournal.net/supplements/15/S1.
Peer review
Peer review reports for this article are attached as Additional file 1.
Authors' Affiliations
(1)
Center for Research in Environmental Epidemiology (CREAL), Barcelona, Spain
(2)
Universitat Pompeu Fabra (UPF), Barcelona, Spain
(3)
Centro de Investigación Biomédica en Red de Epidemiología y Salud Pública (CIBERESP), Madrid, Spain
Copyright
© Nieuwenhuijsen. 2016
This article is published under license to BioMed Central Ltd. Open AccessThis article is distributed under the terms of the Creative Commons Attribution 4.0 International License (http://creativecommons.org/licenses/by/4.0/), which permits unrestricted use, distribution, and reproduction in any medium, provided you give appropriate credit to the original author(s) and the source, provide a link to the Creative Commons license, and indicate if changes were made. The Creative Commons Public Domain Dedication waiver (http://creativecommons.org/publicdomain/zero/1.0/) applies to the data made available in this article, unless otherwise stated.