Research

Open Access

Open Peer Review
This article has Open Peer Review reports available.
Ambulatory monitoring demonstrates an acute association between cookstove-related carbon monoxide and blood pressure in a Ghanaian cohort
Environmental Health
2017
16:76
Received: 24 January 2017
Accepted: 26 June 2017
Published: 21 July 2017
Abstract
Background
Repeated exposure to household air pollution may intermittently raise blood pressure (BP) and affect cardiovascular outcomes. We investigated whether hourly carbon monoxide (CO) exposures were associated with acute increases in ambulatory blood pressure (ABP); and secondarily, if switching to an improved cookstove was associated with BP changes. We also evaluated the feasibility of using 24-h ambulatory blood pressure monitoring (ABPM) in a cohort of pregnant women in Ghana.
Methods
Participants were 44 women enrolled in the Ghana Randomized Air Pollution and Health Study (GRAPHS). For 27 of the women, BP was measured using 24-h ABPM; home blood pressure monitoring (HBPM) was used to measure BP in the remaining 17 women. Personal CO exposure monitoring was conducted alongside the BP monitoring.
Results
ABPM revealed that peak CO exposure (defined as ≥4.1 ppm) in the 2 hours prior to BP measurement was associated with elevations in hourly systolic BP (4.3 mmHg [95% CI: 1.1, 7.4]) and diastolic BP (4.5 mmHg [95% CI: 1.9, 7.2]), as compared to BP following lower CO exposures. Women receiving improved cookstoves had lower post-intervention SBP (within-subject change in SBP of −2.1 mmHg [95% CI: -6.6, 2.4] as compared to control), though this result did not reach statistical significance. 98.1% of expected 24-h ABPM sessions were successfully completed, with 92.5% of them valid according to internationally defined criteria.
Conclusions
We demonstrate an association between acute exposure to carbon monoxide and transient increases in BP in a West African setting. ABPM shows promise as an outcome measure for assessing cardiovascular health benefits of cookstove interventions.
Trial registration
The GRAPHS trial was registered with clinicaltrials.gov on 13 April 2011 with the identifier NCT01335490.
Keywords
Household air pollution
Carbon monoxide
Blood pressure
Ambulatory blood pressure monitoring
Cookstoves
Biomass
Background
Household Air Pollution (HAP) from cooking using biomass fuels has been estimated to be the fourth leading risk factor for death and disability globally [1] and the leading risk factor in Ghana [2]. A significant proportion of this risk is attributable to adult cardiovascular disease (CVD). Despite the fact that the long latency of CVD provides a challenge to studies of the association between exposure to HAP and CVD clinical outcomes, several observational studies have reported positive associations between the use of polluting fuels (biomass/kerosene/diesel) and cardiovascular diagnoses and/or CVD mortality [3–5]. Increased blood pressure (BP) is one mechanism thought to potentially underlie the relationship between household air pollution exposure and cardiovascular disease, due to existing evidence of an association between ambient particulate matter (PM) exposure and increased BP [6], and a large body of literature linking increased BP to cardiovascular events and mortality [7]. The specific mechanism by which PM exposure may lead to increased BP remains unknown, but has been hypothesized to involve vasoconstriction, endothelial dysfunction, and/or autonomic nervous system imbalance [6].
Studies of the association between HAP and BP/hypertension are proliferating: there are currently published manuscripts concerning this association from cohorts in Guatemala [8], India [9–11], Nicaragua [12], China [3, 13], and Peru [14, 15]. The studies differ in the methods used to categorize HAP exposure. Many studies employed relatively crude indicators of exposure to HAP, for example "ever" use of biomass fuel over the life course [3, 14], or current use of solid fuel [11]. Fewer studies actually measured pollutants in locations such as kitchens and living areas or using personal exposure monitoring [9, 10, 12, 16, 17].
Carbon monoxide (CO) is a component of household air pollution [18] that is more easily and inexpensively measured than PM2.5 and has been commonly measured in studies of the health effects of HAP, although reported correlations with PM are variable across settings. Some of the largest correlations have been reported in settings where both pollutants are largely derived from biomass burning, e.g. households in rural Peru, The Gambia, and Guatemala [19–21], while lower correlations have been reported in other rural settings, possibly due to exposure to multiple sources of pollution [22, 23]. CO itself may acutely affect BP: a study among Brazilian traffic controllers found increases in BP associated with same-day elevations in ambient CO [24]. The Ghana Randomized Air Pollution and Health Study (GRAPHS) study, a cookstove intervention trial among 1414 pregnant women, measured HAP using personal CO monitoring supplemented with occasional personal PM2.5 monitoring [25]. We have previously reported an association between mean 72-h CO exposure and BP in the GRAPHS cohort at trial enrollment [17]; this analysis was cross-sectional and did not investigate acute effects of CO on BP.
As a clinical biomarker of CVD risk, BP has the advantage of being non-invasive and inexpensive. Traditional "clinic" measurements of BP, however, are imperfect estimates of BP, as BP levels vary throughout the day and may be influenced by the clinic environment in either an upward or downward direction [26]. Alternative methods of measuring BP that overcome these shortcomings are ambulatory blood pressure monitoring (ABPM) and home blood pressure monitoring (HBPM). Both ABPM and HBPM have been shown in numerous studies to correlate with CVD and mortality outcomes, independently of clinic-measured BP [27]. In ABPM, a portable monitor and blood pressure cuff are worn for an extended period (typically 24 h), with BP measurements taken at approximately 15 to 30 min intervals throughout the day and the night. In HBPM, a semi-automatic digital BP monitoring device is used to measure BP repeatedly in the home setting over the course of several consecutive days. ABPM currently is considered the gold standard for accurately assessing blood pressure since it provides a comprehensive assessment of an individual's complete BP profile, including the diurnal variation that may be important to cardiovascular risk [28]. Many American and European clinical guidelines recommend 24-h ABPM for the diagnosis and treatment of hypertension [27]. Despite its clear clinical potential, ABPM is relatively underutilized in low and middle income countries [29]. One study has reported using ABPM to measure BP in association with HAP exposure in India; this study investigated associations during cooking sessions only and was inconclusive in its findings [10]. We know of no studies that have reported on the feasibility of ABPM in a rural African setting.
Here, we use ABPM among a subset of pregnant women enrolled in GRAPHS to investigate two hypotheses: first, that acute exposure to CO would trigger acute increases in BP; and second, that cookstove interventions to reduce exposure to HAP would lead to lower post-intervention BP as compared to control.
Results
Forty four pregnant women were successfully enrolled into the study (27 in the ABPM group; 17 in the HBPM group). None of the women had been previously diagnosed as hypertensive or diabetic. The women were on average 16 to 17 weeks gestation at the time of enrollment and were in their mid- to late twenties (Table
2
).
Table 2
Baseline characteristics of 44 women enrolled in the BP study, compared to all women in the GRAPHS cohort
| | ABPM group | HBPM group | All GRAPHS women |
| --- | --- | --- | --- |
| Number of participants enrolled | 27 | 17 | 1414 |
| Number of intervention participants | 13 | 8 | |
| Improved biomass (BioLite™) stove | 5 | 0 | |
| Liquefied Petroleum Gas (LPG) stove | 8 | 8 | |
| Age (years)a | 23.9 [6.5] | 29.4 [8.4] | 27.5 [7.1] |
| BMI (kg/m2)a | 21.8 [1.8] | 22.8 [3.1] | 23.4 [3.2] |
| Gestational age (weeks, at enrollment)a | 16.6 [4.3] | 16.9 [4.8] | 16.2 [4.4] |
| Pre-intervention mean CO exposure (ppm)a | 1.43 [0.75] | 1.12 [0.79] | 1.76 [1.1] |
| Pre-intervention SBP (mmHg)a | 106.9 [6.4] | 100.6 [9.4] | 105.5 [10.2] |
| Pre-intervention DBP (mmHg)a | 62.6 [4.8] | 65.8 [6.2] | 63.2 [7.9] |
Acute effect of CO on BP
For the acute CO-BP analysis we included any 24-h ABPM sessions that had been conducted concurrently with personal CO monitoring (defined as CO monitoring that overlapped by 20 h or more with the ABP monitoring). Twenty ABPM sessions, among 19 women, met this criterion. An example is shown in Fig. 2.
Our initial modeling evaluated the association between 0- to 8-h-lagged CO exposure (as a continuous variable) and BP. We did not observe a significant relationship between CO and BP in these models, although the coefficients were in the expected direction for the one-hour-lagged CO variable (Additional file 1: Figure S1).
In our analyses of a potential threshold effect of high CO exposure on subsequent BP, we found that peak CO exposure was significantly associated with increases in both SBP and DBP (Table
3
; full model output available in the Additional file
1
: Table S2). On average, exposure above 4.1 ppm was associated with an increase in hourly-averaged SBP of 4.3 [1.1, 7.4] mmHg and an increase in hourly-averaged DBP of 4.5 [1.9, 7.2] mmHg as compared to BP following lower CO exposures, adjusted for awake and morning periods.
Table 3
Association of hourly peak CO exposure with hourly SBP and DBP
| | SBP (mmHg) | DBP (mmHg) |
| --- | --- | --- |
| Coefficient for Peak COa [95% CI] | 4.3 [1.1, 7.4] | 4.5 [1.9, 7.2] |
Not all 20 CO monitoring sessions contained exposure values meeting our definition of "peak" CO exposure: two-hour moving average of CO exceeding the 90th percentile of the distribution (4.1 ppm). In all, 12 out of 20 (60%) of CO sessions contained values exceeding the 90th percentile. Because this definition excluded a large percentage of the data, we conducted several sensitivity analyses (see methods). First, by defining "peak" CO alternatively as the 75th, 80th, 85th, and 95th percentiles of the exposure distribution, we observed that SBP/DBP increased as the CO percentile increased (Fig.
3
). The exception was peak CO defined using the 95th percentile definition, although this model was impacted by a lack of data: only seven sessions (35%) contained CO exposure levels exceeding the 95th percentile value (2-h moving average above 6.8 ppm).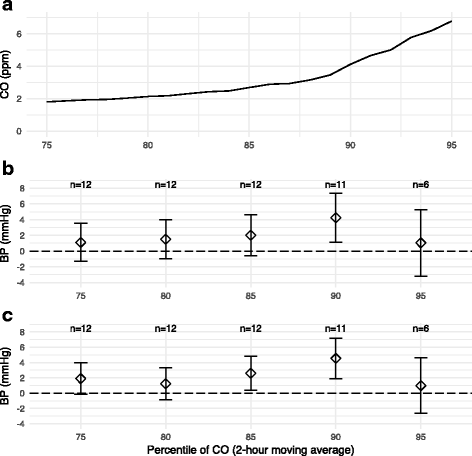 A second sensitivity analysis, using each individual 24-h session of CO measurements to define individually-specific "peak" CO levels, resulted in similar findings: we observed a trend of increasing beta coefficients from the 75th–95th percentiles of CO, with the beta coefficients reaching statistical significance around the 90th percentile (Fig.
4
). The fitted coefficients from models using this definition of CO were slightly smaller than in the primary analysis.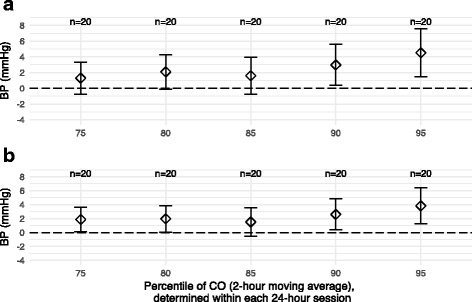 Effect of Cookstove intervention on CO
Thirty five individuals had valid CO data in both the pre-intervention and post-intervention exposure monitoring sessions: 18 in the Control group, 13 who received the LPG intervention, and 4 in the BioLite group. Pre-intervention mean 72-h CO levels were 1.04 ppm (Control), 1.74 (LPG), and 1.43 (BioLite); with post-intervention levels of 1.55 ppm (Control), 0.63 ppm (LPG), and 1.45 ppm (BioLite). Among the three groups, only the LPG group showed a significant reduction in mean CO level following the intervention (Fig.
5
).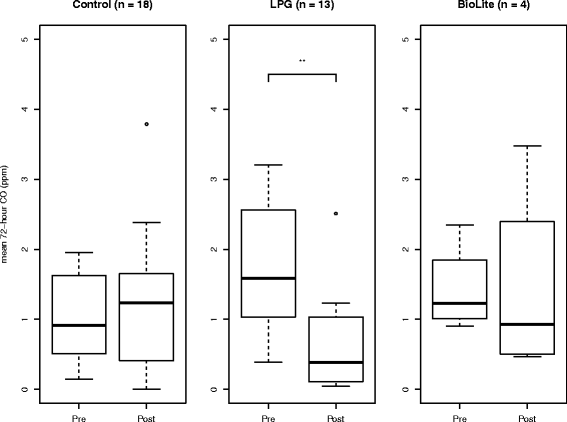 Effect of Cookstove intervention on BP
Forty one individuals had valid BP data in both of the two BP measurement sessions and could be included in this analysis. Of these, 25 were in the ABPM group and 16 in the HBPM group, while 21 were in the intervention group and 20 were in the control group. Pre- and post-intervention SBP and DBP for each group can be found in Table
4
. Although there were small differences in SBP and DBP depending on the type of BP assessment (ABPM vs. HBPM, Table
4
), BP assessment method was not significantly associated with the amount of BP change (t-test
p
-value for change in SBP = 0.74; for change in DBP = 0.75).
Table 4
Mean [SD] SBP and DBP by intervention status and BP measurement group
Intervention status

Control (n = 20)

Intervention (n = 21)

Round 1 (pre-intervention)

Round 2 (post-intervention)

Round 1 (pre-intervention)

Round 2 (post-intervention)

BP Measurement Group

ABP (n = 25)

SBP

105.3 [7.9]

105.2 [5.0]

108.3 [4.9]

107.8 [6.7]

DBP

63.3 [5.5]

62.0 [4.8]

62.1 [4.5]

62.5 [4.9]

Home BP (n = 16)

SBP

98.6 [4.0]

101.3 [8.3]

99.8 [10.4]

97.7 [7.5]

DBP

63.0 [2.6]

65.8 [5.7]

66.9 [6.7]

64.8 [4.3]
Combining data from the ABPM and HBPM groups, we analyzed the change in awake BP before and after the cookstove intervention. We observed a non-significant trend toward lower post-cookstove-intervention SBP and DBP in the intervention groups (Fig.
6
and Table
5
). This result was larger for SBP than DBP in both unadjusted and adjusted models. In the adjusted analysis (Table
5
; full model results available in the Additional file
1
: Table S3), the coefficient for the cookstove intervention was −2.1 [−6.6, 2.4] for the change in SBP (the intervention was associated with a change in SBP that was 2.1 mmHg lower than the change in SBP among controls, holding covariates constant), while the cookstove intervention coefficient was −0.1 [−3.2, 3.0] for the change in DBP. When we restricted the "intervention" group to those women who received LPG stoves (excluding the five BioLite stove recipients), and/or analyzed the data separately by BP monitoring type, the results were similar, with the exception that there appeared to be no relationship between the intervention and SBP within the 16 women in the home BP group alone (Additional file
1
: Table S4).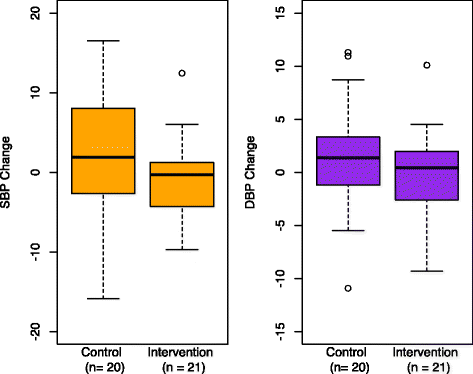 Table 5
Within-subject change in awake SBP and DBP (post-intervention minus pre-intervention) by intervention status (n = 41)
Change in SBP

Change in DBP

Unadjusted

Adjusteda

Unadjusted

Adjusteda

Coefficient for Cookstove Interventiona

−3.5 [−7.7, 0.75]

−2.1 [−6.6, 2.4]

−1.5 [−4.6, 1.5]

−0.1 [−3.2, 3.0]
Additional results
ABPM feasibility and validity
98.1% (53 out of 54) of the expected 24-h ABPM sessions were successfully completed (one woman traveled out of the study region prior to the second ABPM session). 92.5% of these completed ABP sessions were valid according to IDACO criteria. Within valid ABP sessions, the mean [SD] number of BP readings was 49.9 [10.9] (awake period: 30.7 [9.0]; asleep period: 19.2 [4.0]), with mean session duration of 23.1 [1.6] hours.
The HBPM protocol was also successful. In the HBPM group, 97.1% (33 out of 34) of the expected 5-day sessions were conducted (one woman left the GRAPHS trial due to early pregnancy termination). 99% of the planned 10 measurements per woman were obtained within these completed Home BP sessions, with a mean [SD] number of readings per 5-day session of 9.9 [0.3] (mornings: 4.9 [0.2]; evenings: 4.9 [0.2]).
Overall BP and ABPM-specific BP findings
All women in the study had mean [SD] BP levels in the normotensive range, as follows. ABPM group: SBP 106.4 [5.8]; DBP 62.2 [4.7]. HBPM group: SBP 100.0 [8.6], DBP 65.5 [5.5]. None of the women had average BP above the thresholds for hypertension as outlined in Table 1.
Because ABPM records BP values during sleeping as well as waking hours, additional parameters having to do with the diurnal cycle of BP can be calculated from ABPM records (see Table
1
). None of the ABPM results indicated awake ambulatory hypertension, while two women demonstrated nocturnal hypertension during one of their two ABPM sessions only. Eighteen women demonstrated a non-dipping pattern, defined as a nocturnal decline in SBP ≤ 10%: 10 women demonstrated the non-dipping pattern during both ABPM sessions, while an additional 8 women demonstrated the non-dipping pattern during a single ABPM session only (Table
6
). None of these parameters were associated either with intervention status or CO exposure.
Table 6
ABP parameters across 49 valid ABPM sessions
| | |
| --- | --- |
| Number of sessions indicating | Count (%) |
|  • Elevated 24 h BP (hypertension) | 0 |
|  • Awake ambulatory hypertension | 0 |
|  • Nocturnal hypertension | 2 (4%) |
|  • Non-dipping pattern | 28 (57%) |
| Average values | Mean [SD] |
|  • Mean 24-h SBP | 106.4 [5.8] |
|  • Mean 24-h DBP | 62.2 [4.7] |
|  • Awake SBP | 110.5 [5.9] |
|  • Awake DBP | 66.7 [5.0] |
|  • Asleep SBP | 100.4 [7.9] |
|  • Asleep DBP | 55.8 [6.4] |
Discussion
Using 24-h ABPM and concurrent personal monitoring of carbon monoxide, we showed that exposure to CO levels above 4.1 ppm in the 2 h prior to blood pressure measurement was significantly associated with transient increases in both SBP and DBP in a small cohort of pregnant women in Ghana. The observed effect was a mean increase of 4.3 mmHg in hourly SBP and 4.5 mmHg in hourly DBP. In sensitivity analyses using alternate definitions of CO, we observed that peak CO exposure above the 75th percentile of the exposure distribution was consistently associated with increased SBP and DBP.
Further, in an analysis of the change in BP before and after a cookstove intervention as compared to control, we observed that the cookstove intervention was associated with a reduction in SBP and DBP among pregnant women who received the improved cookstoves, while SBP and DBP increased slightly in pregnant control women over the same time period. These results were in the hypothesized direction but were not statistically significant. Restricting the analysis to women who received the LPG stove intervention led to slightly larger estimates of effect.
While BP is inherently variable, the fact that HAP exposure may be associated with transient increases in BP among normotensive individuals relates directly to theories about the development of essential hypertension. Current research on the pathogenesis of chronic hypertension suggests that modifications in vasculature resulting from intermittent increased local load pressure in the arteries and arterioles lead over time to increased arterial stiffness and peripheral vascular resistance to blood flow [43–45]. If an environmental trigger repetitively induces transient elevations in blood pressure, this may set the stage for the eventual development of chronic hypertension in a susceptible individual. A transient effect of HAP exposure on BP, as seen here, thus suggests a plausible mechanistic explanation for the associations that have been observed between HAP exposure and elevations in BP [7, 17] and between cookstove interventions and reductions in BP [20]. Eventually, this BP effect could be a contributing factor to CVD and help explain associations between chronic HAP exposure and adverse cardiovascular diagnoses [3, 4]. If further studies confirm this mechanistic pathway between HAP and hypertension/CVD, it is importantly amenable to intervention. We observed a trend in this study toward lower post-intervention BP among women receiving improved cookstoves.
These results additionally indicate that 24-h ABPM is a well-tolerated and feasible method of BP assessment in pregnant women in this predominately rural West African setting. We achieved a 92.5% validity rate for the 24-h ABPM sessions completed here; and these results compare favorably to results in other populations. For example, an analysis from the IDACO study, a multinational project using ABPM among 12,711 people drawn from 12 population cohorts from Europe, Asia, and South America, reported a validity rate of 84.5% using the same criteria applied here [34].
Twenty four hour ABPM also led to some unexpected findings about diurnal BP patterns in this cohort of Ghanaian women. BP normally dips 10–20% during sleep, driven largely by inactivity [46]. Notably, 57% of the ABPM sessions in this study population were characterized by a non-dipping nocturnal pattern, defined as a nocturnal decline in SBP ≤ 10% as compared to waking values. The prevalence of non-dipping observed in this cohort is greater than has been reported in several prominent observational studies of ABPM parameters, including 27.8% non-dipping rate reported in the PIUMA study among 959 individuals with ambulatory hypertension in Italy [47], and the 29.4% non-dipping rate reported within the IDACO cohort of 7458 individuals [48]. Non-dipping has been associated with adverse cardiovascular outcomes in a variety of European, American, and Asian cohorts [46, 49], including associations among pregnant women with pregnancy-induced hypertension [50] and increased risk of endothelial damage in preeclampsia [51]. Studies in the United States point to a potential racial and ethnic component of non-dipping patterns, with a larger prevalence of non-dipping SBP observed among African-Americans as compared to other racial groups [52, 53]. The high non-dipping rate reported in this West African cohort may indicate that this question deserves further study in relation to hypertension and CVD in African populations.
Limitations
The small size of our study limited our ability to draw generalizable conclusions. While the sample size of 44 women was adequately powered for evaluating the hourly effect of CO on BP, due to missing data we ended up having a smaller sample of data to analyze for the acute CO-BP relationship (20 24-h ABPM/CO monitoring sessions). We were also underpowered to test the overall effect of the cookstove intervention. Larger studies will be needed to corroborate the results observed here: both of a threshold effect of acute CO exposure on BP increases and the trend toward lower post-intervention BP among women receiving an improved cookstove. As this study focused on pregnant women, the results may be most pertinent to other cohorts of pregnant women, who are a particularly vulnerable subgroup for hypertensive complications. The implications for cohorts of men and non-pregnant women are unclear.
Another limitation is that the exposure data available was for CO, and not PM, for which a stronger body of literature exists for a relationship with blood pressure and other cardiovascular outcomes. CO and PM correlate well in some settings using biomass fuels [20, 21], but not in others [23, 54]. While CO and PM both are major constituents of household air pollution from biomass burning, they cannot simply be considered proxies for each other. We therefore cannot be certain whether it is CO, PM, or another pollutant that co-varies with CO that caused the differences observed.
Finally, we did not have data on some important potential covariates that might either confound or modify the relationship between CO and BP, such as diet, ambient temperature, and physical activity. In particular, cooking in this region can be quite physically demanding, requiring vigorous stirring of thick porridges and pounding of starchy root vegetables. Since exercise influences blood pressure [55], is therefore possible that the association seen between CO exposure and subsequent increases in BP was due in part to increased physical activity during cooking. It should be noted, however, that other common foods from this region are boiled or stewed and thus require less exertion to prepare. Furthermore, many other activities of daily life in this region besides cooking are physically demanding, such as washing clothes, farming, and gathering firewood – all of which are activities the women may have engaged in during their 24-h ABPM sessions. Nonetheless, future studies in settings such as this one should incorporate more detailed physical activity monitoring and/or time-activity tracking to better disentangle the relationships between HAP exposure, physical activity, and changes in BP.
Conclusions
Using concurrent ABPM and personal CO monitoring, we found evidence of an acute relationship between exposure to CO and increased BP at the high end of the CO exposure distribution. CO above 4.1 ppm up to 2 h prior to BP measurement was significantly associated with increases in SBP and DBP that were over 4 mmHg respectively.
This study demonstrated that 24-h ABPM is a well-tolerated and feasible method of BP assessment among pregnant women in a rural African setting. ABPM provides a wealth of information on diurnal patterns of BP that can be related to cardiovascular health status, and is a promising tool to investigate the cardiovascular effects of cookstove interventions in low- and middle-income countries.
Abbreviations
ABP:

Ambulatory blood pressure
ABPM:

Ambulatory blood pressure monitoring
BP:

Blood pressure
CO:

Carbon monoxide
CVD:

Cardiovascular disease
DBP:

Diastolic blood pressure
ESH:

European Society of Hypertension
GRAPHS:

Ghana randomized air pollution and health study
HAP:

Household Air Pollution
HBPM:

Home Blood Pressure Monitoring
IDACO:

International database of ambulatory blood pressure in relation to cardiovascular outcome
LPG:

Liquefied petroleum gas
PM:

Particulate matter
SBP:

Systolic blood pressure
Declarations
Acknowledgements
Not applicable.
Funding
This work was supported by the United States' National Institute of Environmental Health Sciences (NIEHS grants R01ES019547, P30 ES009089, and T32 ES023770, K23 ES021471); the National Heart, Lung, and Blood Institute (NHLBI grants K24-HL125704, HL117323-02S2, and P01-HL047540), the Global Alliance for Clean Cookstoves, the Thrasher Foundation, the Columbia Mailman School of Public Health Global Health Initiative, and the Kintampo Health Research Centre. The funding bodies played no role in the design of the study, nor in the collection, analysis, or interpretation of data.
Availability of data and materials
The datasets used and/or analyzed during the current study are available from the corresponding author or enquiries@kintampo-hrc.org on reasonable request.
Authors's contributions
The study design was developed by DJ, KPA, PK, BW, AQ, and S O-A. K A-N, EB, and MM designed the recruiting strategy, contacted participants, and oversaw the collection of blood pressure data. SC and MM managed the collection of the air pollution data. OA and AQ prepared the data for analysis. JS provided blood pressure monitoring equipment and training and developed the protocols for ABP collection. DS and MA provided guidance for the interpretation of blood pressure data. AQ analyzed the data and wrote the manuscript with input from DJ, KPA, SK, BW, DS, MA, and JS. All authors reviewed and approved the final manuscript.
Ethics approval and consent to participate
Ethical approvals for this study were obtained from the Institutional Review Board of Columbia University Medical Center and the Kintampo Health Research Centre Institutional Ethics Committee. Informed consent was obtained from all human subjects before the research began.
Consent for publication
Not applicable.
Competing interests
DS is a consultant for Abbott Vascular and Novartis Pharmaceuticals Corporation.
Publisher's Note
Springer Nature remains neutral with regard to jurisdictional claims in published maps and institutional affiliations.
Open AccessThis article is distributed under the terms of the Creative Commons Attribution 4.0 International License (http://creativecommons.org/licenses/by/4.0/), which permits unrestricted use, distribution, and reproduction in any medium, provided you give appropriate credit to the original author(s) and the source, provide a link to the Creative Commons license, and indicate if changes were made. The Creative Commons Public Domain Dedication waiver (http://creativecommons.org/publicdomain/zero/1.0/) applies to the data made available in this article, unless otherwise stated.
Authors' Affiliations
(1)
Department of Environmental Health Sciences, Mailman School of Public Health, Columbia University, New York, USA
(2)
Kintampo Health Research Centre, Ghana Health Service, Kintampo, Ghana
(3)
Department of Environmental Health, Boston University School of Public Health, Boston, USA
(4)
Division of Maternal-Fetal Medicine, Vincent Department of Obstetrics and Gynecology, Massachusetts General Hospital and Harvard Medical School, Boston, USA
(5)
Department of Medicine, Columbia University Medical Center, New York, USA
(6)
Lamont-Doherty Earth Observatory of Columbia University, Palisades, USA
(7)
Institute for Applied Behavioral Medicine Research, Stony Brook University, Stony Brook, USA
(8)
Center for Behavioral Cardiovascular Health, Columbia University, New York, USA