Research
Open Access
Open Peer Review
This article has Open Peer Review reports available.
Can profiles of poly- and Perfluoroalkyl substances (PFASs) in human serum provide information on major exposure sources?
Environmental Health
2018
17:11
Received: 17 October 2017
Accepted: 23 January 2018
Published: 1 February 2018
Abstract
Background
Humans are exposed to poly- and perfluoroalkyl substances (PFASs) from diverse sources and this has been associated with negative health impacts. Advances in analytical methods have enabled routine detection of more than 15 PFASs in human sera, allowing better profiling of PFAS exposures. The composition of PFASs in human sera reflects the complexity of exposure sources but source identification can be confounded by differences in toxicokinetics affecting uptake, distribution, and elimination. Common PFASs, such as perfluorooctanoic acid (PFOA), perfluorooctane sulfonic acid (PFOS) and their precursors are ubiquitous in multiple exposure sources. However, their composition varies among sources, which may impact associated adverse health effects.
Methods
We use available PFAS concentrations from several demographic groups in a North Atlantic seafood consuming population (Faroe Islands) to explore whether chemical fingerprints in human sera provide insights into predominant exposure sources. We compare serum PFAS profiles from Faroese individuals to other North American populations to investigate commonalities in potential exposure sources. We compare individuals with similar demographic and physiological characteristics and samples from the same years to reduce confounding by toxicokinetic differences and changing environmental releases.
Results
Using principal components analysis (PCA) confirmed by hierarchical clustering, we assess variability in serum PFAS concentrations across three Faroese groups. The first principal component (PC)/cluster consists of C9-C12 perfluoroalkyl carboxylates (PFCAs) and is consistent with measured PFAS profiles in consumed seafood. The second PC/cluster includes perfluorohexanesulfonic acid (PFHxS) and the PFOS precursor N-ethyl perfluorooctane sulfonamidoacetate (N-EtFOSAA), which are directly used or metabolized from fluorochemicals in consumer products such as carpet and food packaging. We find that the same compounds are associated with the same exposure sources in two North American populations, suggesting generalizability of results from the Faroese population.
Conclusions
We conclude that PFAS homologue profiles in serum provide valuable information on major exposure sources. It is essential to compare samples collected at similar time periods and to correct for demographic groups that are highly affected by differences in physiological processes (e.g., pregnancy). Information on PFAS homologue profiles is crucial for attributing adverse health effects to the proper mixtures or individual PFASs.
Keywords
SerumFish and shellfishConsumer productsSource attributionHomologuesPerfluoroalkyl carboxylates (PFCAs)
Background
Poly- and perfluoroalkyl substances (PFASs) are widely used consumer and industrial chemicals that are now detectable in virtually all human populations [1–6]. Exposure to PFASs has been associated with many adverse health effects including developmental, metabolic and immune disorders, and increased risk of certain cancers [7–9]. PFAS exposure sources are diverse and include dust, food, drinking water, and many consumer products such as food packaging, outdoor gear, dental floss, carpets and furniture coatings [10–12]. Human populations are therefore exposed to different PFAS mixtures. The relative importance of different PFAS exposure sources has proven difficult to discern, both within and across populations. This information is essential for attributing adverse effects to particular PFASs or mixtures and for prioritizing actions to minimize health risks. Complex mixtures of PFASs in human sera may be further altered by variability in toxicokinetics. Improved classification of particular PFAS mixtures may allow chemical fingerprinting of PFASs in human sera and eventually lead to characterization of major causative profiles within populations and across demographic groups.
The relative importance of different PFAS exposure sources can be highly variable across populations and locations. Exposures from seafood consumption are important in many coastal communities [4, 13–15]. Other food items of animal origin have been identified as important contributors to exposure in a few other populations [16, 17]. Children and toddlers are more highly exposed to certain PFASs due to trans-placental transfer, breastfeeding, and frequent hand-to-mouth contact leading to ingestion of house dust [18–20]. Other populations may be exposed to specific PFASs from drinking water [21, 22]. Exposures estimated from measured concentrations in food, dust, and drinking water can be imprecise due to large inter-individual differences in behavior and wide ranges in environmental concentrations [23]. This imprecision is compounded when environmental measurements are not available for a specific study population and must be inferred from other studies. For example, Lorber and Egeghy [23] modeled US population exposures using PFAS concentrations in foods from another population [24] and resulting dietary perfluorooctanoic acid (PFOA) intake estimates ranged by more than one order of magnitude [23]. Others have developed multi-compartment pharmacokinetic models for individual PFASs that reproduce observed serum concentrations [25, 26]. However, such modeling approaches are typically data-intensive and focus on individual PFASs rather than chemical mixtures. Toxicokinetic data needed to parameterize such models are limited for PFASs other than PFOS, PFOA and PFHxS.
Serum concentrations of PFASs reflect accumulated exposures to multiple compounds that occurred simultaneously, providing a composite measure of uptake from all pathways and sources [23, 27]. Previous work has successfully used congener composition within chemical classes such as polychlorinated biphenyls (PCBs) to identify the origin of major human exposure sources [28–30]. Applying such techniques to PFASs is complicated by dramatic shifts in production over time and the complex metabolism of PFAS precursors. This means that differences in exposure can be inferred only from samples collected at similar time periods, and physiological differences must be carefully considered. Previously, we showed that the measured PFAS composition in surface water provides useful information on sources of environmental pollution [31]. Here, we discuss the potential feasibility of extending this approach to consider human sera and the caveats associated with such methods.
The main objective of this study is to assess exposure information that can be derived from serum-PFAS composition. We analyzed a suite of 19 PFASs in archived serum samples from past epidemiological studies in the Faroe Islands, a North Atlantic fishing community with a wide-range of PFAS exposures [14, 32]. We compare the measured composition of detectable PFASs in serum from Faroese women, children and men using multivariate statistical tools to identify clustering of major PFASs. We consider potential confounding due to inter-individual differences in toxicokinetics and elimination pathways, and test generalizability of information derived from the Faroese cohort using serum PFAS data from two other North American populations [33, 34].
Results
Serum PFAS profiles among Faroese individuals
The first PCA component explains 51% of the variability, and clearly separates whaling men from children and women. PFOS and C9-C12 PFCAs have high loadings on the first component and are distinct from the other PFASs. The first component includes compounds with both low and high detection frequency indicating this grouping is unlikely to be driven by detection rates.
The second component explains 17% of the variability in serum PFAS profiles and has high scores among Faroese children. PFHxS, PFHpA and two PFOS precursors, N-MeFOSAA and N-EtFOSAA have high loadings in this component of the PCA. The third component explains 9% of the variability. Two PFOS precursors, nFOSA and brFOSA have high loadings in this component, but the three Faroese groups have similar scores on this component.
We compared PCA results for Faroese groups to their US counterparts with similar demographic and physiological characteristics with serum samples collected at the same time period to reduce temporal variability in the exposure signal and toxicokinetic differences (Fig. 2b–d). Faroese whaling men have higher scores on Component 1 when compared to white men from NHANES 2005–06 (Fig. 2b). Faroese children at age 13 (2011–12) have higher scores on Component 1 and Component 2 compared to age 13 white children in NHANES for the same year (Fig. 2c). Figure 2d shows the PCA results for mothers from the Faroe Islands and US white women, who are 19 to 44 years old and within the one year-postpartum period, from NHANES 2005–06. The mothers from the Faroes have lower scores on Component 1 and Component 2 compared to women in NHANES.
Predictors of PFASs in two north American populations
We found significant associations between shellfish consumption and serum levels of PFOS, PFOA, PFNA and PFDA, after adjusting for socio-demographic factors (Additional file
1
: Table S5) and other exposure sources including floor type, drinking water sources, fire-fighting foam exposure (generalized additive model,
p
 < 0.05, Fig.
5
). Fully or partially carpet covered floors were associated with 37.2% increase in serum PFHxS concentrations, 17.2% increase in N-MeFOSAA, and 12.2% increases in PFOS (
p
 < 0.05, Additional file
1
Table S5). The final multivariable model explains 9–25% of the variance in PFAS concentrations for the six PFASs considered in the NHANES 2005–06 serum data examined here (Additional file
1
Table S5 and Fig. S5).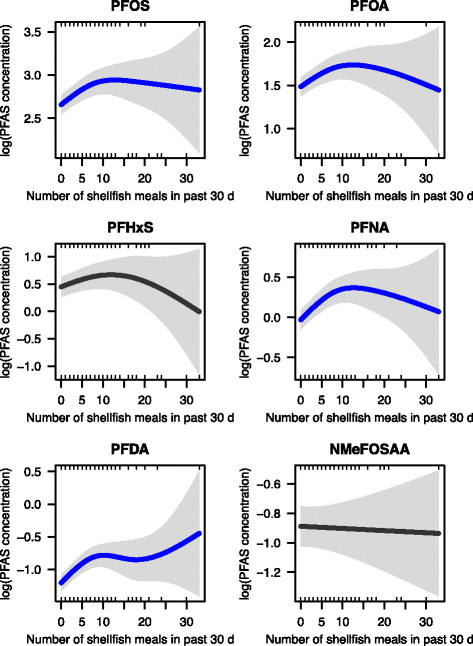 Unadjusted associations of potential predictors with serum PFAS concentrations measured in the CHirP study are shown in Additional file
1
: Table S4. The final model explains 34–58% of the variance in PFAS concentrations for the four PFASs considered in CHirP (Additional file
1
: Table S6 and Figure S6). Similar to NHANES, we found statistically significantly positive associations between shellfish consumption and increased PFNA concentrations in CHirP, but not other PFASs. We found positive associations between serum PFHxS composition and increased use of stovetop Teflon cookware and preheated packaged foods (Fig.
6
). PFOS was also associated with increased use of packaged foods. These results were adjusted for PFAS exposure sources from other consumer goods, seafood consumption and demographic factors that could affect toxicokinetics such as race/ethnicity, previous pregnancy and breastfeeding history (Additional file
1
: Table S6).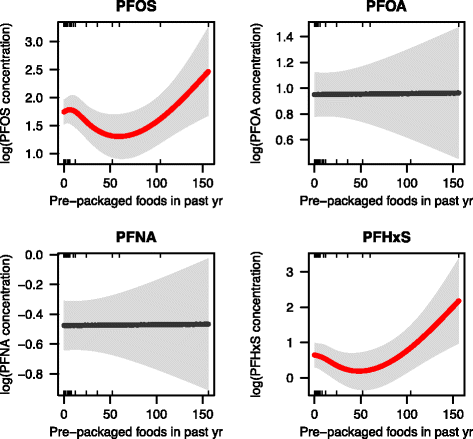 Discussion
Our results link the chemical fingerprint of 15 PFASs in human serum with predominant exposure sources using measurements collected at similar times for three demographic groups in the Faroe Islands. Our analysis suggests that individuals exposed to PFASs from marine food are identifiable by an elevated proportion of C9-C12 PFCAs in their serum. Individuals who have exposures dominated by consumer products have relatively higher proportions of PFHxS, and N-EtFOSAA. We find the same chemical fingerprints are associated with the same exposure sources in the NHANES and CHirP cohorts, suggesting generalizability of results from the Faroese population.
C9-C12 PFCAs are known to bioaccumulate in aquatic food webs [41, 43, 58]. Pilot whale meat has similar composition to other seafood [40, 41, 43]. One exception is a relatively higher composition of FOSA in whale meat [42]. However, FOSA is biotransformed in humans, resulting in elevated exposures to PFOS, similar to other seafood [14, 24, 59]. This is consistent with our results (first PCA component) suggesting that C9-C12 PFCAs are effective tracers of seafood consumption. The first PCA component separates whaling men from the other Faroese groups known to consume less whale meat. Some of the compounds in this cluster (PFOS and PFOA) are commonly found in a multitude of exposure sources and thus do not serve as effective tracers. This is reflected by differences with hierarchical clustering results (Fig. 3).
Strong positive correlations between PFHpS, PFDA, PFOS, PFUnDA and hair mercury concentrations among Faroese children reinforce seafood as a common exposure source. The poor correlation between hair mercury and several other PFASs, such as PFHxS, N-MeFOSAA and N-EtFOSAA, suggests that seafood consumption patterns do not drive serum concentrations of these compounds. These results are consistent with findings from PCA and hierarchical clustering results.
In both NHANES 2005–06 and the CHirP cohort, PFNA was associated with increased seafood consumption. PFOS and PFOA are ubiquitously found in multiple exposure sources and are thus not robust tracers for any specific source. PFDA and PFUnDA were not detectable in more than 50% of study population in CHirP, therefore we did not investigate their association with shellfish consumption. Our results are consistent with Falandysz et al. [59] who first reported elevated PFAS exposures among seafood consumers on the Baltic Coast. Similarly, Haug et al. [13] estimated that seafood accounts for 93% of daily PFUnDA intake and 81% of PFOS for adults in Norway. Positive associations between seafood consumption and serum PFDA, PFNA, PFOS and PFUnDA concentrations have also been reported for NHANES data from recent years (2007–2014) [56].
The second PCA component in Fig. 2a consists of PFHxS, PFHpA and two PFOS precursors, N-MeFOSAA and N-EtFOSAA. It separates Faroese children from the other Faroese groups. N-MeFOSAA belongs to a different cluster in hierarchical clustering and is thus less likely to be a robust tracer (Fig. 3). Children have higher PFASs body burdens due to trans-placental transfer, breastfeeding, and frequent hand-to-mouth exposure [20, 26, 60]. Trans-placental transfer and breastfeeding are unlikely to fully account for the high scores on the second component for children in our study. First, the age of children (7 yrs) in this study suggests the influence of trans-placental transfer and breastfeeding on their PFAS body burdens should be small compared to other childhood exposure sources, despite the long half-lives of PFHxS (mean 7.3–8.3 years) [61–63]. Second, PFHxS and N-EtFOSAA are not the main compounds known to be transferred in breast milk. Mogensen et al. [20] observed that each month of exclusive breastfeeding was associated with a 30% increase in serum PFOS, PFOA, PFNA, and PFDA in Faroese children. In the C8 Science Panel Study, Mondal et al. [64] reported a monotonic decline in maternal serum concentrations as the duration of breastfeeding increased for PFOS, PFOA and PFNA, but not for PFHxS. Therefore, we infer that elevated exposures to PFHxS and other compounds in the second component in Faroese children reflect other postnatal sources.
Several prior surveys have identified PFHxS as one of the most abundant PFASs present in indoor dust samples [65, 66]. N-MeFOSAA and N-EtFOSAA have been detected in human serum following exposure to the volatile precursors N-methyl perfluorooctane sulfonamidoethanol (N-MeFOSE) and N-ethyl perfluorooctane sulfonamidoethanol (N-EtFOSE) [67, 68]. High levels (> 1000 ppm) of N-MeFOSE and PFHxS were reported in several 3M Scotchguard formulations [69]. N-EtFOSE was mainly used in food packaging during the time period of sample collection in this study and was detected in indoor air samples [18]. PFHxS was systematically underestimated in prior studies that modeled PFAS exposures in children through placental transfer and breastfeeding, suggesting the importance of missing postnatal exposure sources such as household dust [26]. We thus propose that N-EtFOSAA and PFHxS are both tracers of exposures that originate from consumer products.
Recent studies have reported a high prevalence of fluorinated chemicals in food packaging material [70], although potential contributions to serum-PFAS concentrations have not been quantified. Positive associations between N-EtFOSAA and PFHxS and use of carpet, non-stick cookware and food packaging were apparent in analyses using NHANES 2005–06 serum data and the CHirP cohort. Positive associations between serum PFOS concentrations and carpet use were observed in NHANES 2005–06 and between serum PFOS and use of packaged foods in the CHirP study. Migration of N-EtFOSE based chemicals from carpet cleaning products and food packaging materials and subsequent transformation to PFOS may explain these results [10, 11].
Household dust from the Faroe Islands has similar PFAS profiles to samples from Canada, Spain, Australia [71]. Our findings are consistent with other environmental monitoring studies that have linked higher PFHxS levels in indoor dust and FOSAs/FOSEs levels in indoor air to carpet area [66, 68, 71]. A recent study of Boston area children found elevated PFOS, PFHxS and N-MeFOSAA in sera from individuals who sleep in a room with carpet or a rug [60]. Other studies have found positive associations between PFOS and PFHxS and use of stain-repellant clothing, firefighting foams and consumption of microwavable foods and negative associations between PFHxS and vacuuming frequency [72, 73]. Data linking consumer product use to serum PFAS levels are scarce due to challenges associated with quantifying long-term user behavior.
By comparing Faroese groups with NHANES individuals of the same gender/race and similar age collected around the same time periods, our analysis reduces variability in serum PFAS profiles due temporal and toxicokinetic differences (Fig. 2b-d). Faroese men and children have higher scores on the PCA Component 1, which mainly consist of C9-C12 PFCAs, compared to their NHANES counterpart. This is consistent with frequent seafood consumption in the Faroes and our hypothesis that these PFASs can be tracers for exposure from seafood consumption. Statistical clusters for the two populations of 13-year old children (Fig. 2c) overlap more than the whaling men and NHANES men (Fig. 2b), suggesting greater similarity in exposure sources. These results suggest greater relative exposure from consumer products in children from the Faroe Islands compared to whaling men.
Serum samples from Faroese mothers were obtained two weeks after childbirth. Previous studies have found parous women have lower PFASs compared to nulliparous women, and PFASs levels increase with the time interval since the last pregnancy and breastfeeding period [74, 75]. We compared Faroese mothers to NHANES women who were within one year of postpartum because finer resolution data on time since delivery is not available in NHANES. The salient differences in PFASs profiles may thus reflect differences in the postpartum period for Faroese mothers (two weeks) compared to NHANES women.
Conclusions
Recent advances in analytical chemistry have allowed numerous PFASs to be reliably detected in small volumes of human serum [39]. The suite of 15 PFASs reported in this study goes beyond standard epidemiological studies that typically report five or fewer compounds. Including additional PFASs and metabolites of precursors would increase the probability of identifying unique biomarkers for human exposure pathways [76–78]. Statistical methods presented in this paper are useful for qualitative differentiation of dominant exposure sources. This method could be enhanced by using factor analysis and receptor models to quantify the relative contribution of different sources but requires a metric for total PFAS exposure [79]. Routine measurements of extractable organic fluorine in human sera might thus complement data on individual PFASs and enrich the exposure information derived from serum samples [80–82].
Recent epidemiological research on associations between PFAS exposures and adverse human health effects has emphasized correlations with single compounds. Due to inter-correlations between PFASs, adjusted regression analyses are often non-informative. One approach for accounting for complex exposures is to apply structural equation modeling. In this approach, individual serum-PFAS concentrations contribute to a latent PFAS variable, with different loading factors. Our results show that this approach is useful but can be improved by a weighting of PFASs that reflects exposure sources. PFASs serum profiles will inform a better understanding of the health impact of PFASs with different origins. The present study illustrates that this approach is feasible and that addition of a few more PFASs than those routinely measured will make this possible.
Our analyses suggest that the composition of PFASs in human sera contains important information on dominant PFASs exposure sources that can be leveraged from samples that may be routinely collected during epidemiological studies. Individuals exposed to PFASs from seafood are identifiable by an elevated proportion of C9-C12 PFCAs in their serum, while those exposed to consumer products have relatively higher proportions of PFHxS and N-EtFOSAA. Some PFASs such as PFOS and PFOA are more ubiquitous in many exposure sources and thus do not serve as effective tracers. Routine reporting of more than the five or six PFASs that are now standard for epidemiological studies would be useful for making such inferences. Confounding factors such as temporal trends and toxicokinetic processes must be carefully considered before making inferences about differences in exposure sources.
Abbreviations
ANOVA:

Analysis of variance
CDC:

Center for Disease Control and Prevention
CHirP:

Chemicals, Health and Pregnancy
FOSA:

Perfluorooctane sulfonamide
GAM:

Generalized additive model
HPLC-MS/MS:

High-pressure liquid chromatography with tandem mass spectrometry
HSD:

Honestly significant difference
LOD:

Limit of detection
N-EtFOSAA:

N-ethyl perfluorooctane sulfonamidoacetate
N-EtFOSE:

N-ethyl perfluorooctane sulfonamidoethanol
NHANES:

National Health and Nutrition Examination Survey
N-MeFOSAA:

N-methyl perfluorooctane sulfonamidoacetate
N-MeFOSE:

N-methyl perfluorooctane sulfonamidoethanol
PCA:

Principal components analysis
PFAA:

Perfluoroalkyl acid
PFASs:

Poly- and perfluoroalkyl substances
PFBA:

Perfluorobutanoic acid
PFBS:

Perfluorobutanesulfonic acid
PFCAs:

Perfluoroalkyl carboxylates
PFDA:

Perfluorodecanoic acid
PFDoDA:

Perfluorododecanoic acid
PFDS:

Perfluorodecanesulfonic acid
PFHpA:

Perfluoroheptanoic acid
PFHpS:

Perfluoroheptanesulfonic acid
PFHxA:

Perfluorohexanoic acid
PFHxS:

Perfluorohexanesulfonic acid
PFNA:

Perfluorononanoic acid
PFOA:

Perfluorooctanoic acid
PFOS:

Perfluorooctanesulfonic acid
PFPeA:

Perfluoropentanoic acid
PFUnDA:

Perfluoroundecanoic acid
ROS:

Robust regression on order statistics
Declarations
Acknowledgements
We thank Dr. Brent Coull from Harvard University for assistance with statistical methods.
Funding
This work was supported by the Richard and Susan Smith Foundation, the U.S. National Science Foundation Office of Polar Programs (PLR 1203496), the NSF-NIH Oceans and Human Health Program (OCE-1321612) and National Institute of Environmental Health Sciences grants ES012199, ES013692 and ES021993. XCH, PG and EMS are also supported by P42ES027706.
Availability of data and materials
We were granted access to the Faroese data and the Canadian pregnancy cohort (CHirP) for this specific analysis. We are not authorized to share the human data with other investigators. Data on NHANES can be downloaded from Center for Disease Control and Prevention website https://wwwn.cdc.gov/nchs/nhanes/Default.aspx
Authors' contributions
XCH, PG and EMS designed the study. XCH was responsible for data analyses, visualization, and interpretation of the results. PG and PW collected data and blood samples from the Faroese cohorts. FN performed serum PFAS measurements. GMW collected data for the CHirP cohort. CD, XZ, PG and EMS contributed to the data analysis and interpretation of results. XCH and EMS wrote the manuscript. All authors provided editorial feedback and approved the final manuscript.
Ethics approval and consent to participate
All participants provided written consent, and study protocols were reviewed and approved by the Faroese ethical review committee and the institutional review board in the U.S.
Consent for publication
Not applicable
Competing interests
The authors declare that they have no competing interests.
Publisher's Note
Springer Nature remains neutral with regard to jurisdictional claims in published maps and institutional affiliations.
Open AccessThis article is distributed under the terms of the Creative Commons Attribution 4.0 International License (http://creativecommons.org/licenses/by/4.0/), which permits unrestricted use, distribution, and reproduction in any medium, provided you give appropriate credit to the original author(s) and the source, provide a link to the Creative Commons license, and indicate if changes were made. The Creative Commons Public Domain Dedication waiver (http://creativecommons.org/publicdomain/zero/1.0/) applies to the data made available in this article, unless otherwise stated.
Authors' Affiliations
(1)
Harvard T.H. Chan School of Public Health, Boston, USA
(2)
Harvard John A. Paulson School of Engineering and Applied Sciences, Harvard University, Cambridge, USA
(3)
University of Southern Denmark, Odense, Denmark
(4)
The Faroese Hospital System, Tórshavn, Faroe Islands
(5)
Simon Fraser University, Burnaby, Canada