Research
Open Access
Open Peer Review
This article has Open Peer Review reports available.
Municipal bylaw to reduce cosmetic/non-essential pesticide use on household lawns - a policy implementation evaluation
Environmental Health
2011
10:74
Received: 5 November 2010
Accepted: 25 August 2011
Published: 25 August 2011
Abstract
Background
Pesticide use on urban lawns and gardens contributes to environmental contamination and human exposure. Municipal policies to restrict use and educate households on viable alternatives deserve study. We describe the development and implementation of a cosmetic/non-essential pesticide bylaw by a municipal health department in Toronto, Ontario, Canada and assess changes in resident practices associated with bylaw implementation.
Methods
Implementation indicators built on a logic model and were elaborated through key informant interviews. Bylaw impacts on awareness and practice changes were documented through telephone surveys administered seasonally pre, during and post implementation (2003-2008). Multivariable logistic regression models assessed associations of demographic variables and gardening season with respondent awareness and practices.
Results
Implementation indicators documented multiple municipal health department activities and public involvement in complaints from commencement of the educational phase. During the enforcement phases only 40 warning letters and 7 convictions were needed. The number of lawn care companies increased. Among survey respondents, awareness of the bylaw and the Natural Lawn campaign reached 69% and 76% respectively by 2008. Substantial decreases in the proportion of households applying pesticides (25 to 11%) or hiring lawn care companies for application (15 to 5%) occurred. Parallel absolute increases in use of natural lawn care methods occurred among households themselves (21%) and companies they contracted (7%).
Conclusions
Bylaws or ordinances implemented through education and enforcement are a viable policy option for reducing urban cosmetic pesticide use.
Keywords
Community GardenLawn CareMultivariable Logistic ModelHousehold PesticideMunicipal Initiative
Background
Growing concern has been expressed by environmental scientists, health researchers, clinicians, and the public about the widespread use of pesticides for lawn and garden applications regarded as "non-essential" i.e. not related to the growing of food, or "cosmetic" i.e. for aesthetic appearances only. These uses contribute to broad exposure to these chemicals as documented by environmental scientists in pesticide run-off in surface waters [1, 2] and contamination of groundwater intended for drinking [3]. Human exposure studies have found pesticides among other household exposures [4] and documented pesticide residues associated with pesticide use in homes [5] and on lawns [6]. Potential effects of widespread exposures to pregnant women or children in urban settings are a particular concern [7].
Health researchers have made links between household pesticide use and children's illnesses [7], including cancer [8, 9] and developmental impacts [10] from perinatal exposure. Although epidemiological studies are often limited in their ability to interpret cause or ascribe increased risks to specific pesticides, the evidence has been judged to be sufficient to prompt applications of precaution in legislation and regulation to address children's particular vulnerability to pesticides at both national [11, 12] and state [13] levels.
Cosmetic pesticide use behaviour is governed by a complex mixture of social and environmental factors, and may be difficult to influence at an individual level [14]. Intensive consumer marketing of the ideal of "the perfect lawn" and of the pesticides needed to achieve it have fostered deeply-entrenched behaviours, neighborhood norms and even municipal ordinances requiring certain standards of lawn and garden care [15]. US surveys have found between one half and three quarters of households use pesticides and/or fertilizers outdoors [16, 17] to create and maintain these outdoor spaces according to expectations, while in Canadian surveys prior to bylaw (ordinance) activity, approximately one third to one half of homeowners maintaining lawns and gardens reported using pesticides [18]. Similarly, many lawn care and landscaping companies retained in urban and suburban areas apply pesticides routinely as part of their service packages offered to clients to maintain weed- and insect-free lawns.
In light of the complex array of determinants of householder use of pesticides on lawns, jurisdictional efforts have often begun with programs to reduce the non-essential use of pesticides on public lands (i.e. areas under the direct control of government). For example, between 1995 and 2002 Danish municipalities, with support from the national government, achieved a remarkable reduction of 78% in the tonnes of active ingredients applied in public areas [19]. In a 2001 survey of 448 Ontario municipalities, more than one third did not use pesticides and nearly all had taken steps to substantially reduce or minimize pesticide use on public lands in the previous decade [20]. Approaches taken by nine jurisdictions in the USA, Canada and Europe to reduce residential pesticide use either by households or hired lawn care companies were reviewed by the Canadian Centre for Pollution Prevention in 2004 [21]. Reductions in pesticide use were estimated based on a combination of qualitative and quantitative data, and ranged from marginal (< 10%) to high (> 50%). However, the authors cautioned that "none of the communities had as strong and reliable data as [they] would have liked".
Municipal initiatives to reduce both public and private pesticide use through programs and policies are population-level health interventions that attempt to reduce health risks by changing the social, economic and/or environmental contexts contributing to those risks [22]. Evaluation of municipal initiatives to reduce pesticide use is part of the growing field of population health intervention research in which the ways they bring about change, the value of the interventions, and their effectiveness are all examined.
This paper describes a case where a systematic policy exploration, subsequent bylaw enactment, public education process and enforcement were led by the public health department of a metropolitan North American municipality. In terms of stance, several co-authors have been active participant-observers throughout the process as staff of the health department (more "insiders") while others connected with the university have been involved primarily in evaluation (more "outsiders"). We aimed to document indicators of the policy implementation, which combined both environmental health protection and health promotion components. Our specific research question was "To what extent did resident attitudes and practices change during pesticide bylaw implementation, controlling for demographic and location characteristics?"
Methods
Policy & Program Development
Implementation Indicator Selection
To inform monitoring of bylaw implementation, we developed a logic model to lay out in diagrammatic form how the policy was intended to produce results and achieve an overall goal [see Figure
2
]. Our logic model identified education and enforcement as two key components, outlined activities for each of these components, and predicted short- and medium-term results.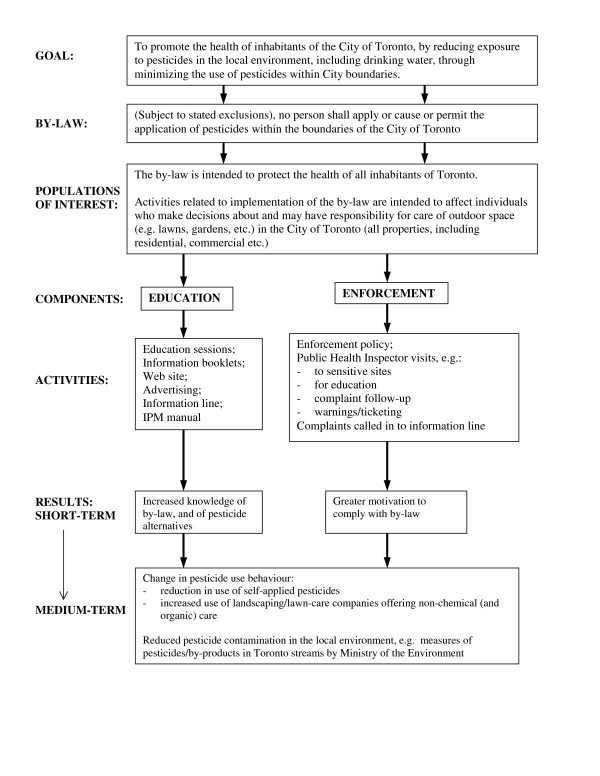 We also supported a structured literature review to learn from other experiences in documenting household pesticide use practices and evaluating initiatives to reduce such use [14]. Building on this, we interviewed 14 key informants from a wide range of sectors as to potential indicators for evaluating bylaw implementation. The following five potential indicator domains emerged from the literature review and key informants: 1) Enforcement/Legal; 2) Education and Outreach activities, and associated community responses; 3) Economic; 4) Environmental testing; and 5) Medical/Public Health, including urine bio-monitoring and clinical visits.
Data on Enforcement/legal (1) and Education/outreach implementation indicators (2) were most readily available as TPH staff implemented the program. TPH tracks bylaw complaints and the details of complaint investigations through its Toronto Healthy Environments Information System (THEIS) database. TPH also tracked activities relevant to its education and outreach activities (as outlined in Table 1).
The potential economic impacts of a bylaw were an important concern expressed by key informants from landscaping and lawn care companies. Since actual sales data on pesticides or services were not available, we used data on companies in business available from Statistics Canada [(Business Register, Canadian Business Patterns (1998-2005) & (2001-2006)]. These provided a rough indicator of potential economic impacts before and during bylaw implementation (3).
Environment Canada, Ontario Ministry of Environment and Toronto Works and Emergency Services colleagues had done some short-term surface water testing from 1998 to 2000, particularly during high run-off events (4) [43]. Unfortunately, the costs of systematic, regular, long-term surface water monitoring were un-supported at the time the bylaw was implemented. Further, we were unable to implement indicators for domain 5 for several reasons. For bio-monitoring, we were concerned that intra- and inter-individual variation could potentially swamp an exposure reduction effect, the substantial costs involved (minimally an estimated $125K annually over at least five years) were beyond municipal resources, and ethical concerns had been raised during the evaluation of environmental health interventions [44, 45]. We explored clinical data systems but those available were incomplete, focused on hospital visits only, and did not adequately identify pesticide exposure in routinely coded data, unlike pesticide exposure incident reporting systems specifically designed for such purposes which have proved very useful in evaluating reductions in other jurisdictions [46].
Repeat Surveys
Design
To track community responses via resident awareness and behaviour over time (domain 2), we turned to the Rapid Risk Factor Surveillance System (RRFSS), a set of ongoing monthly surveys designed to monitor community trends in health risk behaviours among the Ontario population. RRFSS surveys are administered independently by the Institute for Social Research, York University, and consist of questions organized into core and optional modules [47]. TPH led development of optional "pesticides and lawns", "pesticide bylaw" and "pesticide reduction education" modules that were conducted on a monthly basis from 2003 to 2008. The repeated surveys were an appropriate evaluation tool given the phased in approach of pesticide bylaw implementation (See Figure 1). This design approximates the one-group pretest-posttest design most frequently used to evaluate the impact of health programs, though with more 'during' measures, given the phased implementation [48]. Household selection was via random digit dialing procedures. A phone number was called repeatedly until either the survey was completed or the maximum number of 14 calls had been made, at which time the number was considered a 'dead' sample. Within households, the adult with the most recent birthday was selected with no substitutions of more willing household members. Attempts were made to encourage those individuals who initially refused to participate by calling them at least once after they first refused. Consent to participate was verbal, with no address, name or other identifying information collected (i.e. anonymous) as approved by York University's Research Ethics Board, Human Participants Review Subcommittee for generation and use of RRFSS data.
All interviews were completed in English, using Computer-Assisted Telephone Interviewing techniques, which greatly assists in expediting the data editing and cleaning process because logical and quality control checks can be programmed into the questionnaire design [49]. Respondents were asked about either the current (for surveys conducted from April to October) or most recent past (for surveys conducted from October to following spring) gardening seasons. Although this may create some uncertainty in assignation of the relevant gardening season, it was required when surveys were administered in winter months when no gardening was occurring. RRFSS data had indicated that about 50% of households in Toronto had lawns. Because questions about pesticide use were only asked of this subsample of residents, an oversample was implemented in some seasons to ensure a subsample of sufficient size to allow for more detailed analyses of the data.
Socio-demographic variables available included: respondent's gender, pre-tax household income (twelve categories), respondent's highest level of education (four categories from did not graduate from high school to college or university degree) and household location within the City (as defined by the household's municipality prior to amalgamation). Missing data, in addition to item refusals or "don't know", varied from 0 (gender) to 27% (household income). Household size, asked in some years, was on average 2 adults, permitting the estimation of a low income cut-off (LICO) as CDN$27,601 [50]. As this fell towards the upper limit of an income category on the survey ($20,000 to $29,999), all respondents in this category or the lowest (< 20,000) were designated as below the LICO.
For bylaw awareness, all respondents from 2005 on were asked "Some communities have bylaws that limit the outdoor use of pesticides, some are thinking about it and others do not. Do you think that the City of Toronto currently has a bylaw that limits the outdoor use of pesticides?" Further, respondents were asked "Have you seen or heard anything about the Naturally Green/Simple and Effective Lawn Care Campaign in your community? ...includes lawn signs, brochures, and ads in the newspaper which encourage people to avoid pesticides and try pesticide free methods." Responses (Yes/No) became the pesticide bylaw and Natural Lawn Care Campaign awareness dependent variables. Additional questions were asked to understand reasons for reducing pesticide use, using more natural methods and obtaining information on each of these, particularly among the 2005 and 2006 oversamples [51].
For household practices, across all years, respondents were first asked "Does your home have a lawn that you or someone else in your household is taking care of?" If yes, then "Did you or someone else in your household hire or pay a lawn care company to treat your lawn?" and, if yes, then "Did the lawn care company use any pesticides on your lawn to kill weeds or insects?" and "Did they offer to use any natural lawn care/pesticide-free methods such as aeration, over-seeding, hand weeding, or products such as corn gluten?" Similar questions were also asked of respondents with a lawn about applications by "you or someone else in your household" (except for natural lawn care methods in the first year of interest). These became the practices or use dependent variables.
Analysis
Data distributions were analyzed with STATA/IC statistical software version 11.0 (2009). Individual level variables (gender, education, pesticide bylaw awareness and Natural Lawn Care Campaign awareness) were weighted to account for the unequal probabilities of selection of one-adult households [52]. Two weights were created for gender and education (gardening 2003-2008), and for pesticide bylaw and Natural Lawn Care Campaign awareness (gardening season 2005-2008), to account for the different time periods in which the questions were asked. Oversamples were given separate values for gardening years, as demographic characteristics of these oversamples varied systematically from regular samples; i.e., more women, greater education, and different location distribution. For key practice variables, confidence intervals were calculated on the first and last year proportions. Bivariate associations were assessed with chi-square statistics.
We then constructed multivariable logistic models with gardening year as the primary independent variable of interest and demographic variables as covariate independent variables (to control for differences across years), with one awareness or use variable as the dependent variable in each model. As associations were observed between awareness variables and between them and gardening year (i.e. increased awareness as bylaw enforcement and education programs rolled out), variable selection was required. The latter examined associations between gender, level of education, income, location, and gardening year as independent variables and respondent awareness or household practice dependent variables. Given the mix of individual and household variables, we conducted sensitivity analyses to examine the effect of using weights that account for individual-level variables versus household variables, and weights that account for different time periods in which the questions were asked. These weights are available from authors upon request. Eventually we settled on application of individual weights as the most inclusive option. Changes in adjusted odds ratios (OR) with 95% confidence intervals were displayed graphically.
Results
Implementation indicators
Enforcement/legal - Public Health Inspectors with special training in integrated pest management/plant health care led an enforcement strategy that included proactive visits to schools, golf courses and other properties, participation in educational events in the community and at garden centres, and in-person response to over 3,000 complaints of suspected violations, most occurring early on (see complaint investigations, Table
2
). From initiation in 2004 to the first full season of enforcement on lawn care companies and commercial properties (2006), complaints decreased over 80 per cent. This decrease and the low number of convictions required suggest that enforcement and education messages reached much of the professional sector and most came into compliance [
53
].
Table 2
Relevant indicators of Toronto pesticide policy roll-out and program implementation.
Domain

Indicator

Gardening Season

2004

2005

2006

2007

2008

Enforcement/legal

Bylaw complaint investigations

1672

1118

294

74

127*

Warning letters issued

NA

6

28

6

0

Convictions

NA

3

0

1

3

Education & Outreach

Advertisements placed

353

503

335

850**

850

Website - Pages of content

50

197

230

No info

No info

Traffic/month

4,754

7,999

12,000

General information materials (postcard, brochure, pamphlet)

40,000

20,356

92, 949

89,250

> 75,000

Technical manual

435

892

482

45

25

Plastic "pesticide" free lawn signs

3000

1646

300

Discontinued

NA

Telephone Inquiries

709

588

434

174

318

Presentations at events

53

74

74

32

20

Go Natural retail participation

NA

122 stores

83,343 materials

122 stores

98,000 materials

113 stores

53,334 materials

145

30,627 materials

Fact sheets on natural gardening

NA

NA

> 2500

> 2500

> 2500
Education/outreach - As can be seen in Table 2, the effort to make residents aware was substantial. In addition to those methods listed, city staff conducted 291 proactive information visits to sensitive sites, such as child care centers and hospitals, and all public and private golf courses and bowling greens. Informal feedback from the community helped identify the need for expert resources on plants and gardens not just lawns. TPH responded by partnering with the Toronto Master Gardeners to produce a series of fact sheets on natural care of flowers and vegetable gardens and promote the information via the internet, during lectures, community events and a telephone information line. Community feedback also resulted in new retail materials, information for the lawn care sector, and particular efforts with ethno-cultural partners [54].
Economic - From 2001 to 2006, the number of landscaping and lawn care sector businesses located in the City of Toronto grew each year, with an overall 30 per cent increase during the period, similar to the increases in companies located anywhere in the Greater Toronto Area (36%) and across Ontario (32%) [53].
Repeat Survey findings
Response rates across the six years of interest (2003-2008) ranged from 58% (in 2005) to 50% (in 2007). Explicit oversamples of those with lawns occurred for the 2005 (n = 355) and 2006 (n = 179) gardening seasons, resulting in an overall sample of 4,901 respondents.
Among households that indicated that they had reduced their pesticide use (data not in tables), the primary reason given was for health or environmental reasons (33.7% average), followed closely by the pesticide bylaw (23.9% average) and that simply their lawn did not require pesticides (16.3% average) [53]. While the pesticide bylaw was not the most influential factor, an upward trend (+5.1%) of citing the bylaw as the motivation was seen between gardening seasons 2006 and 2007. Among households that indicated they had changed towards increasing their use of natural lawn care methods, the primary influence was health or environmental reasons (42% average). The pesticide bylaw was cited as the reason by 20% of respondents. Among those never having used natural lawn care methods, the largest group (48.3%) reported not having much knowledge of natural lawn care practices or methods.
Conclusions
As part of environmental policy implementation, we would encourage parallel efforts to evaluate impacts. In keeping with the growing emphasis on effectiveness [67] and public accountability [68], funding should be included for indicators in different relevant domains. Comparable reporting of both absolute as well as relative changes and controlling for relevant covariates would also be helpful. The same way that toxic substance release inventories in the US [69] and in Canada [70] have paved the way for our understanding of waste releases, we would urge the development of pesticides sales databases, as a key ingredient in tracking intentional chemical inputs to humans and our ecosystems. Coupled with implementation of better exposure incident information systems [46], they should facilitate more explicit evaluations of the impacts of environmental policies and programs.
List of Abbreviations
BOH:

(Toronto) Board of Health
LICO:

Low Income Cut-Off
MOH:

Medical Officer of Health (for Toronto)
OR:

Odds Ratio
RRFSS:

Rapid Risk Factor Surveillance System
TPH:

Toronto Public Health.
Declarations
Acknowledgements/funding
Bienefeld M, Cole DC, Campbell M, Mee C, Vanderlinden L. Evaluating urban pesticide reduction strategies. CIHR funded Centre for Urban Health Initiatives Seed Grant. 2004-2005, $10,000. Toronto Public Health provided staff support for project development, implementation and evaluation. Vanita Sahni and Leslie Jermyn provided technical support during the project.
Authors' Affiliations
(1)
Dalla Lana School of Public Health, University of Toronto, Toronto, Canada
(2)
Healthy Public Policy, Toronto Public Health, City of Toronto, Toronto, Canada
(3)
Public Health Policy and Programs Branch, Ontario Ministry of Health and Long-Term Care, Ministry of Health and Long-Term Care, Toronto, Canada
Copyright
© Cole et al; licensee BioMed Central Ltd. 2011
This article is published under license to BioMed Central Ltd. This is an Open Access article distributed under the terms of the Creative Commons Attribution License (http://creativecommons.org/licenses/by/2.0), which permits unrestricted use, distribution, and reproduction in any medium, provided the original work is properly cited.