Review
Open Access
Open Peer Review
This article has Open Peer Review reports available.
Arsenic, asbestos and radon: emerging players in lung tumorigenesis
Environmental Health
2012
11:89
Received: 31 July 2012
Accepted: 5 November 2012
Published: 22 November 2012
Abstract
The cause of lung cancer is generally attributed to tobacco smoking. However lung cancer in never smokers accounts for 10 to 25% of all lung cancer cases. Arsenic, asbestos and radon are three prominent non-tobacco carcinogens strongly associated with lung cancer. Exposure to these agents can lead to genetic and epigenetic alterations in tumor genomes, impacting genes and pathways involved in lung cancer development. Moreover, these agents not only exhibit unique mechanisms in causing genomic alterations, but also exert deleterious effects through common mechanisms, such as oxidative stress, commonly associated with carcinogenesis. This article provides a comprehensive review of arsenic, asbestos, and radon induced molecular mechanisms responsible for the generation of genetic and epigenetic alterations in lung cancer. A better understanding of the mode of action of these carcinogens will facilitate the prevention and management of lung cancer related to such environmental hazards.
Keywords
Lung CancerArsenicArsenic ExposureAsbestos ExposureLung Cancer Case
Background
Lung cancer is commonly associated with tobacco smoke exposure. However, lung cancer in never smokers accounts for 10 to 25% of all cases, ranking as the 7th most common cause of cancer-related death[1, 2]. As lung cancer in never smokers is thought to develop through molecular pathways different from those induced by tobacco, the study of non-tobacco related carcinogens is fundamental to better understand the biology of lung tumors arising in never smokers[1–5].
Arsenic, asbestos and radon are well known human carcinogens, based on evidence derived from human and animal studies[
6
,
7
]. These three agents have been strongly linked to lung cancer development, both in smoker and never smokers[
5
,
8
–
19
]. Due to its wide distribution on a global scale (Figure
1
), chronic exposure to these agents poses a significant public health problem. Millions of people, including those who never smoke, are at risk of developing lung cancer induced by arsenic, asbestos and radon.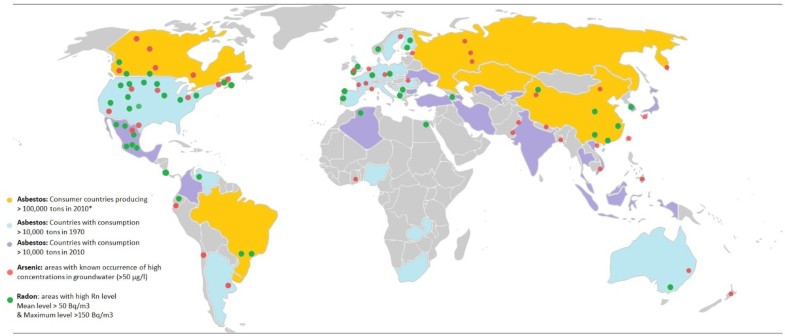 The carcinogenic effects due to exposure to these elements are well documented[
5
,
8
,
9
]. Table
1
summarizes different sources that provide scientific information linking exposure to these agents with lung cancer and other diseases. These lung carcinogens can induce a wide range of molecular alterations, including genetic (from specific point mutations to genome-wide aberrations) and epigenetic (including alterations in DNA methylation, and microRNA expression)[
25
]. Considering the relevance of this issue to public health, this article highlights the specific molecular events associated with exposure to arsenic, asbestos and radon as environmental carcinogens driving lung cancer.
Table 1
Sources of information on environmental carcinogens associated with lung cancer
| Name | Website | Description |
| --- | --- | --- |
| The IARC Monographs, International Agency for Research on Cancer (IARC) | http://monographs.iarc.fr/ | Compilation of reports about environmental factors that can increase the risk of human cancer: chemicals, complex mixtures, occupational exposures, physical agents, biological agents, and lifestyle factors |
| Carcinogens, American Cancer Society (ACS) | http://www.cancer.org/Cancer/CancerCauses/OtherCarcinogens/index | Information about environmental carcinogens that can be found at home, work, pollution, medical tests and treatments |
| Understanding Cancer Series, National Cancer Institute (NCI) | http://www.cancer.gov/cancertopics/understandingcancer/environment | Compilation of slides on environment and its association with cancer |
| Chemicals of Public Health Concern, World Health Organization (WHO) | http://www.who.int/ipcs/assessment/public_health/chemicals_phc/en/index.html | Information on the 10 chemicals or groups of chemicals of major public health concern |
| Report on Carcinogens, National Toxicology Program (NTP) | http://ntp.niehs.nih.gov/?objectid=72016262-BDB7-CEBA-FA60E922B18C2540 | Congressionally mandated, science-based, public health reports that identify agents, substances, mixtures, or exposures in the environment that may potentially put people in the United States at increased risk for cancer |
| Science and Technology: Health, Environmental Protection Agency (EPA) | | Information on human health impacts associated with environmental exposures |
| Work-Related Lung Disease (WoRLD) Surveillance System, National Institute for Occupational Safety and Health (NIOSH) | | Contents on occupationally-related respiratory disease surveillance data. |
| U.S. Geological Survey (USGS) | | Organization that provides impartial information on the health of U.S. environment and the natural hazards |
| CARcinogen EXposure Canadian Surveillance Project (CAREX) | | Multi-institution research project that combines academic expertise and government resources to generate an evidence- based carcinogen surveillance program for Canada |
Conclusions
In the next decades, an increasing proportion of lung cancer cases will arise in former or never smokers. While the reduction of environmental carcinogen exposure is certainly a very important cancer prevention issue, understanding the mechanisms of carcinogenesis will facilitate targeted treatment design.
Although tobacco smoke is the major cause of lung cancer, environmental carcinogens, such as arsenic, asbestos and radon play an increasingly important role in this disease, either independently or through additive or multiplicative effects[151, 152]. While the number of individuals exposed to these carcinogens is significant, the difficulty to associate tumor cases directly with exposure to these agents (mainly due to the long latency period between exposure and disease onset) may be highly underestimated.
The growing interest in non-tobacco induced causes of lung cancer is reflected in the increasing number of reports describing molecular alterations correlated with exposure to these carcinogens. In this article, we have collected evidence of the involvement of specific molecular mechanisms that can lead to genetic and epigenetic aberrations in lung tumor genomes as a result of exposure to these agents. While sharing a few carcinogenic mechanisms, each agent may induce specific sets of alterations which might affect tumor biology and define tumor behavior, presenting therefore a unique opportunity for developing diagnostic and treatment options. Future research, including the integration of different genetic and epigenetic dimensions, will further the characterization of these etiologically distinct tumors and identify actionable candidates for therapeutic targets.
Abbreviations
ARUBA:

Arsenic removal using bottom ash
Bq:

Becquerel
CAREX:

CARcinogen exposure canadian surveillance project
DMAV :

Dimethylarsenate
GSH:

Glutathione
H2O2 :

Hydrogen peroxide
HBEC:

Human bronchial epithelial cell line
MMAIII :

Monomethylarsonous acid
MMAV :

Methylarsonate
mtDNA:

Mitochondrial DNA
RNS:

Reactive nitrogen species
ROS:

Reactive oxygen species
SAM:

s-adenosylmethionine
SCC:

Lung small cell carcinoma
SqCC:

Lung squamous cell carcinoma.
Declarations
Acknowledgements
This work was supported by grants from the Canadian Institutes for Health Research (CIHR) (MOP-86731, MOP-77903, MOP-110949, MOP-230517), Canadian Cancer Society (CCS20485), NIH/NCI 1R01CA164783-01 and Department of Defence (CDMRP W81XWH-10-1-0634). D.D.B.S. is supported by a University of British Columbia 4YF scholarship, and K.S.S.E. by a Frederick Banting and Charles Best Canada Graduate Scholarship from CIHR.
Authors' Affiliations
(1)
British Columbia Cancer Research Centre, Vancouver, Canada
Copyright
© Hubaux et al.; licensee BioMed Central Ltd. 2012
This article is published under license to BioMed Central Ltd. This is an Open Access article distributed under the terms of the Creative Commons Attribution License (http://creativecommons.org/licenses/by/2.0), which permits unrestricted use, distribution, and reproduction in any medium, provided the original work is properly cited.