Research
Open Access
Open Peer Review
This article has Open Peer Review reports available.
Consumer exposure to biocides - identification of relevant sources and evaluation of possible health effects
Environmental Health
2010
9:7
Received: 11 May 2009
Accepted: 3 February 2010
Published: 3 February 2010
Abstract
Background
Products containing biocides are used for a variety of purposes in the home environment. To assess potential health risks, data on products containing biocides were gathered by means of a market survey, exposures were estimated using a worst case scenario approach (screening), the hazard of the active components were evaluated, and a preliminary risk assessment was conducted.
Methods
Information on biocide-containing products was collected by on-site research, by an internet inquiry as well as research into databases and lists of active substances. Twenty active substances were selected for detailed investigation. The products containing these substances were subsequently classified by range of application; typical concentrations were derived. Potential exposures were then estimated using a worst case scenario approach according to the European Commission's Technical Guidance Document on Risk Assessment. Relevant combinations of scenarios and active substances were identified. The toxicological data for these substances were compiled in substance dossiers. For estimating risks, the margins of exposure (MOEs) were determined.
Results
Numerous consumer products were found to contain biocides. However, it appeared that only a limited number of biocidal active substances or groups of biocidal active substances were being used. The lowest MOEs for dermal exposure or exposure by inhalation were obtained for the following scenarios and biocides: indoor pest control using sprays, stickers or evaporators (chlorpyrifos, dichlorvos) and spraying of disinfectants as well as cleaning of surfaces with concentrates (hydrogen peroxide, formaldehyde, glutardialdehyde). The risk from aggregate exposure to individual biocides via different exposure scenarios was higher than the highest single exposure on average by a factor of three. From the 20 biocides assessed 10 had skin-sensitizing properties. The biocides isothiazolinone (mixture of 5-chloro-2-methyl-2H-isothiazolin-3-one and 2-methyl-2H-isothiazolin-3-one, CMI/MI), glutardialdehyde, formaldehyde and chloroacetamide may be present in household products in concentrations which have induced sensitization in experimental studies.
Conclusions
Exposure to biocides from household products may contribute to induction of sensitization in the population. The use of biocides in consumer products should be carefully evaluated. Detailed risk assessments will become available within the framework of the EU Biocides Directive.
Keywords
TriclosanHousehold ProductInhalation ExposureQuaternary Ammonium CompoundDermal Exposure
Background
In many areas of our daily life, biocidal active substances are used to ensure personal hygiene, disinfect surfaces, control insects and preserve a wide range of non-durable goods. For some application areas, special antibacterial products (e.g., detergents, textile products, toilet seats) are available for everyday use. More than 200 biocides (active ingredients) have been notified within the scope of the Biocidal Products Directive for product type 1, 2 and 6 (human hygiene or private and public health area or in-can preservation) and more than 100 active ingredients for product type 18 and 19 (insecticides or repellents). However, some of the notified substances were not further supported by submitting a complete dossiers (e.g., chlorpyrifos, phoxim), so that the actually available number of biocidal active substances is expected to decrease. Human exposure may occur by inhalation from spraying of products containing biocides or from biocides evaporating from the products. Furthermore, biocides may come into contact with the skin during use of products containing biocides. Oral exposure is assumed to play a minor role with the exception of mouthing of contaminated objects by children.
Despite the wide uses and possible exposure, little is known about exposure concentrations and no systematic measurements are available for the home environment. Measurements have been taken primarily at workplaces, for example to determine exposure to formaldehyde during disinfection in hospitals [1, 2], or at workplaces during spraying of biocides [3]. Apart from these studies, few measurements on consumer exposures are available, for example, on the emission of biocides from emulsion paints [4–6], or on the exposure to insecticides such as dichlorvos or chlorpyrifos [7–9]. Relevant for consumer exposure are also investigations on biocide emission from carpets [10].
As an alternative to measurements, exposures can be estimated using appropriate models. Models estimating exposure from the use of household products, have been outlined in guidance documents issued by the European Commission for assessing exposure for chemicals and biocidal active substances [11, 12], and also in the HERA Guidance Document [13]. Computer-based models are available to calculate these exposure data and to refine calculated worst case scenario exposure data (e.g., SCIES-CEM (implemented in E-Fast), ConsExpo [14], SprayExpo [15]). However, the database for input parameters into exposure calculation is weak. In particular typical concentrations in products, use patterns and data on product use are missing.
Therefore the relevance of the biocides used in household products was investigated in a project sponsored by the German Federal Agency on the Environment (project period 15.10.2004 - 30.11.2005). In this project, first the content of biocides in consumer products was investigated. Then, the overall exposure to individual biocidal active substances from consumer products was modelled using a worst case scenario approach. Finally, the toxicological data were evaluated, and the potential health risks were assessed. For more detailed information see the final report of the project [16].
Methods
Data collection
The following consumer products were chosen: disinfectants, wood preservatives and insecticides, repellents and attractants, as well as preservatives in preparations (e.g. in washing and cleaning products, in cosmetics, in home improvement products, etc.). Information on the identity of active substances, their concentration and the application of use of these biocidal products, was collected in supermarkets and do-it-yourself stores ("on site market research"). The obligation to label biocidal products according to Article 20 of the European Biocidal Products Directive facilitated this task, as practically all information required was printed on the retail package. Additional information was obtained from inquiries to industry and via the Internet. Furthermore, databases and lists of active substances were analysed, such as the register of detergents and cleaning agents of the German Federal Environmental Agency, which provided (product-independent) summary analyses, and the German drug directory "Rote Liste".
In addition to biocides used indoors in private homes, other sources of exposure to biocidal substances were taken into account. These included, for example, preservatives in cosmetics, human and veterinary drugs, and antimicrobially-finished articles which do not (or only partly) fall under the Biocidal Products Directive. The typical concentrations of preservatives in consumer products were obtained by researching the Internet and by direct inquiries to manufacturing companies. For cosmetics, no information on the preservatives was available for individual products. Therefore, the maximum allowed concentrations according to the Cosmetics Directive [17] were used for the exposure assessment. Finally, some information could be obtained from the relevant literature.
The information on products and active substances has been compiled in so called product tables (containing information on each individual product identified, its biocidal ingredients and concentrations as well as instructions for use) and active substance (biocide) tables which summarized data obtained from the product tables. The individual products have then been assigned to product categories, product groups and typical products or exposure scenarios. Whenever gaps became apparent in the information on scenarios and products, the research was systematically refined (iterative process).
Selection of biocides
Twenty active substances were selected for detailed investigation. The most important selection criteria were the application quantity (as far as known), a wide range of applications in the household and the personal home environment (e.g. as disinfectants and preservatives in household products, in handicraft materials, in cosmetics), and the use in a variety of household products. Furthermore, the selected active substances should be stated as notified in the Second Review Regulation of the Biocidal Products Directive to guarantee that they will be on the market in future. Active substances of low toxicity, such as citrate or sodium hydrogen carbonate, were excluded. Individual active substances intended for special application scenarios, e.g. mosquito and ant repellents, were additionally taken into account.
Products containing the selected active substances were categorized by types of applications. Then commonly used concentrations of the active ingredients for each type of application were derived.
Exposure modelling
The algorithms proposed in the Technical Guidance Document on Risk Assessment (TGD) [11] were used for the estimation of the exposure (for screening purposes only). In the case of exposure to compounds by evaporation, the exposure concentration was limited to the maximum amount according to the ideal gas law. In addition, the fugacity was introduced to describe the distribution between liquids and gases. This was important for formaldehyde, which despite its high vapour pressure does not quickly evaporate from solutions due to its high water solubility (low Henry coefficient). Default values were taken from the TGD, ConsExpo 4.0, the HERA guidance document [13], the US EPA Exposure factors handbook [18] and by expert guess. Additionally, specific data were taken from product information (via internet and market research). Dermal and inhalation exposure were assessed for most of the exposure scenarios. The oral route has only been taken into consideration for exposure in a few scenarios e.g. via swallowing disinfected swimming pool water, via intake of residues of dishwashing products on dishes, as well as via intake of cosmetics (toothpaste, mouth wash, lip sticks). Exposure of children by mouthing of dust possibly contaminated with biocides has not been taken into consideration. The exposure calculated as body dose for the different routes (inhalation, dermal, oral) was summed up; in doing so the total exposure value for each scenario has been limited by using the maximum amount used. Then, the exposure from different sources of the same biocide were summed up to give the overall exposure. For details on the exposure modelling cf. Hahn et al. [16] or additional file 1: Printout of the spreadsheet used for exposure calculation (includes used assumptions and default values per scenario).
Determination of Hazard and Risk
The toxicological data for the substances were analysed on the basis of reviews, supplemented by original literature, and summarised and evaluated with respect to the exposure data (for details cf. Hahn et al. [16]).
To assess the systemic effects of biocide exposure, MOEs (margins of exposure), i.e. the ratio of NOAEL (No Observed Adverse Effect Level) and exposure concentration (as body dose), were calculated. MOEs were calculated for the individual scenarios and for the total of all exposures from all scenarios.
Figure
1
schematically shows the selected approach in detail.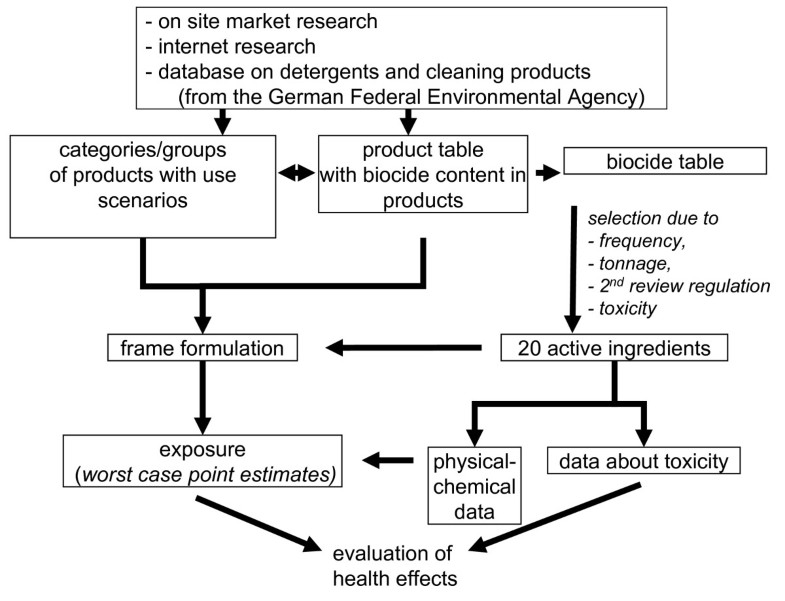 Discussion
As shown above, in this project the risk of different biocides in consumer products was assessed by modelling exposure concentrations and comparing these with NOAELs. The exposure was calculated using a worst case scenario approach by means of the algorithms given by the TGD with some modifications. Such worst case scenario approaches within exposure assessments are often used as a first tier for screening of risks and for comparison of different substances or exposure routes. However, due to the preliminary nature of the exposure assessment (screening), the estimated MOEs can be only a rough guide for assessing the health risks. It has to be taken into account that exposure levels obtained from the worst case scenario approach might be by a factor of 10-100 higher than the actual exposures [16, 19]. Therefore, a refinement of the exposure values will actually be necessary. The exposure should be modelled with suitable tools such as ConsExpo [14] and SprayExpo [15], or even better, be measured. In cases, where sufficient information is available, probabilistic estimates might be used [20]. These refinements can then be subject to a detailed analysis of health risks.
Usually for defining safe levels in risk assessments, a margin of safety of 100 is considered appropriate [21]. However, a refinement of the exposure estimation may reduce the exposure by at least a factor of 10 to 100. Therefore only compounds and scenarios with MOEs < 1 have been highlighted in the results section. These involve mainly the indoor use of organophosphate pesticides. A refined exposure analysis including measured data from the literature for chlorpyrifos such as [9, 22–24] and for dichlorvos such as [7] is necessary for assessing the risks from exposure to these organophosphates. To date, the application of chlorpyrifos for biocidal purposes is not allowed because industry did not submit a dossier for evaluation. Dichlorvos is being evaluated on a community level in the review programme of the Biocidal Product Directive. Other active substances may be considered for future use, as our comparative assessment showed that the exposure to prallethrin (a pyrethroid insecticide) resulted in a much higher MOE indicating a lower potential risk.
Another possible cause for concern was the use of sprays, which contain irritating compounds such as hydrogen peroxide, glutardialdehyde and formaldehyde. Also here a refined exposure analysis is of high priority as well as an analysis of particle size of the sprays.
Our analysis showed that the overall risk does not increase significantly if the exposure to a biocide from many uses is considered, because exposure is determined by few relevant scenarios. However, when assessing the overall MOE for 2-propanol, it must be taken into account that this biocide is also used as a solvent, which might add considerably to overall exposure. For this application area, our market research did not yield any detailed information, so that it could not be considered in a quantitative way.
Furthermore, the use of biocides with sensitizing properties deserves further attention and detailed evaluation. For CMI/MI, glutardialdehyde, formaldehyde and chloroacetamide, the concentration in the household products was in the same order of magnitude as the concentration which induces sensitization. The sensitization prevalence of these biocides was 2-3% in studies with 7800 patients from dermatological hospitals [25] and is also high in the general population (0.4% for CMI/MI [25]). A detailed risk characterization for these biocides is therefore needed.
Conclusion
This investigation shows that a large number of household products contain biocides. Our analysis further revealed that the number of biocidal active substances on the market is limited and that the active substances used can be attributed to several main structural classes and principles of mode of action. There seems to be a limited number of biocidal active substances available, which have both good efficacy in preventing growth of microorganisms and lack of potential health effects. With respect to the possibility that microbes become resistant, a variety of different biocides, however, is desirable.
Several biocides in household products are well known skin sensitizers. It is desirable to replace these biocides with non-sensitizing biocides. In general, the need for preservation should be evaluated carefully for each consumer product.
Our assessment involves many worst case assumptions. However, it allows a comparative risk assessment and identification of important exposure scenarios and biocides of preliminary concern. A refined exposure and hazard assessment is necessary before final conclusions can be made. In the framework of the EU Biocides Directive detailed dossiers on exposure and health effects as well as risk assessments have been submitted to the rapporteur member states. Therefore, it is to be expected that a refined health risk assessment for individual biocides used in household products will be possible in the near future.
Abbreviations
CMI/MI:

mixture of 5-chloro-2-methyl-2H-isothiazolin-3-one and 2-methyl-2H-isothiazolin-3-one
MOE:

Margin of Exposure
NaOCl:

Sodium hypochlorite
NOAEL:

No observed adverse effect level
QAC:

Quaternary ammonium compounds such as alkyldimethyl benzyl ammoniumchlorides
TGD:

Technical Guidance Document (cf. [11])
TNsG:

Technical Notes for Guidance (cf. [12])
Declarations
Acknowledgements
This research was done on behalf of the German Federal Environmental Agency within the Action Programme "Environment and Health".
Authors' Affiliations
(1)
Department Chemical Risk Assessment, Fraunhofer Institute for Toxicology and Experimental Medicine, Hanover, Germany
(2)
Research and Advisory Institute for Hazardous Substances GmbH (FoBiG), Freiburg, Germany
(3)
Hydrotox GmbH, Freiburg, Germany
(4)
German Federal Environmental Agency, Corrensplatz 1, Berlin, Germany
Copyright
© Hahn et al; licensee BioMed Central Ltd. 2010
This article is published under license to BioMed Central Ltd. This is an Open Access article distributed under the terms of the Creative Commons Attribution License (http://creativecommons.org/licenses/by/2.0), which permits unrestricted use, distribution, and reproduction in any medium, provided the original work is properly cited.