Hypothesis
Open Access
Open Peer Review
This article has Open Peer Review reports available.
Rationale for Environmental Hygiene towards global protection of fetuses and young children from adverse lifestyle factors
Environmental Health
2018
17:42
Received: 29 January 2018
Accepted: 10 April 2018
Published: 23 April 2018
Abstract
Background
The regulatory management of chemicals and toxicants in the EU addresses hundreds of different chemicals and health hazards individually, one by one. An issue is that, so far, the possible interactions among chemicals or hazards are not considered as such. Another issue is the anticipated delay of several decades before effective protection of public health by regulatory decisions due to a time consuming process. Prenatal and early postnatal life is highly vulnerable to environmental health hazards with lifelong consequences, and a priority period for reduction of exposure. There are some initiatives regarding recommendations for pregnant women aiming at protection against one or another category of health hazard, however not validated by intervention studies.
Hypothesis
Here, we aim at strengthening the management of exposure to individual health hazards during pregnancy and lactation, with protective measures in a global strategy of Environmental Hygiene. We hypothesize that such a strategy could reduce both the individual effects of harmful agents in complex mixtures and the possible interactions among them. A panel of experts should develop and endorse implementable measures towards a protective behavior. Their application is meant to be preferably as a package of measures in order to maximize protection and minimize interactions in causing adverse effects. Testing our hypothesis requires biomonitoring studies and longitudinal evaluation of health endpoints in the offspring. Favorable effects would legitimate further action towards equal opportunity access to improved environmental health.
Conclusion
Environmental Hygiene is proposed as a global strategy aiming at effective protection of pregnant women, unborn children and infants against lifelong consequences of exposure to combinations of adverse lifestyle factors.
Keywords
PregnancyMutagensEndocrine disrupting chemicalsCarcinogensPrecautionary principlePublic healthDevelopmental origin of health and disease
Background
Prenatal/neonatal exposures and lifelong consequences
For about four decades, the human population has been exposed to an increasingly large array of synthetic chemicals. Only about 1% of those chemicals have been studied so far since scientific research is time-consuming and costly [1]. They include mutagens, Endocrine Disrupting Chemicals (EDCs), carcinogens and teratogens that may cause life-long harm depending on life period and level of exposure among other factors [2]. Past findings and derived concepts indicate that several adult diseases represent late onset consequences of early exposures [3–6]. A pioneering dramatic illustration was the occurrence of vaginal cancer and reproductive disorders in the offspring of mothers treated with diethylstilbestrol during pregnancy [3, 7]. Here, transgenerational and other studies point toward involvement of epigenetic mechanisms [8]. Another pioneering observation was the possible fetal origin of testicular cancer [9, 10]. This provided the basis of the Testicular Dysgenesis Syndrome linking delay in differentiation of fetal testes with lifelong consequences including reduced sperm quality and testicular cancer [4]. Early exposures to EDCs can have huge impact on development and on the risk of diseases such as adult reproductive failure, cancer, obesity, diabetes and metabolic syndrome, and neurodevelopmental disorders among others [11]. Fetal exposure to dietary carcinogens seems to induce molecular events that indicate increased cancer risks together with other adverse health effects such as reduced birth weight and head circumference [5]. Childhood cancer, in particular leukemia among boys, can be causally related to the maternal dietary intake of carcinogenic substances during pregnancy [5]. Fetal exposure to mutagens such as polycyclic aromatic hydrocarbons also increases the risk of cancer and neurodevelopmental disorders [12]. Telomeres, markers of biological ageing are highly variable at birth and it has been identified recently that maternal exposures to air pollution is associated with telomere length of the next generation [13]. Taken together, those data demonstrate some causal mechanisms linking early life exposures and later health. Besides these examples of early disorganization of health for the rest of life, fetal life is also a critical period due to occurrence of unique processes such as brain development. As an example, disruption of thyroid hormone promotion of brain development during fetal and early postnatal life has detrimental consequences on lifelong intellectual abilities [14]. Overall, a robust set of data concurs to support prioritization of pregnancy and early postnatal life for a healthy environment [15, 16]. All those findings are consistent with the concept of Developmental Origin of Health and Disease (DOHaD) [17]. This concept was promoted by the observation that impaired fetal growth, a reflection of intra-uterine exposure to adverse conditions in the maternal environment, can be predictive of adult metabolic malfunctioning [18, 19]. However, behind the different observations discussed here along the DOHaD concept, different mechanisms can possibly be involved and deserve studies in each specific condition.
Regulatory management of hazardous chemicals in the European Union
The development of a regulatory framework for the management of chemical substances in the European Union (EU) has been rightly viewed as a progress, hopefully contributing to reduced exposures including in early life. For example, REACH in 2006 [
20
] and the more recent regulations for plant protection products in 2009 [
21
] and biocidal products in 2012 [
22
] have provided the tools for chemical's risk management. While the health risk is a function of exposure, the first step in a strategy of limiting exposure is the identification of the hazard. The REACH regulation, which applies since 2008, allows action under its authorization regime: a hazardous substance can be included in the candidate list, i.e. identified as of very high concern (SVHC) and subsequently included in the so-called "authorization" list, i.e. banned as of a sunset date [
23
]. The data on these two regulatory actions [
24
,
25
] indicate that there is on average a 7-year time span between the moment a substance has been identified as a SVHC and the moment it is being phased out. This time span however appears to increase with time (Fig.
1
) as indicated by the slopes of the regression lines which are significantly different (F test,
p
 < 0.0001). The time span is longer (F test,
p
 < 0.001) for substances identified as SVHCs in the period 2011–2013 (7.67 ± 1.41 yrs., mean ± SD) than 2008–2010 (6.46 ± 0.69 yrs). Between October 2008 and June 2013, 52 substances have been regulated as SVHC accounting for 10 chemicals regulated each year. The regulatory decision about those 52 chemicals refers most frequently to carcinogenicity (
n
 = 28) and toxicity for reproduction (
n
 = 14), not excluding associated endocrine disrupting properties such as observed with phthalates [
11
]. Also shown in Fig.
1
, there are 42 substances that have been identified as SVHCs between December 2013 and July 2017 [
25
] but no decision to phase them out has been taken so far [
24
]. Time since registration was not considered in this analysis since the date of registration was biased by differences in both the criteria for registration and time since marketing the substance.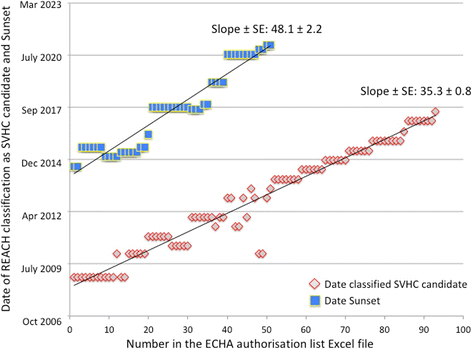 The EU laws for identification and regulation of chemicals have set a new scene for long debates between stakeholders including industry, public authorities, non-governmental organizations (NGOs) and scientists, among others. A recent illustration is provided by the scientific criteria for identification of EDCs [26, 27]. While the current paradigm of management of individual hazardous factors is a requirement and must be pursued, it is a very slow process. So far, 1409 chemicals (last updated September 2017) have been listed as potential EDCs based on data published in the peer-reviewed literature [28]. Since this estimate does not include carcinogens and mutagens, we hypothesize a likely underestimated figure of 1–2% hazardous chemicals among the 145,297 chemicals listed by ECHA as pre-registered before 2008 (last updated 11 August 2017). Based on the observed regulation of 10 chemicals per year under REACH and assuming a similar figure for the chemicals not falling under REACH, several generations would likely be needed before the possible carcinogens, mutagens, repro-toxic and EDCs are effectively regulated.
Presentation of the hypothesis
During the first half of the twentieth century, the implementation of a global anti-microbial hygiene led to an important decrease in the morbidity and mortality of infectious diseases, before the identification of most pathogenic microbial agents and the advent of antibiotics [29]. An analogous strategy, Environmental Hygiene, a physical-chemical hygiene aiming at limitation of exposure to hazardous agents, in particular mutagenic agents and EDCs, is proposed here to reduce the burden of those factors present in environment. We hypothesize that, during prenatal and early postnatal life as a priority period for intervention, a global protective approach (Environmental Hygiene) could effectively reduce some complex exposures. Consequently, adverse health effects resulting from action of individual agents as well as interactions among them could also be reduced. It is hoped that such a global strategy will save time and protect health while awaiting that a healthy environment becomes a reality through the regulatory measures. The suggested approach is consistent with the precautionary principle and should involve regulatory authorities and industry in information of the public and the professionals towards equal opportunity access to improved environmental health.
In Fig.
2
, the sequence of events is schematically illustrated and compared in the current regulatory approach of individual health hazards (Fig.
2
, panel
a
) and in the proposed strategy of Environmental Hygiene (Fig.
2
, panel
b
). As shown in panel a (Fig.
2
), regulation identifies different categories of health hazards e.g. mutagens, EDCs, carcinogens and teratogens. In each category, compounds or toxicants (D, E, F…) are considered individually through their effects on a given system (X, Y, Z, …) e.g. reproductive, thyroid/neurodevelopmental, metabolic/obesogenic, as recommended by OECD [
30
]. A compound or toxicant can affect different systems through involvement of different endpoints in each system. The critical demonstration of causality is provided by the study of one effect caused by one toxicant on one endpoint in one system, individually. When sufficient evidence has accumulated, risk assessment and management of each particular compound or toxicant are performed. Along the strategy of Environmental Hygiene (Fig.
2
, panel
b
), the hazardous factors, the adverse effects, the intervention and the causality are addressed globally. Considering exposure to health hazards as a global condition is consistent with the exposure to environmentally relevant mixture of chemicals and the resulting interaction between chemicals and categories of hazards e.g. chemicals and psychosocial stress. Evaluation of the adverse effects as a whole can integrate immediate and delayed effects in different systems together. Here, the demonstration of causality is not a prerequisite to a preventive intervention as a whole. The concept is development of Environmental Hygiene for global reduction of exposure to hazards. It is suggested that an international panel of experts should develop and endorse relevant and implementable protective measures. Their application is intended to be preferably as a package of measures in order to maximize protection from exposures and to minimize interactions among hazards in causing adverse effects. The demonstration of causality is meant to be a global and retroactive process. Intervention studies are warranted with biomonitoring and longitudinal evaluation of health endpoints in the offspring. Based on the evidence obtained, the issue of equal opportunity access to improved environmental health will have to be addressed by authorities to make health protection available to all pregnant women and unborn children through action such as training of health professionals and consumer information.
Implications of the hypothesis
Testing the hypothesis and concluding remarks
Environmental Hygiene is proposed as a global strategy aiming at protection of pregnant women, unborn children and infants against hazardous factors as a whole. Three research questions can be identified about the proposed strategy and must be addressed by scientists with financial support from public authorities: 1. What could be consensual and implementable protective measures in pregnancy and lactation? 2. What is the evidence that those protective measures reduce exposure to hazardous chemicals? 3. What is the evidence that those protective measures improve health? Implementation of such studies will have to address several issues including selection of recommendations, monitoring of exposure to hazards and health outcomes. The panel of experts will have to identify the criteria used for selection of the relevant recommendations. These criteria should incorporate the likelihood of reduced exposure through the proposed measure as well as the applicability based on the psychosocial characteristics of the study population. Questionnaires and interviews will be crucial for assessment of consumer behaviours before and during the study. The parameters selected for biomonitoring of exposure before and during the study will depend on baseline consumer behaviours, access to biological material and reliability of measurements among other factors. Inevitably, the studied population will be heterogeneous as far as the baseline consumer behaviours and exposures. Information on the efficacy of individual protective measures can come out of well-designed observational studies in a population of pregnant women. They could be stratified for specific lifestyles that they plan before or in early pregnancy and that they effectively embrace during pregnancy. These data could be used for the purpose of comparison with an intervention study using Environmental Hygiene as a package of measures. Inclusion of a control group is likely not feasible because everyone is exposed to some hazards and for ethical reasons. Some questions arise from the likely differences in risk awareness and health impact among the consumer behaviors. For example, the very serious consequences of fetal exposure to mother smoking and drinking alcohol and the public awareness about those issues may justify that refraining from smoking and drinking alcohol is an inclusion criterion in all the study groups. The inclusion criteria should be selected to maximize the chance of demonstrating the effects on exposure and health outcomes. An example is a short term intervention study of exposure to BPA and phthalates where the selected subjects were those reporting the most frequent use of canned foods [55]. The recruitment of subjects is challenging as shown in a study on reduction of mercury exposure in pregnant women [56]. These authors were able to enrol 8% or 36% of the women contacted by mail or directly approached on the ward before a scan, respectively. The investigators will have to motivate the participants, for instance through the feedback on exposures before and after implementation of Environmental Hygiene. Over the past 10 years, birth cohorts embraced the wave of new omics technologies to allow and understand the molecular pathways from exposure towards disease prevention. Environmental Hygiene in early life will benefit from omics as a tool to address causality along with the aforementioned classical concepts, even on the basis of observations. Based on the results of such studies, all stakeholders could endorse Environmental Hygiene and the strategy should become accessible to all. Such an objective will need joint action of academies, regulatory authorities and NGOs towards education of health care providers and consumer information.
The production of many environmental hazards arises out of economic activity, and the consequences of Environmental Hygiene cannot be ignored. While government inaction is often justified out of a concern that regulatory measures can stunt economic growth, the economic benefits are likely to be great, given the substantial disease burden that can be prevented by reducing exposure. Endocrine disruptor-related diseases are well known to contribute costs on the order of 1.2 and 2.3% of Gross Domestic Products in Europe and the US, respectively [57]. Among these costs, mixtures of EDCs were identified as contributors to disease-related costs, and a global approach is likely to maximize the economic impacts. Relevant exposures are also known to cluster by routes and categories of exposure (e.g., food packaging, pesticides), and a single contaminant approach is less likely to maximize effects on hormonal pathways (e.g., thyroid) that are particularly important.
Environmental Hygiene can by no means substitute for regulatory management restricting or banning chemical use. Such a regulatory approach is indispensable to protect public health in the long term and to reduce detrimental effects of chemicals on animal and plant biodiversity. However, Environmental Hygiene calls for additional involvement of regulatory authorities in information and education of consumers and professionals towards global protective behaviors and equal opportunity access to improved environmental health.
Abbreviations
CDC:

Center for Disease Control and prevention
DOHaD:

Developmental Origin of Health and Disease
ECHA:

European Chemicals Agency
EDC:

Endocrine Disrupting Chemical
EFSA:

European Food Safety Authority
EU:

European Union
NGO:

Non Governmental Organization
OECD:

Organisation for Economic Co-operation and Development
REACH:

Registration, Evaluation, Authorisation and Restriction of Chemicals
SD:

Standard Deviation
SVHC:

Substance of Very High Concern
UNEP:

United Nations Environment Program
WHO:

World Health Organization
Declarations
Acknowledgements
The authors acknowledge the helpful suggestions made by NE Skakkebaek (Rigshospitalet, University of Copenhagen, Denmark), L Trasande (New York University, New York, NY, USA) and RT Zoeller (University of Massachusetts, Amherst, MA, USA).
Funding
There is no specific grant support to be disclosed.
Availability of data and materials
Data sharing is not applicable to this article as no personal datasets were generated or analysed during the current study. For the ECHA data quoted in the manuscript, the web addresses wherefrom the data were retrieved are stated in the text (references) and the legend (Fig. 1).
Authors' contributions
JPB and NV developed together the concept of this manuscript. JPB wrote the first draft manuscript. ASP, JCSK, TSN and GS provided comments, amendments and additions to the draft manuscript. All authors read and approved the final manuscript.
Ethics approval and consent to participate
Not applicable.
Competing interests
The authors declare that they have no competing interests.
Publisher's Note
Springer Nature remains neutral with regard to jurisdictional claims in published maps and institutional affiliations.
Open AccessThis article is distributed under the terms of the Creative Commons Attribution 4.0 International License (http://creativecommons.org/licenses/by/4.0/), which permits unrestricted use, distribution, and reproduction in any medium, provided you give appropriate credit to the original author(s) and the source, provide a link to the Creative Commons license, and indicate if changes were made. The Creative Commons Public Domain Dedication waiver (http://creativecommons.org/publicdomain/zero/1.0/) applies to the data made available in this article, unless otherwise stated.
Authors' Affiliations
(1)
Pediatric Endocrinology, CHU Liège, Chênée, Belgium
(2)
Neuroendocrinology Unit, GIGA Neurosciences, University of Liège, Liège, Belgium
(3)
Department of Toxicogenomics, Maastricht University, Maastricht, The Netherlands
(4)
Centre for Environmental Sciences, Hasselt University, Hasselt, Belgium
(5)
Centre for Environment and Health, Leuven University, Leuven, Belgium
(6)
Flemish Institute for Technological Research (VITO), Mol, Belgium
(7)
Department of Biomedical Sciences, University of Antwerp, Antwerp, Belgium
(8)
Department of Environmental Medicine, Institute of Public Health, University of Southern Denmark, Odense, Denmark
(9)
Department of Radiotherapy and Experimental Cancerology, Ghent University, Ghent, Belgium
(10)
Department of Analytical, Environmental and Geo-Chemistry, Vrije Universiteit Brussel, Brussels, Belgium