Methodology
Open Access
Open Peer Review
This article has Open Peer Review reports available.
Conduct of a personal radiofrequency electromagnetic field measurement study: proposed study protocol
Environmental Health
2010
9:23
Received: 9 December 2009
Accepted: 20 May 2010
Published: 20 May 2010
Abstract
Background
The development of new wireless communication technologies that emit radio frequency electromagnetic fields (RF-EMF) is ongoing, but little is known about the RF-EMF exposure distribution in the general population. Previous attempts to measure personal exposure to RF-EMF have used different measurement protocols and analysis methods making comparisons between exposure situations across different study populations very difficult. As a result, observed differences in exposure levels between study populations may not reflect real exposure differences but may be in part, or wholly due to methodological differences.
Methods
The aim of this paper is to develop a study protocol for future personal RF-EMF exposure studies based on experience drawn from previous research. Using the current knowledge base, we propose procedures for the measurement of personal exposure to RF-EMF, data collection, data management and analysis, and methods for the selection and instruction of study participants.
Results
We have identified two basic types of personal RF-EMF measurement studies: population surveys and microenvironmental measurements. In the case of a population survey, the unit of observation is the individual and a randomly selected representative sample of the population is needed to obtain reliable results. For microenvironmental measurements, study participants are selected in order to represent typical behaviours in different microenvironments. These two study types require different methods and procedures.
Conclusion
Applying our proposed common core procedures in future personal measurement studies will allow direct comparisons of personal RF-EMF exposures in different populations and study areas.
Keywords
Mobile PhoneWireless Local Area NetworkMeasurement StudyPersonal ExposureNear Field Communication
Background
There has been a substantial increase in environmental exposure to radio frequency electromagnetic fields (RF-EMF) over the last few decades due to the introduction of new technologies, especially those related to wireless communication [1]. This development has led to concerns regarding possible effects of exposure to environmental RF-EMF on health [2–4].
Until now RF-EMF risk assessment has been hampered by the lack of reliable exposure assessment methods. Day-to-day exposure to RF-EMF comes from many different sources producing large variability in small-scale spatial and temporal exposure patterns. Prior to the availability of personal measurement devices, measurement of RF-EMF was complex and time consuming. In particular, concurrent measurements of different RF-EMF sources in many locations, long term measurements and measurements when moving were very challenging. As a result, previous measurement studies have focussed mainly on maximum exposure levels occurring over space and/or time, as appropriate for assessing compliance with safety limits, but not on exposure patterns in the general population such as average personal exposure, time spent above a threshold or rate of change. These quantities are of more interest for health risk assessments and for epidemiological studies. Thus, information about the total RF-EMF exposure of individuals in different populations is scarce. Only crude methods have been used for exposure assessment in epidemiological studies such as self-reported use of mobile phones [5, 6], spot measurements of specific sources [7, 8], or distances between residential addresses and the nearest transmitter. Distance was shown to be a modest RF-EMF exposure proxy with respect to broadcast transmitters but was inaccurate for mobile phone base stations [1, 9–13].
Personal exposure to RF-EMF depends on exposure levels in the environment and on individual behaviour such as use of wireless communication devices (e.g. W-LAN, mobile or cordless phones) and time spent in different microenvironments (Figure
1
). For the purpose of estimating exposure, a microenvironment is considered a spatial compartment where an individual spends a certain period of time and exposure can be characterized during that time period. Linkage between behavioural factors and RF-EMF levels in different microenvironments is possible using personal measurements and a time-activity diary. The availability of RF-EMF exposure meters (exposimeters) means that personal RF-EMF exposure to multiple sources in the everyday environment can be more accurately assessed. Several studies have demonstrated the applicability of exposimeter measurements in population samples [
13
–
21
]. Comparing exposure levels between countries using data from these first studies is problematic, however, because different types of measurement devices and/or different measurement and analysis procedures have been used. This means that observed differences in exposure measurements may be due to methodological differences and may not reflect real exposure differences between populations. In order to accurately compare exposure levels between or even within countries, it is of crucial importance to conduct comparable measurements. The aim of this paper is to propose basic requirements for the conduct of personal measurement studies based on the current preliminary insights into this topic. This includes descriptions of the study instruments and methodological issues such as selection procedures for study participants, handling of the exposimeter, collection of other relevant data, data handling and reporting of the results.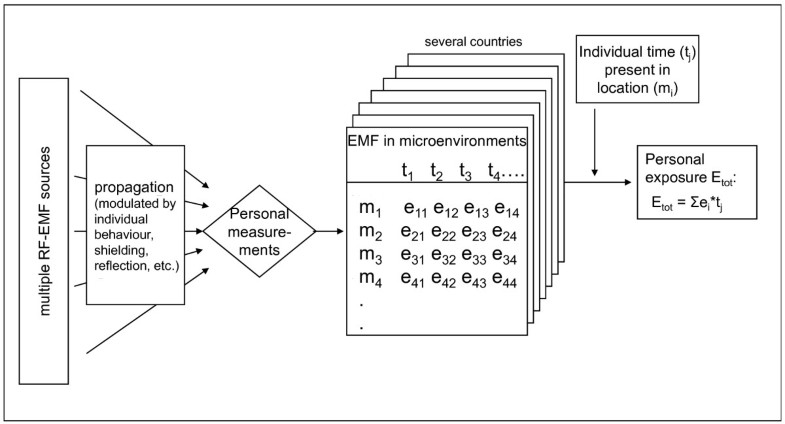 Research protocol
Objectives
Personal measurement studies usually have one of the following two objectives. Firstly, to determine personal exposure distribution in the population of interest (population survey). Secondly, to characterize typical exposure levels in different microenvironments in the area of interest such as public transportation or outdoor urban areas (microenvironmental measurement). These two objectives should be clearly differentiated because they have major implications for the study methods (Table
1
).
Table 1
Comparison between a population survey and a microenvironmental measurement campaign.
| | Population survey | Microenvironmental measurement study |
| --- | --- | --- |
| Unit of observation | Individual | microenvironment* |
| Requirement for the study sample | representative for the population of interest | representative in terms of exposure-relevant behaviours for the population of interest |
| Selection of participants | random and representative sample needed | convenient sample is sufficient oversampling of rare exposure-relevant behaviours |
| Motivation of participants | part of the random sample will not be motivated | convenient sample is more motivated on average |
| diary | basic and simple, if any at all | compulsory |
| Measurement duration | as long as reasonable for the participants | not crucial |
| Sample size | many individuals | many measurements from numerous microenvironments of the same type |
Study instruments
Personal exposimeters
So far two different types of exposimeters have been applied in exposure measurement studies: the EME SPY 120/121 (SATIMO, France) and the ESM-140 (Maschek, Bad Wörishofen, Germany). The latter device is easier to carry, however, measurements of radio FM and TV bands are not possible (Table
2
). The EME SPY has an isotropic antenna whereas the ESM-140 takes into account shielding of the body and its antenna is designed in a way that full isotropy is only achieved when the meter is carried on the upper arm, which is a drawback for measurements during the night. Only the EME SPY is suitable for RF-EMF measurements in a stand-alone position. Another disadvantage of the ESM-140 is that accuracy of the differentiation between up- and downlink measurements in the mobile phone bands is limited [
17
,
22
]. Recently, SATIMO developed a new type of personal exposimeter (EME YPY 140) with markedly improved characteristics [
23
]: i.e. increased frequency range (80 MHz-6 GHz), increased dynamic range (sensitivity: 0.005 to 5 V/m), a more appropriate complex signal assessment, a reduced sampling period (from 330 μs to 18 μs) which is relevant for signals with short pulse duration such as DECT and W-LAN, and a reduction of the device's size by a third (Table
2
).
Table 2
Overview of exposimeters.
Band

Frequency [MHz]

Description

ESM-140

EME SPY 121

EME SPY 140

FM

88-108

FM radio broadcasting

no

yes

yes

TV3

174-223

TV broadcasting

no

yes

yes

Tetrapol

380-400

Mobile communication system for closed groups

no

yes

yes

TV4/5

470-830

TV broadcasting

no

yes

yes

GSM900 uplink

880-915

Transmission from handset to base station

yes1

yes

yes

GSM900 downlink

925-960

Transmission from base station to handset

yes1

yes

yes

GSM1800 uplink

1710-1785

Transmission from handset to base station

yes1

yes

yes

GSM1800 downlink

1805-1880

Transmission from base station to handset

yes1

yes

yes

DECT

1880-1900

Digital enhanced cordless telecommunications

yes1

yes

yes

UMTS uplink

1920-1980

Transmission from handset to base station

yes1

yes

yes

UMTS downlink

2110-2170

Transmission from base station to handset

yes1

yes

yes

W-LAN

2400-2500

Wireless Local Area Network

yes

yes

yes

WIMAX

3400-3800

Worldwide Interoperability for Microwave Access

no

no

yes

WI-FI

5150-5850

A wireless IEEE 802.11standard

no

no

yes

Other characteristics:

Measurement range (V/m)

0.01-70

0.05 - 10

0.005-5

Measurement cycle

0.5 - 10s

4 - 255s

4 - 255s

Storage capacity (number of measurements)

260,000

12,540

80,000²

Size (L × W × H in mm)

115x45x29

193 × 96 × 70

169 × 79 × 46

Weight (in g)

87

450

400

Marker (to register events)

yes

yes

yes
Currently, this new device seems to be most appropriate for future measurement studies. Nevertheless, the performance of other exposimeters that may be developed in the future should be thoroughly evaluated as well. Basic requirements for an eligible device are the measurement accuracy, an optimal isotropy, the ability to differentiate between different frequency bands (in particular between up- and downlink in the mobile phone bands) and to be acceptable to study participants. The latter is particularly important for population surveys, as study participants have to agree to carry such a device over a relatively long time period in order to obtain robust measurements of their typical exposure.
Geographic Position System (GPS) device
In addition to the exposimeter, the use of a GPS device that geo-locates the personal RF-EMF measurements is a useful adjunct to exposure studies. This procedure has been successfully applied in the Netherlands [24] and in Belgium [25]. Ideally, such a GPS device should be directly implemented in future exposimeters but has not been so far.
The measured electric field strength can be plotted on a Google Earth map at the latitude, longitude position of the coordinates from the GPS logger. This visualization can be done for all frequency bands and can be used as a quality control tool to check the plausibility of the entries in the time-activity diary (see below). The GPS and exposure data can also be applied as input data for the development of physical or empirical propagation models [26] including spatial characteristics. Also the exposure can be coupled to data from mobile phone network providers for spatial correlation between exposure and the network layout.
Time-activity diary and questionnaire
In order to obtain interpretable measurements, study participants have to fill in a time-activity diary. The diary will provide additional information about the type of microenvironment experienced by the participants when using the measurement device. The diary needs to be simple and easily comprehensible but also provide standardised information which can be used for data analysis. Thus, there is a certain limitation to what can be achieved in terms of spatial and temporal resolution. In particular, one has to be aware that less demanding tasks can be required from the study participants in a random population sample compared to a convenience sample, which is generally more motivated. For a convenience sample or for hired participants, we propose, as a minimal requirement, that the following microenvironments are considered in all future microenvironmental measurement studies in order to obtain comparable measurements between countries: at home (bed room, living room, other rooms, outside at home [e.g. balcony, garden]), at work, being outdoors (not at home), shopping, driving a car, travelling by public transportation, riding a bicycle, being at bus/train stations, school/universities/courses, or at any other places. If necessary, in a specific geographic context or study objective, the diary may be complemented with additional details of microenvironments. Instead of a paper and pencil diary, use of hand-held computers (personal organizers) may be an option but this has not been done so far in this context and should be piloted.
It is important to note that personal exposimeter measurements do not differentiate between exposure from the participants' equipment (e.g. mobile phone) and other sources for which the distance to the exposimeter may be the same. Such a differentiation is needed from the exposure perspective because the participants' equipment radiates closer to the body causing much more absorption of radiation. Information about participants' own use of equipment that emits RF-EMF should be collected. For exposure to RF-EMF from mobile phones, the best method is to obtain traffic data of the mobile phone from the network operators of study participants during the measurement period. This would still need to be linked to mode of use (hands-free, in-car etc.). Another option is to use information that is stored in the mobile phone. This is not possible for all phone types, however, and generally not for cordless phones. The third option is that study participants note all calls in the time-activity diary or press an event marker of the exposimeter (only available for ESM-140). However, in this case some of the calls may be missed, because the participants forget to note them. Such missing data may not be randomly distributed between study participants or microenvironments and therefore may introduce bias to a study.
In addition to the diary, a questionnaire about other exposure-relevant items and general exposure-relevant behaviour during the measurement period is useful for interpreting the data. Exposure-relevant behaviour relates to the typical use of mobile and cordless phones, use of a hands-free device and the physical location where the phone is kept when such a device is used, use of wireless networks, possible occupational exposures as well as socio-economic variables, housing characteristics and factors that might indicate exposure avoidance behaviour (e.g. concerns about adverse health consequences from electromagnetic fields).
Discussion
Newly developed exposimeters allow convenient measuring of personal exposure from multiple sources of RF-EMF in the everyday environment. However, valid comparisons of measurements between studies can only be made if the same basic methods and procedures have been applied. The aim of this paper is to suggest a few key methodological items that should be considered in future studies to enhance the comparability of the results.
The measurement of personal RF-EMF exposure is still a relatively new area of research. Any procedures suggested in this paper are thus still based on somewhat preliminary insights and may be subject to adaptation taking into account results from future studies. Nevertheless, the authors of this manuscript have practical experience from such personal measurements which form the basis of this presentation of the current state of knowledge for the conduct of personal measurement studies.
We consider it important to clearly differentiate between two objectives that can be achieved by such a study: determination of exposure distribution in a target population (population survey) or measurement of RF-EMF levels in different microenvironments (microenvironmental measurement). Both approaches have their merits and their limitations. A population survey needs a considerable larger sample size than a microenvironmental survey because the unit of observation is an individual. A microenvironmental study allows comparison of the exposure levels between different study areas but does not necessarily reflect population exposure because time spent in different microenvironments may differ between study populations. As an example, studies in France and Switzerland found relatively high RF-EMF levels in trains [15, 21] and travelling by train is therefore an exposure-relevant behaviour. Thus, to estimate the importance of this aspect for the RF-EMF exposure of the population, one needs data about the use of trains on the population level. Similarly, exposure of young children, who are not able to carry an exposimeter, can be predicted from their behaviour using measurements of the microenvironments which are relevant for very small children.
We regard our suggestions as basic requirements for future studies. Of course, additional features may be added to this core protocol. For instance, personal measurements of extremely low frequency magnetic fields may be added to the measurement study as has been done in the Netherlands [24]. Another possibility could be to compare geo-referenced personal measurements with the results from propagation models of fixed site transmitters [26] or with spot measurements or to evaluate changes in the exposure situation over a period of a few years.
The conduct of personal measurements is important for several reasons. In the past, mobile phones were a very important source of RF-EMF exposure mainly to the head for everybody who used them [1]. As a consequence most of the human experimental and epidemiological studies focused on mobile phone exposure and did not need personal exposure measurements. However, for future research, a change in exposure patterns can be expected. Firstly, the average output power of new UMTS phones is considerably lower than of GSM phones [33]. Secondly, there is an increasing number of new technologies such as Wireless Local Area Network (W-LAN), Worldwide Interoperability for Microwave Access (WiMax), Radio Frequency Identification (RFID) or Near Field Communication (NFC), contributing to an individual's exposure. Exposure of the general population to these sources is complex and concerns the whole body. Thus, personal exposimeter measurements are useful to better characterize multi-source exposure in the everyday environment.
In principle, one could also use exposimeters in epidemiological studies in order to directly measure individual exposure. However, this approach has several limitations: it is very costly and time-consuming for large studies, and long term measurements are not feasible and need considerable commitment of the study participants which results in a decreased participation rate. Participants might even manipulate the measurements by placing the exposimeter at positions where high RF-EMF exposures are expected. This makes exposimeters unattractive for direct exposure measurements in many epidemiological applications and well-designed personal exposure measurement studies are needed to increase our knowledge about the exposure distribution in the population and its relevant contributors. This facilitates the interpretation of previous RF-EMF research and helps to develop reliable exposure prediction models [34] for future studies. Such reliable exposure assessment methods are urgently needed to conduct epidemiological studies on potential health effects of long-term low dose exposure to RF-EMF in our everyday environment. Although the public is concerned about health risks from this type of exposure, methodologically sound studies are scarce and published studies do not allow firm conclusions to be drawn [35].
Knowledge of the exposure distribution is also needed for health risk assessment and risk communication. In this context it is crucial that study results are representative and comparable, and that exposure differences reflect real differences and are not due to methodological differences. Comparability of exposure measurements is also important for evaluating different approaches to reduce exposure, including environmental measures (e.g. reduced standard limits) and behavioural changes. For instance it will be interesting to evaluate whether exposure from mobile phone base stations in countries with lower standard limits (e.g. Switzerland, Italy) differs from that in the rest of Europe. Differences in standard limits might lead to a different architecture of mobile communication networks, e.g. a higher number of base stations with lower power, leading consequently to different emission patterns.
Exposimeters facilitate the collection of comprehensive data on personal exposure. Personal exposure to various RF-EMF sources can be assessed separately and different types of exposure metrics can be calculated, such as time spent above a certain threshold, rate of change, or other measures reflecting the intrinsic structure of the exposure data, as presented in Table 3. This is important because no biological mechanisms in the low dose range are known yet, hence, it remains unclear which aspects of exposure are relevant for health, if any at all. It has been speculated that effects may be frequency or modulation dependent [36] and, in such a case, estimating average exposure would not be the most appropriate exposure metric.
Exposimeters also have limitations, including the lack of measurement of all sources in the RF-EMF spectrum. At a population level, omitting data on RF-EMF from such sources is not expected to be important, however in specific situations such sources can be relevant, for instance, if someone lives close to a short wave transmitter. Shielding of the body, when carrying the exposimeter, is also a problem. A recent study has estimated that on average the electric field of different frequency bands is underestimated by as much as 64% [27]. In principle, factors could be used to correct the measurements. However, too few investigations in different microenvironments have been made so far for us to feel comfortable in proposing the application of such correction factors at the moment.
The most important limitation of the exposimeter concerns measurements of exposure from mobile phone handsets and other sources that are operated close to the body. In this case the measurement depends on the distance between the emitting device and the exposimeter rather than the distance between the device and the body. Hence, the measurement does not accurately reflect exposure of the body. This could be taken into account by estimating the whole-body SARwb (Specific Absorption Rate) for each source by taking into account the average field distributions and field propagation for different typical exposure situations and microenvironments as proposed in [25, 37]. In doing so, the same measured electric field strength for two frequency bands could mean different SARwb depending on the typical usage/exposure situation for the corresponding source (e.g. near field from mobile phone vs. far field from mobile phone base station). In this way the exposimeter would extend to a "SARwb-meter" and one could make an analysis in combination with both E-fields and actual whole-body SAR values, enabling future studies to make a comparison of personal exposure with basic restrictions [38]. This is a promising approach and its feasibility should be investigated in future studies.
Conclusions
In this paper, experiences of various investigators with personal RF-EMF measurement studies are summarized. Based on these experiences criteria for future studies have been developed. Applying such common core procedures in future personal measurement studies is necessary so that observed differences in measurement studies reflect real exposure differences and not merely differences in the methods used.
List of abbreviations
dB:

Decibel
DECT:

Digital Enhanced Cordless Telecommunications
EMF:

Electromagnetic Field
FM:

Frequency Modulated (radio broadcasting)
GPS:

Geographic Position System
GSM:

Global System for Mobile Communications
NFC:

Near Field Communication
RF-EMF:

Radiofrequency electromagnetic field
RFID:

Radio Frequency Identification
ROS:

Robust regression on order statistics
SARwb :

Whole-body specific absorption rate
UMTS:

Universal Mobile Telecommunications System
W-LAN:

Wireless Local Area Network
WiMax:

Worldwide Interoperability for Microwave Access.
Declarations
Acknowledgements
No specific funding was obtained for development of this paper. We obtained travel reimbursements from COST Action BM0704 for meetings in Davos (17 June 2009) and Dublin (26 August 2009). MR is supported by the Swiss School of Public Health (SSPH+). JB is supported by the Netherlands Organisation for Health Research and Development (ZonMw). PF and EM are supported by the Swiss National Science Foundation (Grant 405740-113595). WJ is a Post-Doctoral Fellow of the FWO-V (Research Foundation - Flanders).
Authors' Affiliations
(1)
Department of Epidemiology and Public Health, Swiss Tropical and Public Health Institute, Basel, Switzerland
(2)
University of Basel, Basel, Switzerland
(3)
Laboratory for Radiation Research, National Institute for Public Health and the Environment (RIVM), Bilthoven, The Netherlands
(4)
Safety & Security Department, Austrian Institute of Technology GmbH, Seibersdorf, Austria
(5)
Centre for Research in Environmental Epidemiology (CREAL), Municipal Institute of Medical Research (IMIM), Barcelona Biomedical Research Park (PRBB), Barcelona, Spain
(6)
Institute of Environmental Medicine, Karolinska Institute, Stockholm, Sweden
(7)
Institute of Non-ionizing Radiation (INIS), Ljubljajna, Slovenia
(8)
Institute and Outpatient Clinic for Occupational, Social and Environmental Medicine, Hospital of the Ludwig-Maximilians-Universität, Munich, Germany
(9)
Department of Information Technology, Ghent University/IBBT Gaston Crommenlaan 8, Ghent, Belgium
(10)
Centre for Radiation, Chemical and Environmental Hazards. Health Protection Agency, Didcot, UK
(11)
Centre for Epidemiology and Biostatistics, Leeds Institute of Genetics, Health and Therapeutics (LIGHT), University of Leeds, Leeds, UK
(12)
Institute of Cancer Epidemiology, Danish Cancer Society, Copenhagen, Denmark
(13)
Department of Non-ionising Radiation, National "Fréderic Joliot-Curie" Research Institute for Radiobiology and Radiohygiene, Budapest, Hungary
(14)
French National Institute for Industrial Environment and Risks (INERIS), Verneuil en Halatte, France
(15)
Laboratoire Chrono-Environment (UMR N° 6249), Centre National de la Recherche Scientifique (CNRS), Faculty of Medicine, Besançon, France
Copyright
© Röösli et al; licensee BioMed Central Ltd. 2010
This article is published under license to BioMed Central Ltd. This is an Open Access article distributed under the terms of the Creative Commons Attribution License (http://creativecommons.org/licenses/by/2.0), which permits unrestricted use, distribution, and reproduction in any medium, provided the original work is properly cited.