Review

Open Access

Open Peer Review
This article has Open Peer Review reports available.
Calculation of the disease burden associated with environmental chemical exposures: application of toxicological information in health economic estimation
Environmental Health
2017
16:123
Received: 4 April 2017
Accepted: 8 November 2017
Published: 5 December 2017
Abstract
Calculation of costs and the Burden of Disease (BoD) is useful in developing resource allocation and prioritization strategies in public and environmental health. While useful, the Disability-Adjusted Life Year (DALY) metric disregards subclinical dysfunctions, adheres to stringent causal criteria, and is hampered by gaps in environmental exposure data, especially from industrializing countries. For these reasons, a recently calculated environmental BoD of 5.18% of the total DALYs is likely underestimated. We combined and extended cost calculations for exposures to environmental chemicals, including neurotoxicants, air pollution, and endocrine disrupting chemicals, where sufficient data were available to determine dose-dependent adverse effects. Environmental exposure information allowed cost estimates for the U.S. and the EU, for OECD countries, though less comprehensive for industrializing countries. As a complement to these health economic estimations, we used attributable risk valuations from expert elicitations to as a third approach to assessing the environmental BoD. For comparison of the different estimates, we used country-specific monetary values of each DALY. The main limitation of DALY calculations is that they are available for few environmental chemicals and primarily based on mortality and impact and duration of clinical morbidity, while less serious conditions are mostly disregarded. Our economic estimates based on available exposure information and dose-response data on environmental risk factors need to be seen in conjunction with other assessments of the total cost for these environmental risk factors, as our estimate overlaps only slightly with the previously estimated environmental DALY costs and crude calculations relying on attributable risks for environmental risk factors. The three approaches complement one another and suggest that environmental chemical exposures contribute costs that may exceed 10% of the global domestic product and that current DALY calculations substantially underestimate the economic costs associated with preventable environmental risk factors. By including toxicological and epidemiological information and data on exposure distributions, more representative results can be obtained from utilizing health economic analyses of the adverse effects associated with environmental chemicals.
Keywords
Attributable risk
Burden of illness
Lead
Mercury
Neurotoxicity
Pesticides
Background
To guide the most efficient use of limited resources for the purpose of reducing major origins of death and disability, researchers have attempted to estimate burdens of disease and catalogued them by risk factors. The first calculations of the global burden of disease were released in the World Development Report in 1993 [
1
]. The common metric most often used in measuring the Global Burden of Disease (GBD) is the Disability-Adjusted Life Year (DALY) [
2
], which combines duration and quality of life into a common metric that can be applied across diseases and organ systems (Fig.
1
).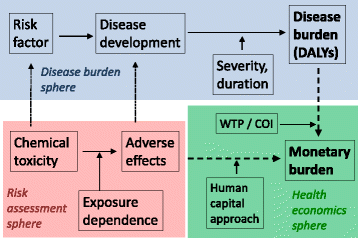 DALY calculations have proven highly useful for comparisons of the relative importance of major diseases and risk factors. Yet, the data available have so far allowed separation only of a limited number of risk factors and etiologies and have required merging some of them into clusters [3]. For example, the 2013 GBD report concluded that elevated blood pressure was the largest contributor to lost DALYs globally, while increased body mass index was the third largest contributor [3]. Both conditions likely represent intermediate steps in the pathogenesis of disease, and current evidence suggests that industrial chemicals may contribute to disease causation via hypertension and/or obesity [4–7].
An overall limiting factor is that calculations require decisions on causal associations, distributions of exposure to each risk factor in global populations and estimation of etiological effect sizes and disabilities [8]. The exact algorithm and the complex computations of the GBD also make it difficult to assess the validity of the summary estimates, which may cause disagreement [9]. Thus, apart from sources of infectious disease risks, the 2013 GBD report [3] estimated environmentally-attributable DALYs lost only for certain occupational hazards, ambient air pollution, household air pollution from solid fuel burning, residential exposure to radon, and childhood lead exposure. In total, the selected environmental risk factors contributed about 127 million DALYs or 5.18% of all DALYs lost [3]. Although substantial knowledge gaps remain, preventable environmental chemical exposures are known to include pesticides [10] and arsenic-contaminated drinking water [11] as major contributors to ill health on a global scale. However, these risks are not yet included in the GBD assessment. In addition, industrial chemicals can contribute to disease and dysfunctions, for example, by interfering with hormonal functions (endocrine disrupting chemicals, or EDCs) [12, 13]. Further, adverse effects on brain development due to lead, methylmercury and other neurotoxicants have been highlighted as major societal costs, even in the absence of diagnosed neuropsychiatric disease [14–16].
This review therefore seeks to identify approaches that can be used to complement the existing DALY calculations by assessing adverse health effects from available data on exposure levels and exposure-response relationships, while taking into account known uncertainties. We illustrate how health economic methods can be utilized to document the value of preventing subclinical functional changes that are not readily expressed in terms of DALYs. For these comparisons, we apply country-specific economic values of a DALY so that the toxicology-based economic estimates can be compared to DALY losses (Fig. 1).
Conclusions
The most recent assessment of Disability-Adjusted Life Year (DALY) losses estimated that environmental causation contributes only 5.18% of the total disease burden. However, these estimates ignore risks that are considered uncertain and exclude subclinical conditions, although the costs are certainly not zero. We relied on health economics methods to estimate societal costs associated with adverse outcomes of exposures to environmental chemicals. We highlight substances such as mercury, pesticides, brominated diethyl ethers, and several endocrine disrupting chemicals as serious health hazards that need to be confronted. Our results show that functional deficits, especially regarding cognition, greatly add to the total environmental Burden of Disease (BoD) and that total costs are substantially higher than those calculated in terms of the DALY losses that are linked to specific medical diagnoses. We also emphasize that environmental BoD assessments are easily underestimated, especially when focusing only on risk factors with detailed documentation, and when ignoring adverse effects beyond specific disease risks and mortality. Calculations to derive exposure-related health costs for comparison with DALY estimates should be encouraged to obtain more comprehensive and valid conclusions on the environmental BoD. Achievement of the Sustainable Development Goals will require this recognition of environmental risk factors as major contributors to human dysfunction, disease, and mortality in both rich and poor countries alike.
Abbreviations
ADHD:

Attention Deficit Hyperactivity Disorder
AF:

Attributable Fraction
ART:

Assisted reproductive technology
BoD:

Burden of Disease
COI:

Cost of Illness
DALY:

Disability-Adjusted Life Year
EDC:

Endocrine Disrupting Chemical
GBD:

Global Burden of Disease
GDP:

Gross Domestic Product
GNI:

Gross National Income
HIC:

High Income Country
IPCC:

Intergovernmental Panel on Climate Change
LMIC:

Low and middle-income country, and Lower middle income country
OECD:

Organization for Economic Cooperation and Development
PBDE:

Polybrominated diphenyl ether
PPP:

Purchasing Power Parity
QALY:

Quality-Adjusted life years
UMIC:

Upper Middle Income Country
VOLY:

Value of Life Year
WHO:

World Health Organization
WTP:

Willingness to pay
Declarations
Acknowledgements
The authors are grateful for stimulating discussions with Denis Zmirou, inspiration from the Endocrine Society project on endocrine disruptors in the EU coordinated by Leonardo Trasande, and insight into WHO cost assessment methodologies by Annette Prüss-Ustün.
Funding
This work was supported by an award (ES 009797) from the National Institute for Environmental Health Sciences (NIH) and institutional funds.
Availability of data and materials
"Not applicable".
Authors' contributions
The manuscript was drafted by PG and MB, who both critically reviewed and contributed to the final version, which was approved by both.
Ethics approval and consent to participate
"Not applicable".
Consent for publication
"Not applicable".
Competing interests
We declare no competing interests. The first author is an editor of this journal but was not involved in the editorial decisions.
Publisher's Note
Springer Nature remains neutral with regard to jurisdictional claims in published maps and institutional affiliations.
Open AccessThis article is distributed under the terms of the Creative Commons Attribution 4.0 International License (http://creativecommons.org/licenses/by/4.0/), which permits unrestricted use, distribution, and reproduction in any medium, provided you give appropriate credit to the original author(s) and the source, provide a link to the Creative Commons license, and indicate if changes were made. The Creative Commons Public Domain Dedication waiver (http://creativecommons.org/publicdomain/zero/1.0/) applies to the data made available in this article, unless otherwise stated.
Authors' Affiliations
(1)
Department of Environmental Health, Harvard T.H. Chan School of Public Health, Boston, USA
(2)
University of Southern Denmark, Odense, Denmark
(3)
EHESP School of Public Health, Paris, France